Rouhani warns Trump he 'risks his political life' over Iran nuclear deal as he implores Europe to defend agreement
More than 100 officials from around the world attend the Iranian President's inauguration, with Mr Rouhani claiming it as a strong show of support for building ties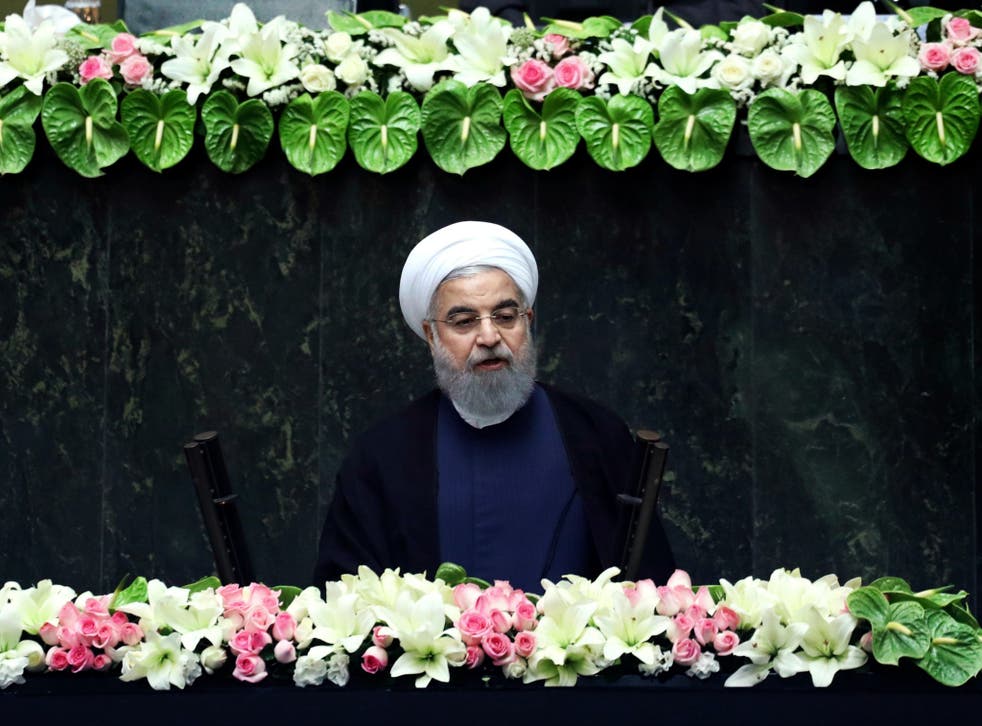 It was always going to be a state ceremony of grandeur and pomp, but the current turbulence in Middle East politics ensured that Hassan Rouhani's inauguration as President of Iran became an occasion of significant resonance.
Iran, its adversaries Saudi Arabia and the Donald Trump administration have demanded, should once again be shunned as a pariah state. The US has imposed tough new sanctions and President Trump is threatening to pull the plug on the nuclear deal between the country and international powers which has been achieved through years of painstaking negotiations. Hawks in his team have talked about instigating regime change in Tehran.
In the event representatives from a hundred countries turned up in Tehran. The likes of Robert Mugabe and Kim Yong Nam, the President of the Supreme Peoples' Assembly of North Korea, may be ignored by Washington and Riyadh. But the presence of senior figures from most Western European countries, including Britain's Minister of State for the Middle East Alistair Burt, the European Union's foreign policy chief Federica Mogherini and ministers from from Russia, China and India was a clear sign that the attempt to isolate Iran was failing for the time-being.
At his swearing-in ceremony Mr Rouhani warned those present that America was trying to sabotage the nuclear accord. Mr Trump's aggression, said the President, may come to a sticky end: "Those who want to tear up the nuclear deal should know that they will be ripping up their own political life."
"The US's repeated violations of its commitments and the new sanctions it imposed on Iran have left a negative impact on public opinion here and this will put the nuclear agreement at risk. Iran would not be the first to pull out of the nuclear deal, but it will not remain silent about the US violations," he said.
Earlier, in a meeting with Ms Mogherini, the Iranian President praised the high European representation saying that it showed many Western states were prepared to build bridges with his country despite American pressure. Iranian Foreign Minister Mohammad Javad Zarif also reportedly said in the meeting: "Mr Trump is trying to destroy the nuclear accord at Iran's expense, and Europe should be conscious of this."
World news in pictures

Show all 50
Tehran milked the attendance: the names of all attending countries from Afghanistan to Zimbabwe were read out at the ceremony in Parliament. While some of these countries too were keen to use the stage to stress their agenda. Qatar, engaged in a bitter confrontation with a Saudi led alliance, sent a delegation headed by the Emir, Tamim bin Hamad Al Thani. Russia, another recipient of tough new American sanctions, announced that Deputy Prime Minister Dmitry Rogozin and senior military officers will hold "an important meeting" with ministers from Iran and Turkey on Syria following the inauguration.
The three countries are guarantors of a series of truces in the civil war. Iranian officials said that one of the key issues under discussion would be the takeover of Syria's Idlib province, one of the areas currently covered by a ceasefire, by extremist jihadists of Hayat Tahrir al Sham and the al-Qaeda affiliated Jabhat al-Nusra, which now calls itself Jabhat Fateh al-Sham.
The US warned of the "grave consequences" of Idlib being taken over by al-Qaeda affiliates. But the Americans have drastically scaled down backing for the rebels they sponsored and any recapture of territory would be carried out by the Assad regime and its Russian and Iranian allies.
It was, however, Mr Rouhani's agenda of domestic reform, rather than further foreign military commitment abroad, which gave him a landslide victory over his conservative opponent in the election earlier this year. And many of the delegations here are, however, looking at trade possibilities with the Iranian market opening up following the relaxing of sanctions. Lord Lamont of Lerwick, a long-time campaigner for improving relations with Tehran and now the UK's trade envoy to Iran, has arrived along with the MP Richard Bacon, the vice-chairman of the Britain-Iran Parliamentary Friendship Group.
The US manufacturer Boeing has signed an $8bn (£6.1bn) deal to sell 80 jets to Iran Air and 30 more to another carrier, Aseman Airlines while its European rival Airbus has an agreement to supply another 100 planes to Iran. France's Total is in a $2bn agreement to develop a gas field and Britain's General Electric is considering a number of highly lucrative business options.
But the shadow of Donald Trump remains as Iran strives to open up for business. The US stipulation on the nuclear deal means the President has to certify that Tehran is complying with the agreement every 90 days. Mr Trump, who had promised to tear up the agreement during his election campaign, grudgingly signed off the first certification after the State Department failed to find any breaches but he complained that the Iranians "are not living up to the spirit of the agreement" while failing to explain what this actually means. His administration, he says, is carrying out a "comprehensive review of Iran policy".
That is still under way as the US administration was again forced to issue the second certification last week that Iran was still complying with its commitments. But, at the same time, Mr Trump said in an interview: "If it was up to me, I would have had them non-compliant 180 days ago." Asked whether he expected Iran to be non-compliant next time, he declared: "Yes, personally I do."
The agreement remains, theoretically, even if the US pulls out, with the five other signatories, Russia, China, Germany, France and Britain, all saying that they would continue with it. But companies and financial institutions are acutely wary of falling foul of US sanctions and incurring swingeing financial penalties.
"I don't see how the agreement can really survive if the US really does say it is no longer part of it" was the view of Professor Mohammad Marandi, a Tehran University academic influential in Iranian government circles. "The odds will be stacked against it". While Robert Emerson, a security analyst, said: "This is not something which is going to go away from Washington politics; the issue of the nuclear deal and Iran sanctions will be revisited many times in the future by the hardliners led by the US President".
The hundred-strong attendance at the Rouhani inauguration does not mean that Donald Trump's crusade to isolate Iran and push it back into international political wilderness is over.
Join our new commenting forum
Join thought-provoking conversations, follow other Independent readers and see their replies