TruthaboutIsis: Mystery site fighting Isis run by British ex-jihadi too scared to go public
He is attempting to keep his identity secret for fear that he could be targeted by Isis sympathisers
Oliver Wright
Wednesday 26 August 2015 20:33 Comments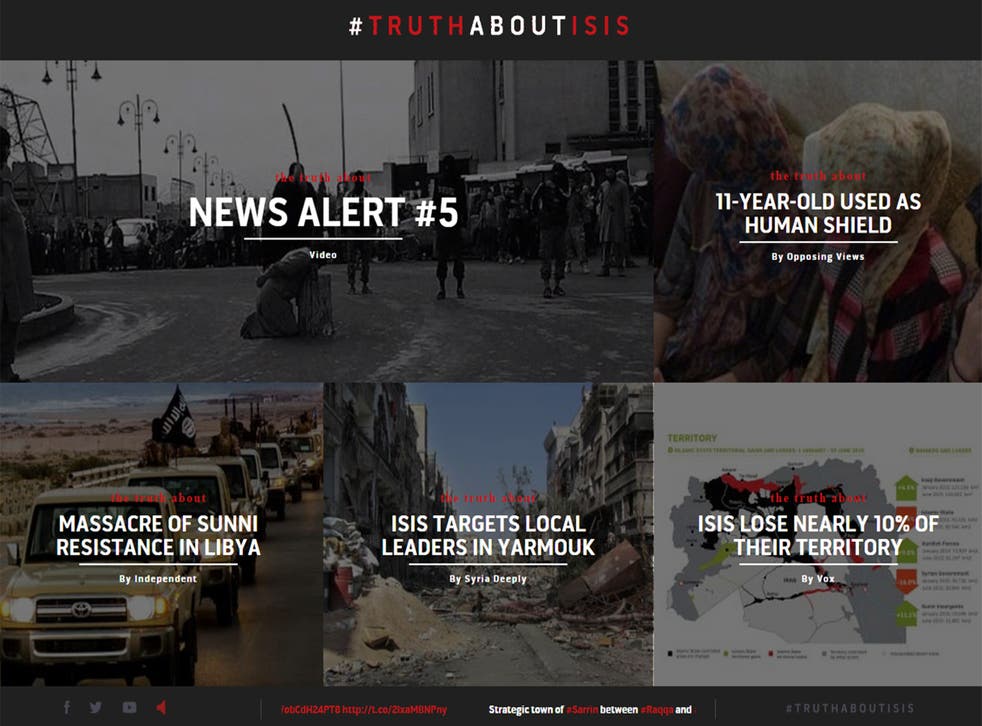 As multi-media campaigns go, it is slick, professional – and above all – secretive.
With a glossy website, Twitter feed and Facebook page, TruthaboutIsis has for the past few months been turning fire on Isis using the same sophisticated video and social media techniques used by the group itself.
Every day, it highlights evidence of starvation, brutality and setbacks in Isis-controlled Iraq and Syria – with weekly videos unflinchingly showing the horrors of conflict and the use of rape, execution and child soldiers as the group's preferred weapon of war.
The site has no email contact, phone number or address, and is registered anonymously using a proxy server based in Dayton, Ohio.
It is, however, unmistakably English in origin. Among the 89 people TruthaboutIsis follows on Twitter are a series of high-profile British Muslims including Mo Farah, the boxer Amir Khan and Mishal Husain, the BBC presenter.
The Independent can reveal that the campaign is being run by a former British Islamic jihadi fighter as part of a personal attempt to use Isis-style propaganda to stem the flow of Western support for the group. He is attempting to keep his identity secret for fear that he could be targeted should his involvement become known to Isis sympathisers in the UK.
In an interview, the ex-jihadi described how he had been radicalised by the "War on Terror" and had seen first-hand how Islamic fundamentalist groups worked.
He said he has set up the website earlier this year in an attempt to use the same techniques as Isis – but to turn off young Muslims who might attempt to join the organisation in Syria. He denied that he had received any Government support or money to set up the site – despite suspicions that the campaign could be a "sockpuppet" for the Home Office's terrorism prevention work.
"I wish they would have (helped)," he said. "It would have been a lot less problematic if we'd had some support from the Government, but unfortunately we didn't."
The man said that he had first been drawn to extremism by Western involvement in Iraq and Afghanistan and began raising money and support for Jihadists before ultimately going abroad to fight.
"You saw thousands and thousands of people being killed in collateral damage," he said, describing his decision to take up arms, "Some of the images you'd see on websites were just horrific. You wanted to see something done – to stop it from happening."
But on linking up with jihadist fighters overseas he was distressed by the reality of their behaviour.
"There was brutality and inequality. Arab Muslims were more superior than Pakistani Muslims or Somali Muslims who were all fighting for the same thing. Arabs were getting superior treatment. I thought these are things that don't go hand in hand with Islam.
"Then there was the kicking around of young kids – and using children as suicide bombers. Giving them weapons to fight – not considering that they could get killed.
"For me that was barbaric. When I went there I couldn't wait long enough to face the enemy which was the Americans. But I forgot about that in the first few days.
"I ran away and was lucky to get back to the UK alive."
Timeline: The emergence of Isis

Show all 40
The man said he was deliberately trying to mimic Isis's use of slick video production and social media tactics to engage an audience who might be tempted to join the group. He added that he had received help from friends who have experience in video production and working with social media.
"It was my own experience with these groups and that kind of propaganda that has really influenced what I've done. I want to protect young people.
"We had to do it in a way which was equally professional as they were. It took me a little bit of time to get some resources together and we managed to pull it off."
But some have been critical of the tactic – which they fear could just backfire by potentially glamorising war.
"It is certainly a counter-narrative that works in that it is clearly very professionally produced," said Charlie Winter, a senior researcher at the think-tank Quilliam.
"What worries me in the longer term is that Isis revels in its brutality and if that is used in a counter-narrative it could just reinforce such propaganda. We need to be very careful what messages we are sending out."
Mr Winter said that he was unaware of the origins of the website, as did a senior Government intelligence source.
Additional reporting by James Waite
Register for free to continue reading
Registration is a free and easy way to support our truly independent journalism
By registering, you will also enjoy limited access to Premium articles, exclusive newsletters, commenting, and virtual events with our leading journalists
Already have an account? sign in
Join our new commenting forum
Join thought-provoking conversations, follow other Independent readers and see their replies