Turkey claims airstrikes 'kill 50 Syrian soldiers' as conflict escalates
Regime offensive in the northwest Syria has displaced some 900,000 since December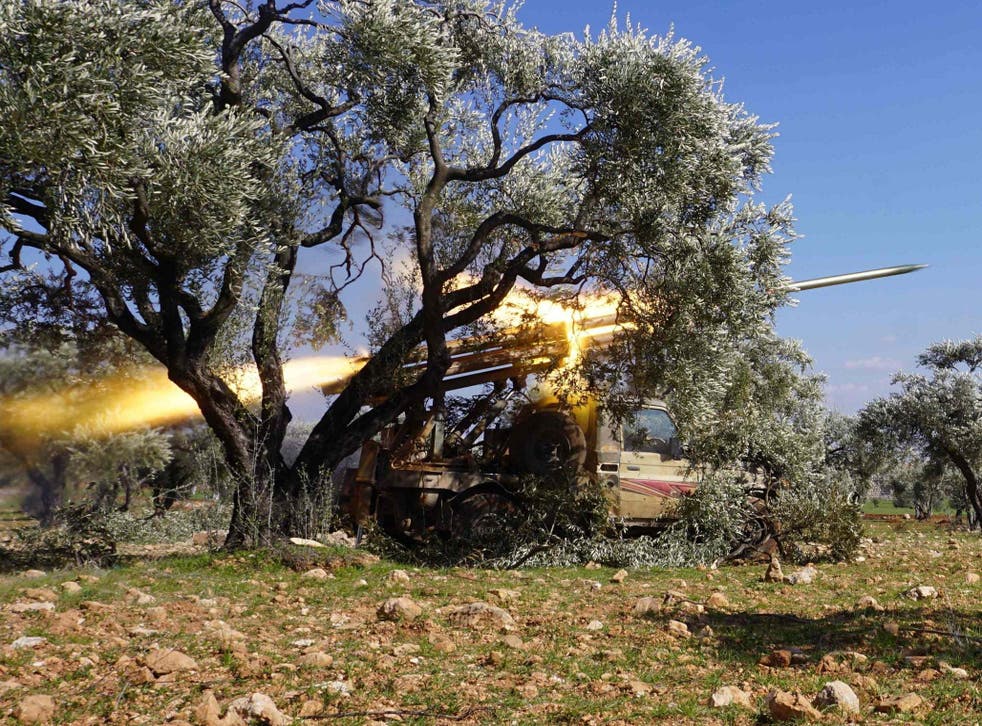 Armed conflict between Turkey and the Damascus regime and their allies escalated dramatically on Thursday, with airstrikes and artillery leaving dead and injured on both sides of the ongoing battle over Syria's northwest Idlib province.
Turkey's defence ministry claimed it had "neutralised" some 50 troops loyal to the regime of Bashar al-Assad after his air force struck Turkish troops, killing at least two.
A statement from the Russian defence ministry said that only four Assad regime troops were wounded in Turkish artillery strikes, and claimed its Su-24 warplanes struck rebel groups allied with Ankara on the outskirts of Idlib, capital of the hotly contested province.
The exchanges of fire on Thursday potentially portend even more heavy warfare following a 29 February deadline set by Turkish president Recep Tayyip Erodgan for Assad regime troops to withdraw from positions near a dozen observation posts established in Syria's northwest Idlib province as part of a de-escalation agreement it hammered out with Moscow and Tehran.
But the Assad regime, backed by Russia and Iran, has intensified military operations in Idlib, hoping to stamp out the last significant rebel stronghold in the country after a civil conflict that has lasted nearly nine years.
The assault has displaced 900,000 since 1 December, with the frontlines moving closer to more densely populated areas, including camps for the internally displaced (IDPs) and the city of Idlib.
Many have been left homeless, forced to sleep out in the open in freezing winter temperates.
The UN has raised the alarm over the "rapid deterioration of the humanitarian situation" and warned that it is receiving "daily reports" of children dying in the cold.
Syrians forced to flee Maarat al-Numan as Assad forces move in

Show all 8
Turkey worries the offensive will prompt a fresh flood of refugees across its borders, potentially destabilising the country, which already hosts at least 3.6 million Syrians.
"Turkey has shown that Idlib is a red-line and it is ready to defend the last rebel stronghold with its military," said Yusuf Erim, an analyst at Turkey's state broadcaster. "While the presence of the Russian military especially its air force may complicate the situation on the ground, it is not a deterrence for Ankara. What we are seeing right now are the footsteps of a major operation."
Already tens of thousands of Syrians living in Idlib have flocked to the Turkish frontier, hoping to escape the regime onslaught. International aid officials have described the humanitarian situation in Idlib as one of the most acute crises in the world.
Russia has ignored calls by international officials and aid groups to halt the offensive, instead accusing Turkey of prolonging the war by backing armed groups in Idlib.
"We call on the Turkish side to stop its support for the actions of terrorists and the transfer of weapons to them in order to avoid incidents," an organ of the Russian military said in a statement.
Fighting in Idlib shows no sign of abating. In addition to Thursday's airstrikes, a Syrian monitoring group described fierce clashes between regime forces and Turkish-backed rebels on the ground east of Idlib, with Ankara's armed proxies backed by Turkey's precision artillery capturing territory from the regime.
"A Turkish operation would complicate Putin's plans for Syria," said Mr Erim. "I believe the Russian President will play it safe and seek a deal with his Turkish counterpart before the February-end deadline set by Ankara for a regime retreat. For Moscow entering March without a deal would be sailing into the unknown and playing Russian roulette with its Syria policy."
Further escalation of the conflict could also encourage more international involvement, a scenario Moscow would prefer to avoid, said Mr Erim.
Despite the escalating exchanges of fire, Turkish and Russian diplomats continue to meet in attempts to hammer out a fresh agreement. The United States, a Nato partner of Turkey, has encouraged Ankara to stand up to Russia, seeing an opportunity woo back an ally that has been increasingly drifting into the Kremlin's orbit.
Bloomberg News on Thursday cited an unnamed Turkish official as saying that Turkey was asking Washington for Patriot missile-defence systems on its southern border to protect its troops in Syria. The missile defence system would allow Turkey to use F-16 fighter jets to strike Assad regime troops, the official told Bloomberg.
Register for free to continue reading
Registration is a free and easy way to support our truly independent journalism
By registering, you will also enjoy limited access to Premium articles, exclusive newsletters, commenting, and virtual events with our leading journalists
Already have an account? sign in
Register for free to continue reading
Registration is a free and easy way to support our truly independent journalism
By registering, you will also enjoy limited access to Premium articles, exclusive newsletters, commenting, and virtual events with our leading journalists
Already have an account? sign in
Join our new commenting forum
Join thought-provoking conversations, follow other Independent readers and see their replies