Turkey risks angering China by criticising treatment of Uighur Muslims
Facing municipal elections, Turkey's dominant political party might be hoping support for Muslim brethren in China will win votes, writes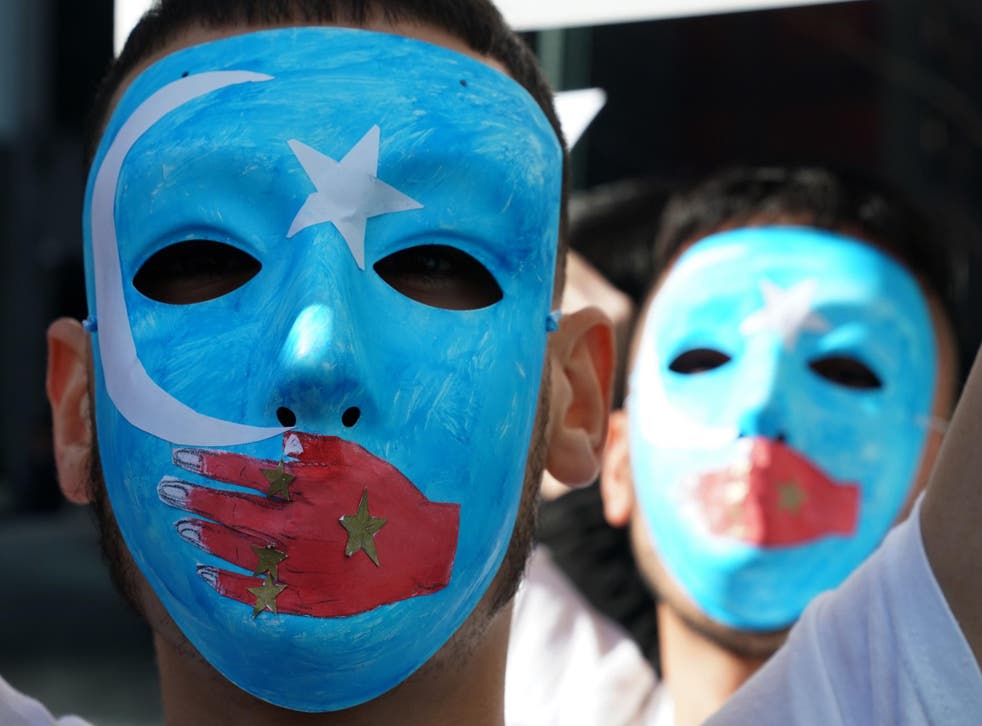 A
bduweli Ayup was out for dinner at an Istanbul restaurant with his wife and friends last weekend when news came on the television that they could hardly believe. Overcoming worries about future Chinese investment and Beijing's emerging status as the premier world power, the government of Turkey had spoken out about the treatment of Uighurs, denouncing the torture and "brainwashing" of the minority in what it described as internment camps.
The rare public condemnation of Beijing by a major Muslim country followed reports – later disputed by China – that poet and musician Abdurehim Heyit had been killed while in detention in one of China's network of gulags in the Muslim majority western Xinjiang province.
An impromptu celebration erupted among the diners at the Uighur eatery. The smiling restaurant owner came out to greet Ayup, a US-educated linguist and leading member of the Uighur community in Istanbul.
Among frightened members of China's exiled Uighur community, quietly huddled together in precarious lives of exile across the globe, the news prompted an immediate exchange of excited phone calls and text messages.
"It is a good sign," Ayup said in an interview later. "After the Turkish foreign ministry gave this statement, the Uighur people feel very happy and my friends told me they feel excited. I hope it will encourage other Muslim countries to speak up."
For years Western powers and even the United Nations have criticised China's treatment of ethnic Uighur and other Muslim minorities in Xinjiang province. Now Turkey, which years ago toned down the pan-Turkic nationalism it espoused to promote its interests among ethnic cousins in Central Asia and China, is indicating it is ready to speak more forcefully on the Uighur issue.
Uighurs speak a Turkic language distinct from the country's overwhelming Han majority. Following a series of terrorist attacks by radicals, tens of thousands have been herded into re-education camps, where they are subject to psychological and physical torture, according to international human rights advocates.
Ayup, who managed to leave China with his family before Beijing effectively stopped granting permission for Uighurs to depart the country, told The Independent he was sexually assaulted during a gruelling stretch in prison for operating a Uighur language preschool.
A number of leading contemporary Uighur intellectuals have been persecuted. Perhat Tursun, among the leading poets and writers in the Uighur language, was jailed in February 2018. Nurmemet Yasin, an author, reportedly died in prison in 2011. All were accused of supporting Islamist or pan-Turkic separatist groups China considers terrorist organisations. In recent years, militant groups have carried out a number of deadly attacks in western China.
But while reports of human rights abuses in western China have increased in recent years, many leading Muslim-majority countries often quick to condemn alleged mistreatment of coreligionists in the West and Israel – including Iran, Saudi Arabia, Turkey, Malaysia, Indonesia, Pakistan and Nigeria – have kept silent, seemingly worried they would anger Beijing.
China's security services are pressing members of the country's Uighur minority abroad to spy on compatriots
In Turkey, producers and editors at pro-government media outlets had been asked to avoid reporting on the topic, even as officials tacitly encouraged international journalists to speak with the Uighurs sheltering inside the country.
A group of Uighurs seeking to march in December from Istanbul to Ankara to draw attention to China's alleged abuses were barred from completing their protest.
The Turkish foreign ministry's 9 February statement was prompted by the reported death of Mr Heyit, imprisoned eight years ago. China later trotted out the poet and musician in a video in which he confirmed he was in jail and under interrogation but insisted he was in good health.
But the incident came after months of pressure by conservative Islamist Turkish groups pushing Ankara to act on the Uighur issue. And the Turkish statement went well beyond Heyit's case, broadly broaching the topic of the Chinese treatment of Uighurs and calling on Beijing to close down "internment camps" China has described as vocational training facilities.
"It is no longer a secret that more than one million Uighur Turks incurring arbitrary arrests are subjected to torture and political brainwashing in internment camps and prisons," said the statement from Foreign Ministry spokesman Hami Aksoy. "Uighurs who are not detained in these camps are under heavy pressure."
China responded with uncharacteristic harshness. A statement issued by the Chinese embassy in Ankara dismissed the accusations as "made up of thin air", noting that Turkey was also facing threats from terrorism.
"The Turkish side is extremely mistaken and irresponsible in making groundless accusations," China's Foreign Ministry spokesperson Hua Chunying said on 11 February. The next day Beijing issued a travel warning to Chinese citizens travelling to Turkey. Global Times, a pro-Beijing newspaper, accused Turkey of succumbing to "fake news", and criticised Turkey's treatment of its own Kurdish minority.
According to BBC Monitoring, news of Mr Heyit's death first appeared in a Facebook post on 8 February by a Turkish folk singer who claimed that he had died in prison after severe torture.
After the video of Mr Heyit appeared and China criticised Turkey, some Uighurs were concerned that Ankara would retract its statement. But Turkey stood by it.
The diplomatic clash comes amid a backdrop of Ankara seeking to improve relations with long-time European partners and scaling back nascent efforts to build up trade and investment ties with China.
The foreign ministry statement appeared to signal the opening of the floodgates on the Uighur issue, which has quickly become a hot topic on public broadcast news shows.
"Turkey does not have any reason to fear China," says Murat Yesiltas, a security analyst at SETA, a think tank close to the Turkish government.
"Turkey's economy is not dependent on China. There's no military cooperation."
Some Turkey experts see domestic politics as driving the sudden shift by Ankara. Turkish president Recep Tayyip Erdogan's Justice and Development Party (AKP) faces voters next month in municipal elections seen as the first test of his government's popularity following a financial crisis that hit last year. Both nationalist parties – Meral Aksener's Iyi Party and Devlet Bahceli's Nationalist Movement Party (MHP) – are seen to be drawing votes from AKP.
Uighur Muslim woman tells Congressional-Executive Commission on China she asked Chinese to kill her whilst in detention camp
"Why now?" asks Selim Sazak, a Turkey scholar at Brown University. "The answer is elections. Aksener is hitting them hard. And there's grumbling within their own base, both from the MHP and from conservatives within the party."
In a tight vote, "anything is something that could shift the elections", he says.
But others dismissed that theory, as Turkey's elections appear to hinge above all else on economic concerns, and many consider treatment of a minority in a far-off land a minor issue.
"I don't think it is about the election. Principle is first," says Yesiltas.
"The government is addressing this issue now because the problem is getting worse. Turkish people are sensitive about this issue and want to address it at the governmental level."
Ayup says many Uighurs also wonder whether Turkey's sudden outspoken defence of their kin back home was rooted in local or international political posturing, but were grateful, regardless of the motives.
"Some say it's because Turkey couldn't get what it wanted from China," he says. "Whatever it was, it's a good start and it's a good sign for us. Because Turkey is a a key player in the Middle East, and after Turkey some other countries may stand up for us."
Join our new commenting forum
Join thought-provoking conversations, follow other Independent readers and see their replies