Turkey coup: 11 soldiers arrested over President Erdogan 'kidnap attempt'
The men are believed to have been part of a group that raided the hotel where the president had been staying
May Bulman
Monday 01 August 2016 19:45 Comments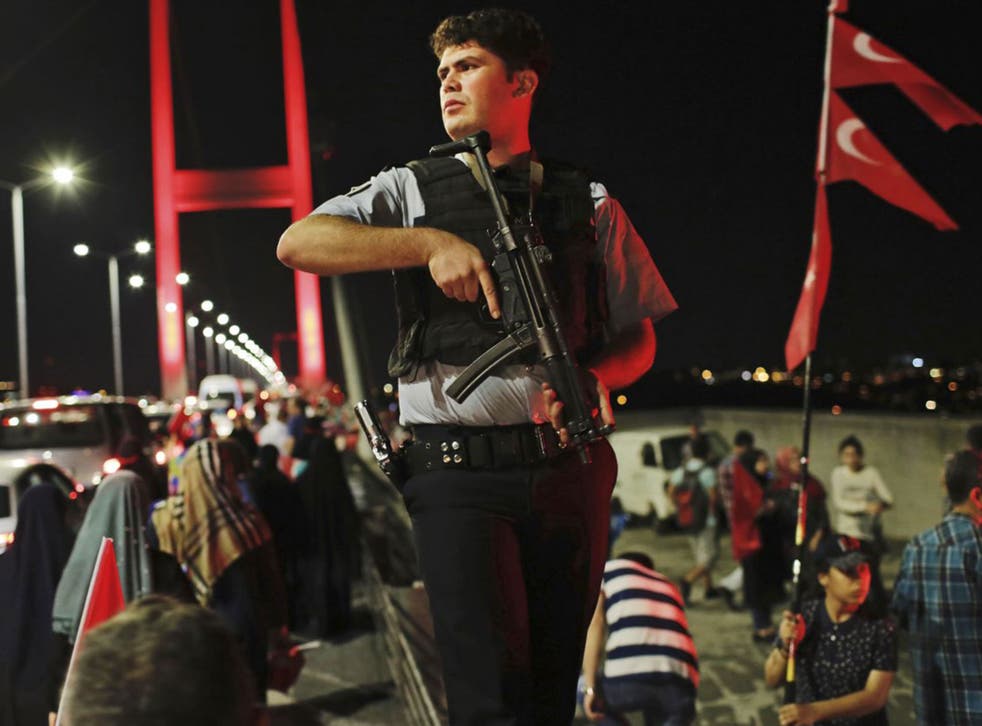 Turkish special forces have arrested 11 soldiers suspected to have been involved in an attempt to kidnap President Recep Tayyip Erdogan during the failed coup last month, according to state-run media.
The soldiers were reportedly caught hiding in a forest area around 30 miles away from the southwestern resort of Marmaris where Mr Erdogan had been staying with his family when the coup erupted.
They are believed to have been part of a group that raided the President's hotel in an attempt to kidnap him.
Having been tipped off that he was in danger on the night of the coup bid, Mr Erdogan had fled the hotel in Marmaris by the time the rogue commandos arrived in an attempt to capture him.
After a manhunt involving around 1,000 members of the security forces, the 11 were captured - dressed in camouflage and trying to cross a stream - after a tip-off from a man who spotted them as he was hunting wild boar, the Dogan agency said.
Video footage showed a dozen or so anti-coup demonstrators jeering the 11 detained soldiers, some of whom had swollen faces and bruises. The demonstrators waved Turkish flags and chanted "Traitors! We want the death penalty!"
During the arrest forces are said to have exchanged gunfire, but according to the state-run news agency there were no known causalities.
The capture came after Turkey dismissed at least 1,700 military officers in a move to tighten control of the army.
Expulsions from the military are not entirely over and more personnel will be dismissed if necessary, Turkish defence minister told CNN Turk television on Monday. There were 311 soldiers, including 9 generals, still at large, Fikri Isik said, following the attempted coup. Mr Isik said that they were believed to still be in Turkey.
Turkey's defence ministry has also changed the jobs of 167 generals within the army, following sweeping changes to the structure of the military over the weekend.
The decree, signed by President Erdogan, Prime Minister Binali Yildirim and Mr Isik, said 94 generals in land forces, 22 admirals, 44 generals in the airforce and seven others have been reappointed.
Since the failed coup attempt Mr Erdogan has imposed a state of emergency and launched a sweeping crackdown on those believed to be against him.
More than 18,000 people have so far been detained over the attempt to oust the president, while thousands of government staff are also under investigation.
Economy Minister Nihat Zeybekci said coup plotters would bitterly regret trying to overthrow Turkey's democracy, in words reflecting the depth of anger among the thousands of Turks who have attended rallies to condemn the coup night after night.
"We will make them beg. We will stuff them into holes, they will suffer such punishment in those holes that they will never see God's sun as long as they breathe," Mr Zeybekci was quoted by the Dogan news agency as telling an anti-coup protest in the western town of Usak over the weekend.
"They will not hear a human voice again. 'Kill us' they will beg," he said.
Turkish authorities have also cancelled the passports of around 50,000 people to prevent them leaving the country as part of the crackdown, and Mr Erdogan has announced plans to close down the country's military schools.
The attempted coup saw at least 246 people killed and more than 2,000 injured after soldiers armed with fighter jets, helicopters and tanks attempted to take control of key areas of the capital while Mr Erdogan was on holiday.
In pictures: Turkey coup attempt

Show all 17
Mr Erdogan blames followers of US-based Turkish cleric Fethullah Gulen for the coup bid and has vowed to rid state institutions of his influence. But the extent of the purges, and suggestions that the death penalty could be reintroduced, have sparked concern in Western capitals and among rights groups.
Mr Gulen, who lives in self-imposed exile in the United States, has denied involvement.
Amnesty International said Turkey's crackdown on civil society and media freedoms had "reached disturbing levels" after arrest warrants were issued for 89 journalists and 131 media outlets were closed.
Mr Erdogan and his government have been angered by the response of Western allies to the abortive coup and its aftermath, accusing them of being more concerned about the rights of the plotters than the gravity of the threat Turkey has faced.
Senior Turkish officials have rounded on Germany for preventing Mr Erdogan from addressing a rally on Sunday of his supporters in Cologne via video-link. Berlin's foreign ministry spokesman acknowledged relations were going through a "bumpy patch".
About 150 protesters, meanwhile, marched to the US embassy in Ankara on Monday to protest against a visit by the chairman of the US Joint Chiefs of Staff General Joseph Dunford, the principal military adviser to the American president, who met Prime Minister Mr Yildirim and his Turkish military counterpart.
"Coup plotter Dunford get out of Turkey," the crowd chanted as it marched down a central Ankara street to the embassy, where Turkish police kept them at a distance from the building.
"Dunford go home. Send us Fethullah," said one banner, in reference to Mr Gulen.
General Dunford also met US personnel stationed at the Incirlik air base in southern Turkey, used by the US-led coalition in the fight against Isis. The US embassy said General Dunford was in Turkey as part of a show of solidarity.
"He will deliver messages condemning in the strongest terms the recent coup attempt and reaffirming the importance of our enduring partnership for regional security," the embassy said in a written statement.
Reuters contributed to this report
Register for free to continue reading
Registration is a free and easy way to support our truly independent journalism
By registering, you will also enjoy limited access to Premium articles, exclusive newsletters, commenting, and virtual events with our leading journalists
Already have an account? sign in
Join our new commenting forum
Join thought-provoking conversations, follow other Independent readers and see their replies