'Damn your UN resolution': Turkey's Erdogan criticises Syria ceasefire and vows to keep fighting Kurds in Afrin
30-day cessation in hostilities across country designed to stop bloodshed in eastern Ghouta does not apply to Turkish offensive on Kurdish forces in Afrin, Turkish leader says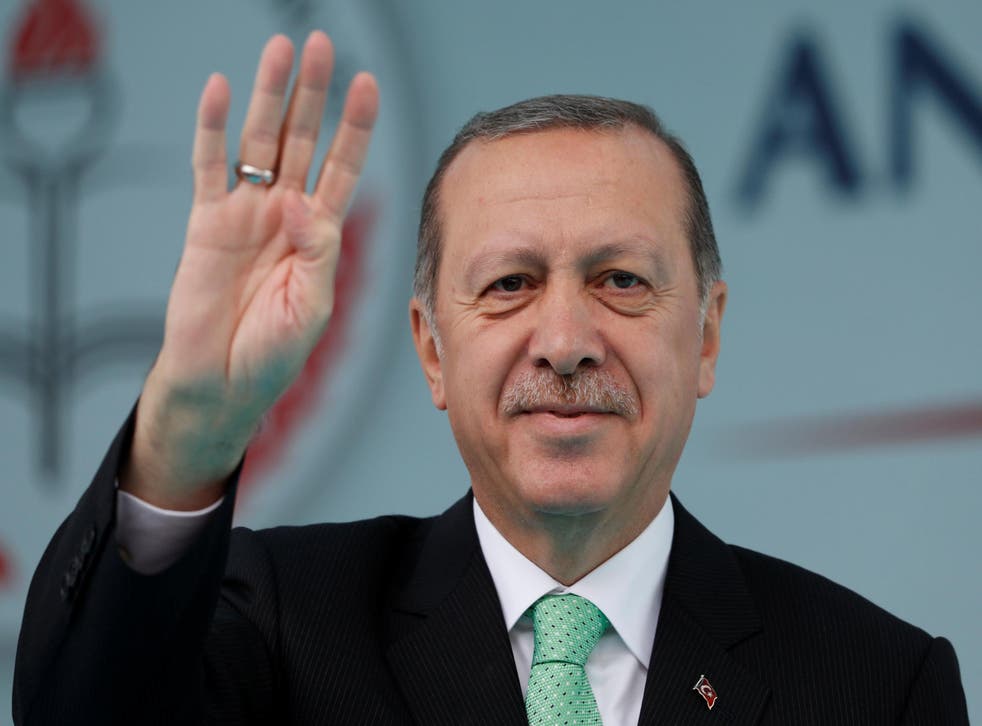 Turkish President Recep Tayyip Erdogan has criticised a UN-mandated ceasefire in Syria designed to stop the recent bloodshed in eastern Ghouta while defending his own military's two-month-old operation against the Kurds in Afrin.
The unanimous UN decision on a resolution demanding a 30-day cessation in hostilities across Syria on 24 March has done little to stop the violence in the rebel-held besieged suburb, which has killed 800 people in the last two weeks.
"UNSC, damn your resolution. What is the meaning of a decision that has not been implemented? You are deceiving humanity, you are cheating," Mr Erdogan said at a meeting of his political party AKP's parliamentary group on Tuesday.
Scenes of devastation in Syria after deadly shelling and airstrikes and eastern Ghouta
Mr Erdogan said the international community was guilty of "inaction" in Ghouta and criticised the structure of the UN, which gives veto power to the five permanent members of the Security Council – the US, UK, Russia, China and France.
The comments come after French President Emmanuel Macron reportedly told Mr Erdogan in a phone call last week that the ceasefire must apply to all fighting in Syria – including Turkey's two-month-old Operation Olive Branch aimed at driving Kurdish forces away from the border region between the two countries.
The air and ground offensive launched in January opened a new front in Syria's bloody conflict which has already killed dozens of civilians and fighters on both sides.
Turkish attack on Afrin, northern Syria – in pictures

Show all 9
Turkey views the Kurdish YPG militia as an extension of its own separatist PKK, a group designated as a terrorist organisation by Ankara as well as the EU and US.
The YPG and broader Arab-Kurdish coalition Syrian Democratic Forces (SDF) have won widespread Western support over the past few years as the most effective ground force against Isis.
In January the US pledged continued support for the YPG and SDF to ensure the jihadi militants do not form a resurgent movement, a strategy which enraged Turkey and contributed to the decision to launch the new offensive on Afrin.
Rights groups have condemned the Turkish operation as causing "unlawful" civilian deaths by failing to take necessary precautions before carrying out air strikes.
On Tuesday Mr Erdogan reiterated that Olive Branch is not covered by the UN resolution for a ceasefire as it was aimed at eradicating the "terror corridor" on its border.
"Terrorist organisations and the forces behind them are not concerned about the prosperity and the future of the Syrian people. That's why this effort unsettles them," he said.
"The aim of the terror corridor is Turkey's territorial integrity, its unity, its determination for development and its power. They can all use all the distraction tactics they want. They can use any diplomatic games they want. We see this truth."
Register for free to continue reading
Registration is a free and easy way to support our truly independent journalism
By registering, you will also enjoy limited access to Premium articles, exclusive newsletters, commenting, and virtual events with our leading journalists
Already have an account? sign in
Register for free to continue reading
Registration is a free and easy way to support our truly independent journalism
By registering, you will also enjoy limited access to Premium articles, exclusive newsletters, commenting, and virtual events with our leading journalists
Already have an account? sign in
Join our new commenting forum
Join thought-provoking conversations, follow other Independent readers and see their replies