How Turkey hopes to kill Kurdish self-rule with a short, cheap war
Ankara's goals in Syria are constrained by geopolitics and its own military limits, writes Borzou Daragahi
Sunday 13 October 2019 08:37 BST
Comments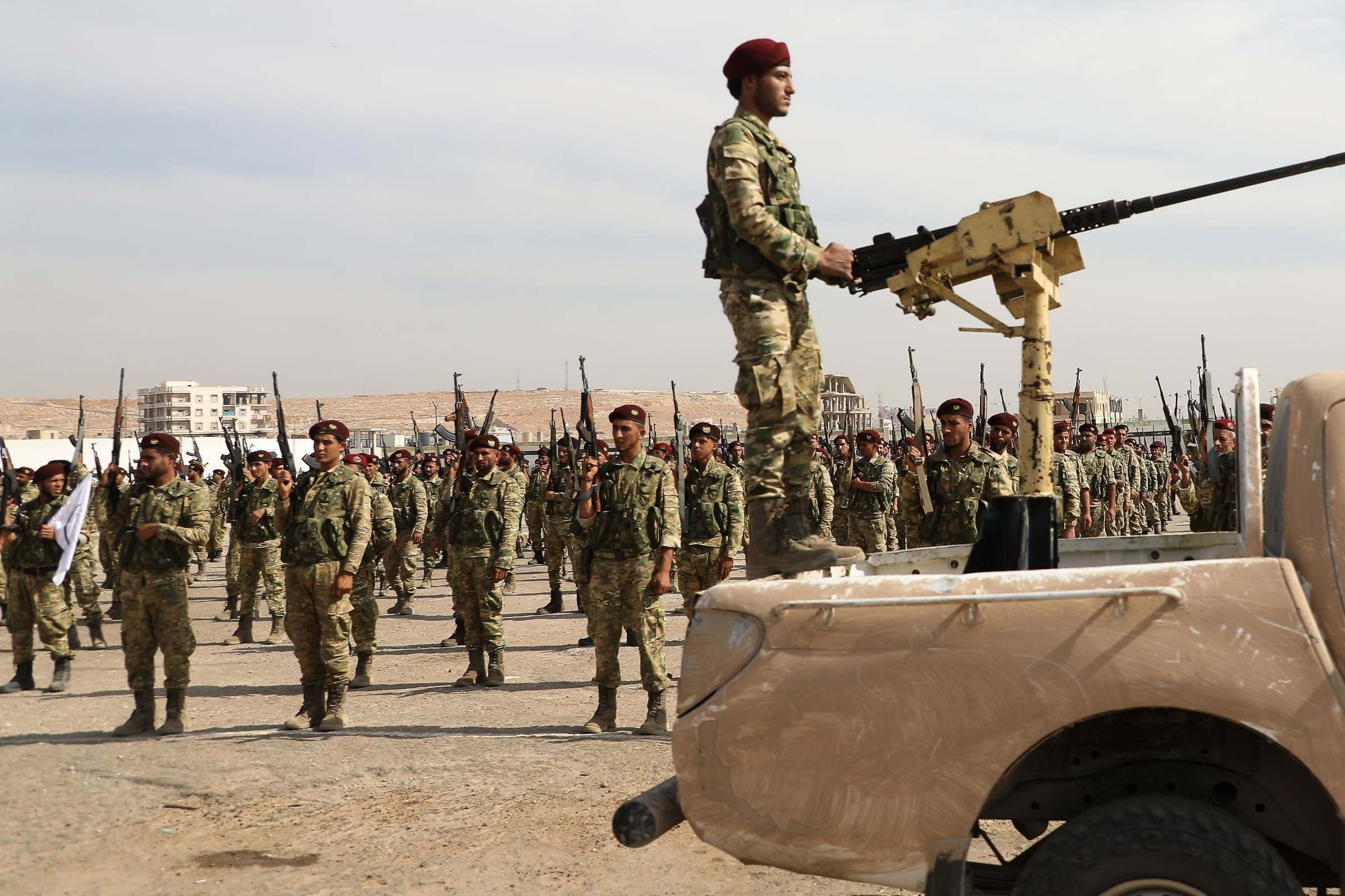 Across the world, supporters of the Kurds in northeast Syria have decried what they describe as an impending land grab by Turkey; a 19th century-style attempt by Ankara to recapture its former Ottoman imperial lands.
But Turkish officials and analysts say Ankara's aims in launching its "Operation Peace Spring" are far less ambitious: an attempt to damage a threat at its borders, salvage a failed Syria policy, and perhaps gain some domestic political advantages.
In that sense, President Recep Tayyip Erdogan's latest intervention in Syria bears more in common with Russia's limited 21st century forays into former Soviet lands like Georgia and Ukraine, than with British or French imperial wars of conquest.
"They want to be the grand spoiler for this Rojava experiment," said Yoruk Isik, a geopolitical analyst based in Istanbul. "That's 51 per cent of the motivation. They want to prevent any Kurdish autonomy."
On Wednesday, Turkey launched an offensive into northern Syria against the Kurdish-led Syrian Democratic Forces (SDF), just three days after President Donald Trump announced that the US would not stand in the way and would be withdrawing its forces from the area.
Turkey launches offensive into Syria
Show all 25
The SDF called the announcement a "stab in the back", having been the US's main ally in the fight against Isis in Syria, where they lost some 11,000 fighters in the years-long battle.
Turkish officials say they hope to establish a 20-mile corridor along their southern border from the Euphrates river 400 kilometres east to the Iraqi frontier, declare it a "safe zone," and repopulate it with friendly Syrian Arab refugees instead of hostile Kurdish separatists of the Kurdistan Workers Party (PKK) and what they consider to be its Syrian affiliate, the People Protection Units (YPG), the main fighting faction of the SDF.
"The objective of the Operation Peace Spring is to exterminate PKK/YPG and [Isis] from the east of the Euphrates, thereby providing security and safety for our people as well as enabling our Syrian brothers and sisters to return to their homeland," the Turkish presidency's office of communications said in a briefing paper distributed to international correspondents.
Syrian rebel fighters backed by Turkey attack Kurdish-led militia
Analysts who have been briefed by Turkish military officials said Ankara would likely do the bare minimum to meet its limited tactical objective and hope that nothing will go wrong.
"So far, all the people that I've spoken with are repeatedly stressing that we march 20 miles and we stop," said Selim Sazak, a Brown University researcher who maintains ties with Turkey's military establishment.
"I'll give you a verbatim quote from a senior official I spoke with: 'We already have 10 million Kurds of our own'," said Mr Sazak, who has been briefed by Turkish officials. "'Why would we need 5 million more along with several ten-thousands of Isis fighters in prisons. We get our buffer. They go south to be the wardens of the Isis prisons. The further down south we move, the likelier we would end up with the Isis'."
Mr Erdogan is often described as a brilliant tactical leader, but lacking in overall strategy. Under his 16-year reign, Turkey's foreign policy has been mostly inconsistent, and opportunistic.
His support for the uprising in Syria, part of his abandoned stance as a champion of the Arab Spring uprisings, badly backfired. The military intervention in northeast Syria is a last resort for a country genuinely afraid it will inspire separatist Kurds in Turkey, and hostile to the 4 million Syrian refugees it hopes will at least partially return to the "safe zone" it plans to establish.
"Turkish policies on Syria evolved and have been reactive for a long while," said Ziya Meral, a fellow at the Royal United Services Institute. "Turkey does not have a clear strategy or long-term aim or exit strategy in mind. For now it is about denying territory to PKK-related groups."
Turkey spent years laying the military, diplomatic, and political groundwork for the current operation, called "Peace Spring". It voiced extreme discomfort with Rojava since its 2013 inception. The US decision to partner with the group rankled Turkey and became the main irritant in rising tensions between Washington and Ankara. Turkey's 2018 toppling of the YPG-led authority in the northwest Syrian enclave of Afrin, called "Operation Olive Branch", can be seen as a trial run for the current operation.
Ankara has spent the last year lobbying Russia, which has emerged as the key global player in Syria, as well as Mr Trump to push its plans for northern Syria, outlining its vision for a safe zone.
"This had to happen," said Mr Sazak. "There was no way around it, except a YPG state on the Turkish border. It was either this or that. No third solution."
On the ground, Turkey so far has mostly used air power to shape the battlefield in its initial days. "I've seen a relatively risk-averse strategy, heavy on airstrikes and artillery, in preparation for mechanised assault," said Aaron Stein, Middle East director at the Foreign Policy Research Institute in Washington.
The first stage of Turkey's offensive is focused on a 100-kilometre rectangle stretching from border towns of Tel Abyad east to Ras al-Ain, with a depth of about 25km inside Syria.
"We are looking at an operation that will secure a rectangle between those cities and give Turks firing range on the road between Hasaka and Kobane," said Nawar Oliver, a military analyst at the Omran Institute, an Istanbul-based think tank.
Carving out the rectangle will allow Turkish and friendly forces to divide Rojava, and direct artillery and ground operations to secure the M4 highway coursing through northern Syria and begin to bleed Tel Abyad and Ras al-Ain
"They want to completely besiege Tel Abyad and Ras al-Ain before they begin to either to clear it or just sit there and wait," said Mr Stein, who is a Turkey specialist.
Further stages will focus on expanding a zone of influence. In contrast to previous Ankara's attempts to carve out territories in Syria, the rebel fighters will likely take a back seat to uniformed Turkish forces. In both Afrin and Jarablus, the Syrian rebel fighters of the Free Syrian Army were criticised by locals for looting and unruliness in captured areas.
"Some of the locals in the area – even Arabs – are worried about some behaviours from the armed factions," said Mr Oliver. "There were a lot of problems with some of the behaviours of the factions. We don't want the same mistakes."
Analysts predict a short, intense war lasting weeks or several months followed by a more lengthy and messy period of stabilisation. Turkey's space for manoeuvre is constrained by geopolitics and its own military limits.
Turkey: Civilians rushed to hospital as bombing rains down
At the UN General Assembly gathering last month, Mr Erdogan showed a map detailing around 10 blue dots designated as the construction sites of settlements for Syrian refugees. But Mr Stein suggested each of those nodes also represented a permanent Turkish military position, such as those it has long operated in northern Iraq.
Turkish officials say they have briefed both the US and Russia as well as Nato allies ahead of the incursion, and both Moscow and Washington appear to be setting rules for Ankara's movements.
Turkey is also broke. Its economy is suffering, and wars are expensive.
"I don't think they have a broad vision," said Mr Stein. "People keep trying to ascribe coherence. They have military objectives and they will meet those military objectives within six months."
Mr Isik, who monitors ship and plane traffic, detected planeloads of Russian aviation experts arriving in Ankara on Thursday, likely to assist in Turkish air operations over northeast Syria. But Turkey, a Nato member integrated into the US-led electronic and communications systems, is also dependent on Washington to operate its most advanced military technology.
"We don't really have the capacity to operate militarily on our own for months, without Russian and American assistance," he said.
Turkish military officials are confident they can accomplish their goals quickly. Northeast Syria is mostly flat, a significant disadvantage to Kurdish separatist guerillas who are most effective fighting from mountains. Kurds fought effectively against Isis but that was mostly with the help of US fighter jets and artillery, which are aided by advanced guidance systems.
"Winter is coming, and it's going to be harder for the YPG to operate on the plains," said Mr Isik. "Without American airpower they will easily be hunted down by Turkish planes and artillery."
Join our commenting forum
Join thought-provoking conversations, follow other Independent readers and see their replies