Hundreds of Isis suspects arrested during anti-terror crackdown inTurkey
400 terror suspects arrested across the country as security forces conduct series of coordinated raids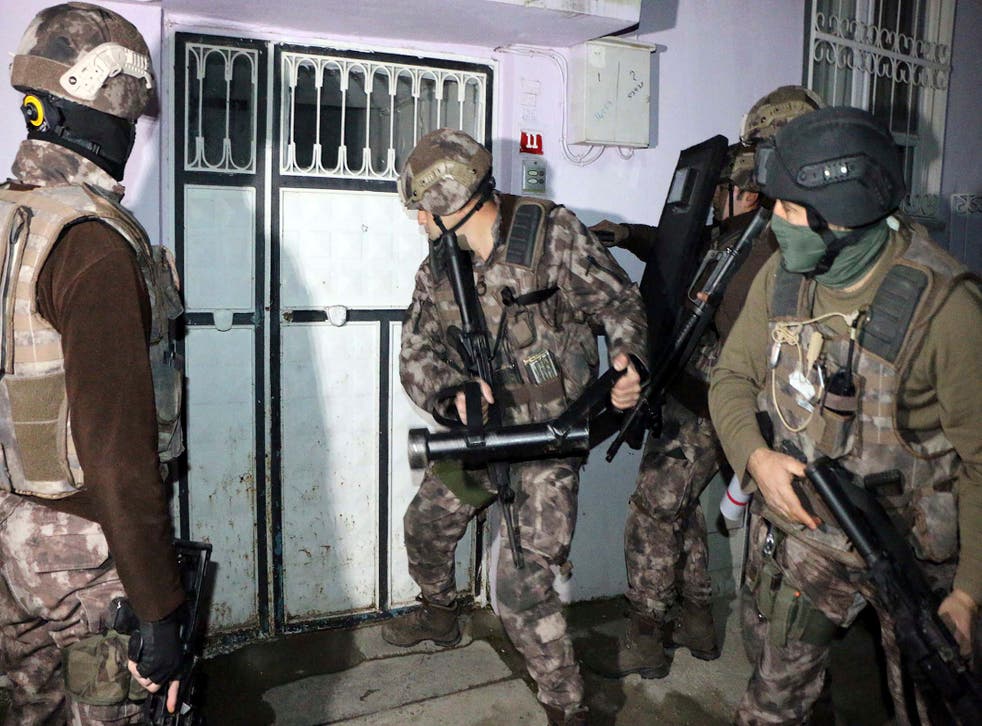 Turkish police have arrested 400 suspected Isis terrorists in a series of raids as part of a crackdown on terror across the country.
At least 60 suspects were detained in the capital Ankara, while 150 were arrested in Sanliurfa province near the Syrian border along with scores of others across the country during the past week, as security forces carried out the raids.
The arrests come a month after an Isis member carried out a terror attack at a nightclub in Istanbul, killing 39 people and injuring dozens more, in what was the first Isis-claimed atrocity to take place in Turkey.
Police detained the suspected attacker, Abdulgadir Masharipov, on 16 January. Authorities reported he confessed to the massacre.
Dozens of people were previously detained in connection with the attack, which Isis had cited as revenge for Turkish military involvement in Syria.
Following the attack on the Reina nightclub, Turkish President Erdogan said his country was determined to destroy the source of threats against it, saying the country would "fight to the end" against the terror groups and would "never give ground to such dirty games."
In addition to the latest arrests, Turkey says at least 780 people, including 350 foreigners, remain in detention — some of whom have been convicted — over suspected links to the jihadist group.
Despite various claims by that Isis is facing imminent defeat, the terror organisation appears to still be capable of fighting on multiple fronts, holding west Mosul in Iraq with a population of 750,000, ands having recaptured Palmyra in Syria in mid-December.
Join our new commenting forum
Join thought-provoking conversations, follow other Independent readers and see their replies