Several European journalists barred from press conference announcing €275m EU grant to Turkey
Grant will help fund the construction of a railway line between the southeast edge of the EU border in Bulgaria and Istanbul
Thursday 28 February 2019 16:06 GMT
Comments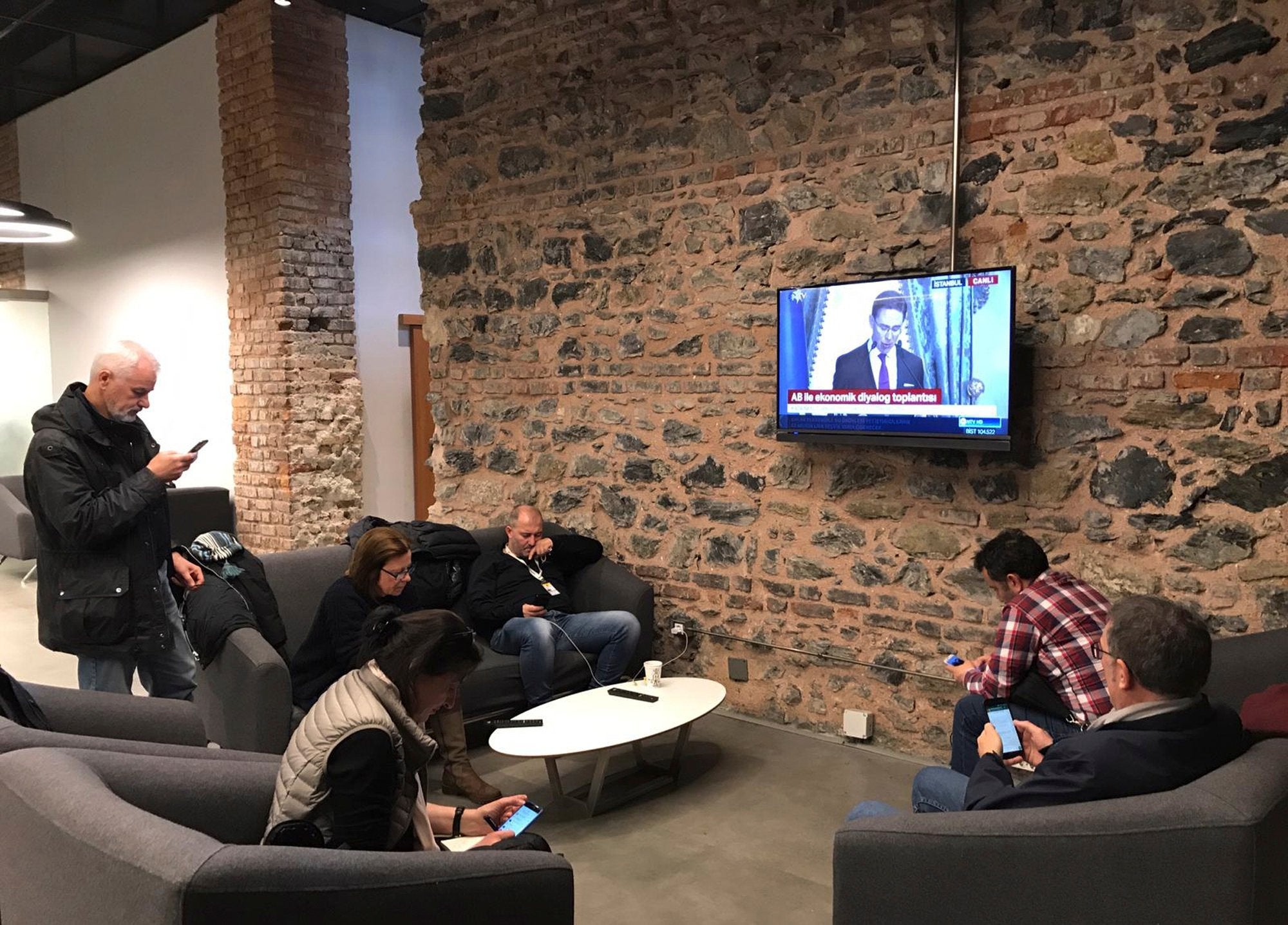 At least half a dozen European journalists were barred from a press conference and signing ceremony on Thursday announcing €275 million in European Union money for Turkish rail projects.
The grant will help fund the construction of a railway line between the southeast edge of the EU border in Bulgaria and the Turkish commercial capital, Istanbul.
EU Commission Vice President Jyrki Katainen told reporters at the televised appearance in Istanbul that he deeply "regretted" the barring of the journalists, and insisted that the EU was working with Turkish authorities to make sure "freedom of the press is respected."
Berat Albayrak, Turkey's minister of energy, acknowledged some journalists seeking to enter the press conference were barred because they have not yet their press cards renewed. "As you see, the ones whose accreditations were renewed are here, and they are free and at ease to ask their questions," he said.
The signing of the deal comes weeks before closely watched 31 March municipal elections in which President Recep Tayyip Erdogan's Justice and Development Party (AKP) faces voters for the first time since a financial meltdown last year. Insiders say the party's success hinges on the economy, with supporters of the AKP complaining about a loss of lucrative government building contracts.
World news in pictures
Show all 50
Turkey has had fraught relations with the EU despite deep economic ties. Turkey has sought to enter the EU since 2005, but talks have stalled over issues pertaining to Ankara's commitment to democracy and freedom of speech.
Europe's contribution to the €1 billion Halkali-Kapikule Railway line project has been described as its largest ever investment in Turkey, linking central Istanbul to the EU border. The railway link have a 200 km/hour maximum speed capacity and "state-of-the-art" signalling systems.
"With the signing of this flagship railway project, EU and Turkey show once more that they can work hand in hand for the benefit of their peoples, and for a joint and sustainable future," EU Commissioner for Transport Violeta Bulc said in a statement.
Join our commenting forum
Join thought-provoking conversations, follow other Independent readers and see their replies