Anti-Western conspiracy theories rife in Turkey following Russian ambassador shooting
Anti-Western conspiracy theories are widely spread in both countries following major news events and Monday's fatal shooting has been no exception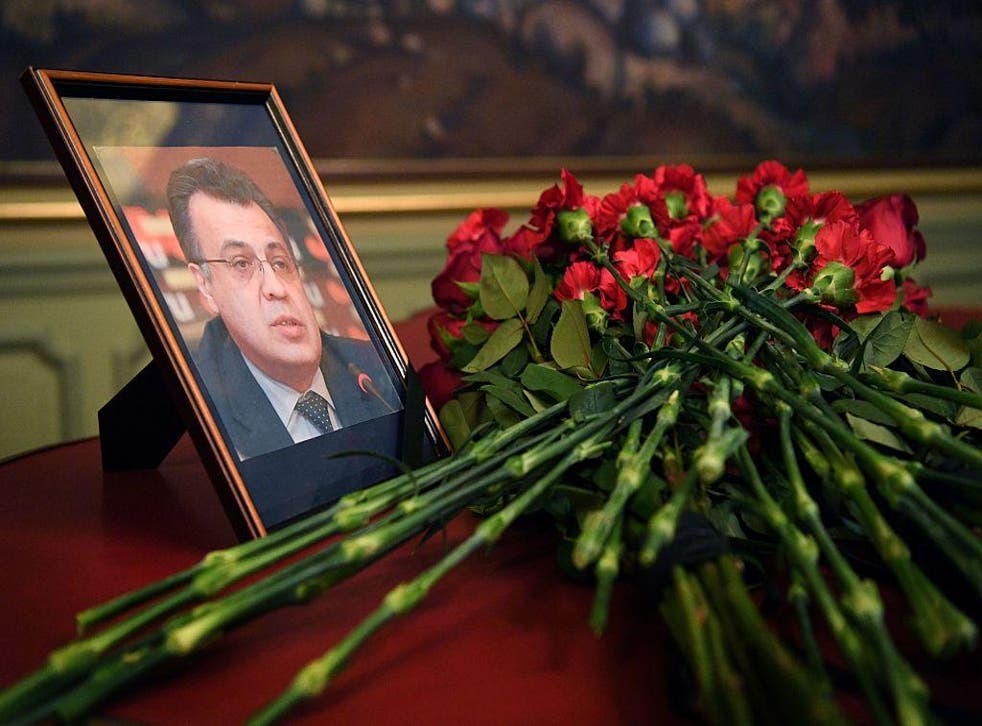 Several conspiracy theories are flying around in Turkey following the assassination of the Russian ambassador to the country at the hands of a gunman who shouted "Remember Syria! Remember Aleppo!" during the attack.
The incident is widely seen as an attempt to sour relations between the two countries ahead of two rounds of talks between Moscow, Ankara and Tehran on the future of the Syrian crisis.
While Turkish President Recep Erdogan and Russian leader Vladimir Putin have publicly stressed that they are more determined to "step up to terrorism" together than ever in light of the incident, Mr Putin has also said he is keen to find out who was "guiding the gunman's hand" in the attack.
Anti-Western conspiracy theories are usually widely disseminated in both countries following major news events, and Monday's fatal shooting has been no exception.
Pro-government newspapers in Turkey were quick to point blame in the direction of the US' Central Intelligence Agency, claiming the envoy's death was a plot carried out by the US-based Muslim cleric Fethullah Gulen, whom Turkey says is behind the failed coup in July aimed at toppling Mr Erdogan.
"Great Sabotage," newspaper Yeni Safak's front page headline read.
Mr Gulen has denied the accusation.
Many Turks have taken to social media to posit their own theories, including the idea that US President Barack Obama ordered the assassination as "payback" for Russian meddling in the election, or to prevent its Nato ally from becoming too close too Russia.
Some Russian politicians, too, have been speculating about the assassination, claiming it was orchestrated by Nato countries.
Frantz Klintsevich, the deputy chairman of the upper chamber of the Russian Parliament's defence and security committee, told reporters on Monday "It is highly likely - that representatives of foreign Nato secrets services are behind it."
"What has happened is a true provocation, a challenge. It is a challenge for Russia", he added.
Man shouts 'We die in Aleppo, you die here' after shooting dead Russian ambassador to Turkey
Other theories floating around the internet include one which suggests the ambassador was not really killed.
"How can someone be shot 8 times and there be no blood in any of the photos? Staged assassination?", one commentator wondered on Twitter.
And on the anti-Turkey side, some people are of the opinion that Mr Erdogan 'planned the whole thing' in order to hasten the thawing of Russo-Turkish ties.
Similiar claims were made by Mr Erdogan's critics about July's coup after the president used the incident to consolidate his grip on power and crackdown on critics in the name of security.
Join our new commenting forum
Join thought-provoking conversations, follow other Independent readers and see their replies