President Erdogan wants to change definition of 'terrorist' to include journalists and politicians
'It's not only the person who pulls the trigger, but those who made that possible who should also be defined as terrorists'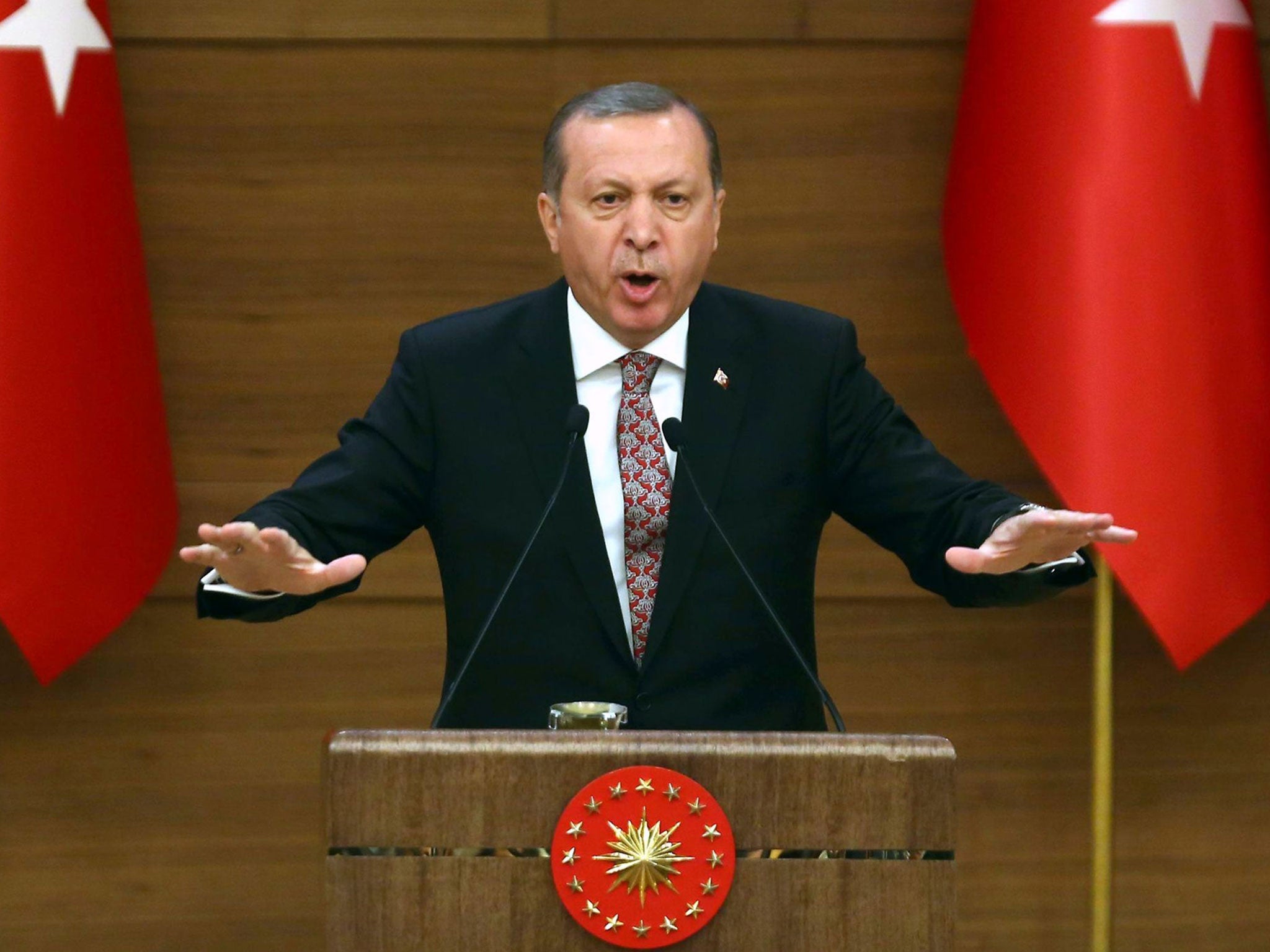 Turkey's President Tayyip Erdogan has claimed the definition of a terrorist should be changed to include their "supporters" - such as MPs, civil activists and journalists.
It comes after three academics were arrested on charges of terrorist propaganda after publicly reading out a declaration that reiterated a call to end security operations in the south-east of Turkey, a predominantly Kurdish area.
Mr Erdogan has said the academics will pay a price for their "treachery".
A British national was also detained on Tuesday despite having ordered the arrests, after he was found with pamphlets printed by the Kurdish linked People's Democratic Party (HDP).
"It is not only the person who pulls the trigger, but those who made that possible who should also be defined as terrorists, regardless of their title," President Erdogan said on Monday, adding that this could be a journalist, an MP or a civil activist.
His comments came the day after a suicide bomb attack in the country's capital of Ankara killed at least 34 people and wounded 125 others when a car bomb was detonated near a main square in the Kizilay neighbourhood.
Recep Tayyip Erdogan's most controversial quotes
Show all 8
Violent action between the government and the PKK – which is being blamed by authorities for the Ankara bombing – has reached its worst level for 20 years since fighting restarted last July. Hundreds of civilians, militants and security forces have been killed since the summer.
President Erdogan has already threatened the future of Turkey's highest court after it ruled that holding two journalists in pre-trial detention was a violation of their rights to freedom of expression.
The journalists, Cumhuriyet newspaper editor Can Dundar and Ankara bureau chief Erdem Gul, were arrested on charges of revealing state secrets and attempting to overthrow the government. They reportedly face calls for multiple life sentences from prosecutors and will stand trial later in March.
Additional reporting by Reuters News Agency
Join our commenting forum
Join thought-provoking conversations, follow other Independent readers and see their replies