Turkey shells Kurdish fighters in Aleppo province as Bashar al-Assad's forces continue to advance on rebels
Artillery fire was reported from over the Turkish border at four locations on Saturday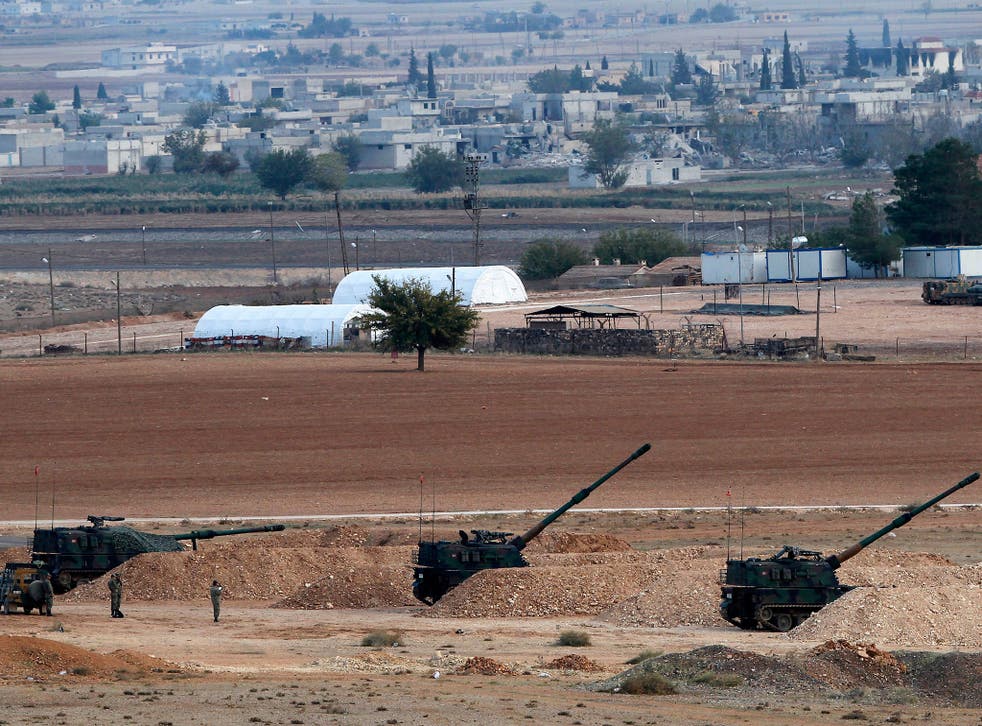 Turkey has been shelling Kurdish fighters in Syria's Aleppo province as regime forces backed by Russian air strikes continue to make gains against rebels.
The Turkish military claimed that it was fired on by artillery from Azaz, which is close to the Turkish border.
Turkish Prime Minister Ahmet Davutoğlu told a press conference: "Today retaliation was taken under the rules of engagement against forces that represented a threat in Azaz and the surrounding area."
He also demanded that Kurdish forces left the area.
The US has urged de-escalation between the two sides.
"We have urged Syrian Kurdish and other forces affiliated with the YPG not to take advantage of a confused situation by seizing new territory," State Department spokesperson John Kirby said in a statement.
"We have also seen reports of artillery fire from the Turkish side of the border and urged Turkey to cease such fires."
Shelling was reported at Menagh air base, a former Syrian Air Force facility that Kurds seized from Islamist rebels just days ago, and at three other positions between the airport and Turkish border.
Tweeting from its seemingly official PYD Rojava account, the Democratic Union Party confirmed the attack on Menagh and shared an aerial photo appearing to show craters in the ground.
"The Turkish Armed Forces fired shells at PYD positions in the Azaz area," a Turkish government source told Reuters.
The air base has been a key target for several parties in the Syrian civil war since 2012, being besieged by rebels for almost a year until it was seized by a coalition including an early form of Isis and the al-Qaeda-linked Jabhat al-Nusra in August 2013.
It remained in rebel hands until Thursday, when Kurdish PYD fighters capitalised on the diversion caused by Bashar al-Assad's forces and Russian air strikes attacking rebel areas to the south to seize Menagh.
Russian planes staged at least 30 raids against rebels, Reuters reported, although it was unclear whether the bombing was deliberately in support of the Kurds.
Zekeriya Karsli, a rebel commander from the Levant Front alliance said at the time, said: "The fall of Menagh airport has made the situation on the ground pretty grim."
Other recent gains reported include the villages of Deir Jameal and al-Qamiya, which rebels evacuated as Syrian troops advanced from the south.
"The Kurds have gained from the major offensive in Aleppo to widen their areas of control," Rami Abdulrahman, head of the UK-based Syrian Observatory for Human Rights, said.
The US-led coalition has backed Kurdish fighters in Syria and Iraq because of their role fighting Isis, succeeding in pushing the terrorist group back in northern Syria.
But Turkey, which is struggling to end a three-decade insurgency on its own territory by Kurdish militants, views them as terrorists and has been sporadically shelling groups fighting along its border.
President Recep Tayyip Erdogan lashed out at the US for supporting groups including the PYD and Kurdistan Workers' Party (PKK) last week.
"Are you on our side or the side of the terrorist PYD and PKK organisation?" he asked, claiming the West was creating a "sea of blood".
Turkey has also said it will not permit Kurds to join peace talks in Geneva, which are scheduled to re-start later this month after falling apart in January.
But John Kirby, a spokesperson for the US State Department, said America does not recognise the PYD as terrorists and support would continue.
"Kurdish fighters have been some of the most successful in going after Daesh (Isis) inside Syria," he added.
"We have provided a measure of support, mostly through the air, and that support will continue."
Turkey's foreign minister, Mevlut Cavusoglu, announced that Saudi Arabia would be sending fighter jets and troops to Turkey ahead of co-ordinated operation in Syria.
"At every coalition meeting we have always emphasised the need for an extensive result-oriented strategy in the fight against the Daesh terrorist group," he told a Turkish newspaper on Saturday.
"If we have such a strategy, then Turkey and Saudi Arabia may launch an operation from the ground."
Meanwhile, Assad's forces made new gains on Saturday, capturing the village of Tamoura near Aleppo and tightening the noose around rebel-held parts of Syria's second city.
In pictures: Russian air strikes in Syria

Show all 19
State television and the Syrian Observatory for Human Rights reported the gains, while Hezbollah's Al-Manar TV said government are now nearing the towns of Hayan and Anadan, which lie on the road to Aleppo city.
Activists were reporting Russian air strikes in the area today, as John Kerry, the US Secretary of State, accused the Kremlin of targeting civilians and legitimate opposition groups.
The Russian Prime Minister said the reports were "just not true" and claimed Isis was the target of his country's intervention.
Talks in the German city of Munich on Friday saw world powers agree a temporary "cessation of hostilities" to start within a week but there was little hope for a long-term truce after Assad vowed to retake the whole of Syria by force.
Additional reporting by Reuters
Join our new commenting forum
Join thought-provoking conversations, follow other Independent readers and see their replies