Turkey shoots down Russian plane: What could be the consequences for global conflict, Syria and the fight against Isis?
Vladimir Putin has already warned of 'serious consequences' for relations between the two countries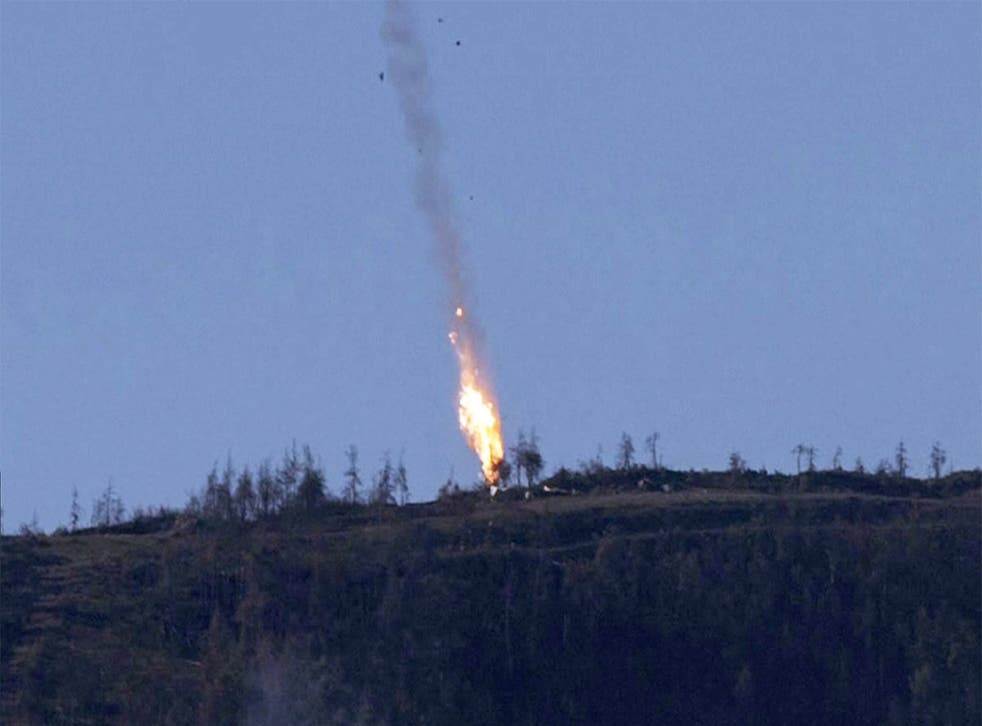 Turkey's downing of a fighter jet on Tuesday is thought to be the first time a Nato member has shot down a Russian aircraft since the Cold War, risking a dangerous increase in international tensions.
Vladimir Putin was quick to warn of "serious consequences" for relations between the two countries and Russians were advised not to go on holiday to Turkey as their foreign minister swiftly cancelled his planned visit to Ankara.
Meanwhile, representatives from the UN Security Council were summoned for a briefing and an extraordinary meeting of Nato's North Atlantic Council was called.
What will be the consequences for Russia and Turkey?
Kim Sengupta, The Independent's defence and diplomatic correspondent, said relations between Russia and Turkey could be severely damaged.
He noted the Russian President's "extraordinarily strong language" while accusing Turkey of acting as the "accomplices of terrorists".
"This is for a country that had actually had quite good relations with Russia," Mr Sengupta said. "They have had their differences over Syria and Turkey isn't happy about Russia backing Assad but even then it's been cordial."
That relationship seems to have already been shattered, with the Russian President's warning of "significant consequences for Russian-Turkish relations" coming hours before a slew of moves telling Russians to stop visiting Turkey and news stories in state-sponsored outlets accusing Ankara of "dealing with radical Islamists".
Will Nato be drawn in?
Nato held an emergency meeting of its North Atlantic Council, the alliance's main decision-making body, at Turkey's request.
Ambassadors from 28 member countries met in Brussels for the briefing and to decide on any further action.
The alliance was expected to attempt to de-escalate tensions over Turkey's actions, despite strong statements in recent months condemning Russian incursions into member states' airspace in Europe.
"The last thing Nato wants right now is a new conflict with Russia with everything else that's going on," Mr Sengupta said.
Could this be the start of a new war?
Middle East expert Shashank Joshi, from the Royal United Services Institute, said the combination of Syria's ever-more crowded airspace, Russian probing tactics and the diplomatic tensions create a "real toxic cocktail that can easily erupt into crisis"
"The situation is dangerous because Russia is quite probably deliberately probing Turkish airspace both for military reasons and political reasons," he added.
"These things always proceed in a very unpredictable fashion. We have seen how conflicts can begin when there are large alliances."
But Keir Giles, a fellow at the Chatham House international affairs think-tank, said it was not in the interests of either Turkey or Russia to escalate the situation.
He said Ankara had repeatedly made clear to the Russians what the consequences would be if their aircraft violated Turkish airspace and that while the Russians had said their aircraft had not strayed outside of Syrian airspace, Moscow had "absolutely no credibility whatsoever" given their claims about the shooting down of a Malaysian airliner over Ukraine last year.
"The rules of the game as established by Turkey in this area are rules Russia understands very well," Mr Giles added.
"The fairly measured, low-key response from Russia does suggest that Russia is already aware that it is not going to come out on the positive side on this."
Russian plane shot down by Turkish jets

Show all 5
Could it alienate Russia further from the West?
Dr Natasha Kuhrt, an expert on Russian foreign policy at King's College London, the general thrust in Russian media had been "to try to play down this incident," indicating the government did not want the situation to escalate.
"Relations have been very strained between Russia and Turkey of late so Moscow will be trying its utmost to contain the damage this might cause," she added.
Russia's participation in the Syrian peace process talks in Vienna, the co-operation on the UN Security Council resolution and meetings between Russian president Vladimir Putin and Nato leaders provided signs of a renewed diplomatic engagement between Moscow and the West in recent weeks.
Dr Kuhrt said: "The incident could potentially upset the progress made so far on coordinating responses to the Syrian crisis."
Could Russia change its operations in Syria?
A Turkmen rebel group allied with the Free Syrian Army claimed that they shot the Russian pilots as they floated towards the ground on their parachutes and posted a video of what they said was one of the men's bodies.
The Russian Ministry of Defence repeated that it was targeting "terrorists" despite repeated claims that it has been hitting "moderate" anti-Assad rebels, and has not announced any move to change its strategy.
A Russian helicopter was later hit by an anti-tank missile and forced to make an emergency landing. The crew reportedly escaped alive before rebels blew up the aircraft on the ground.
Planes may be more cautious when nearing Turkish airspace and performing low-flying missions but the Kremlin's commitment to backing its ally, President Bashar al-Assad, seems unlikely to change.
How will it impact the fight against Isis?
Russia claimed its plane was fighting "terrorists" at the time but analysts pointed out that Isis territory is sparse in Latakia province and the rebels who claimed to have a pilot's body were an anti-Assad group affiliated with the US-backed Free Syrian Army.
The plane was shot down as Francois Hollande journeyed to Washington for talks on the fight against Isis with Barack Obama.
The French President was due to urge his US counterpart to support Russia's inclusion in the alliance but the dispute with Turkey, a Nato member and part of the US-led coalition, makes that less likely than ever.
Additional reporting by PA
Join our new commenting forum
Join thought-provoking conversations, follow other Independent readers and see their replies