Turkish troops enter Syria in major operation to support anti-Assad rebels
Al-Qaeda-linked rebels could mount a resistance to new Turkish presence, potentially sparking new fighting in contested northwest region 
Monday 09 October 2017 21:19 BST
Comments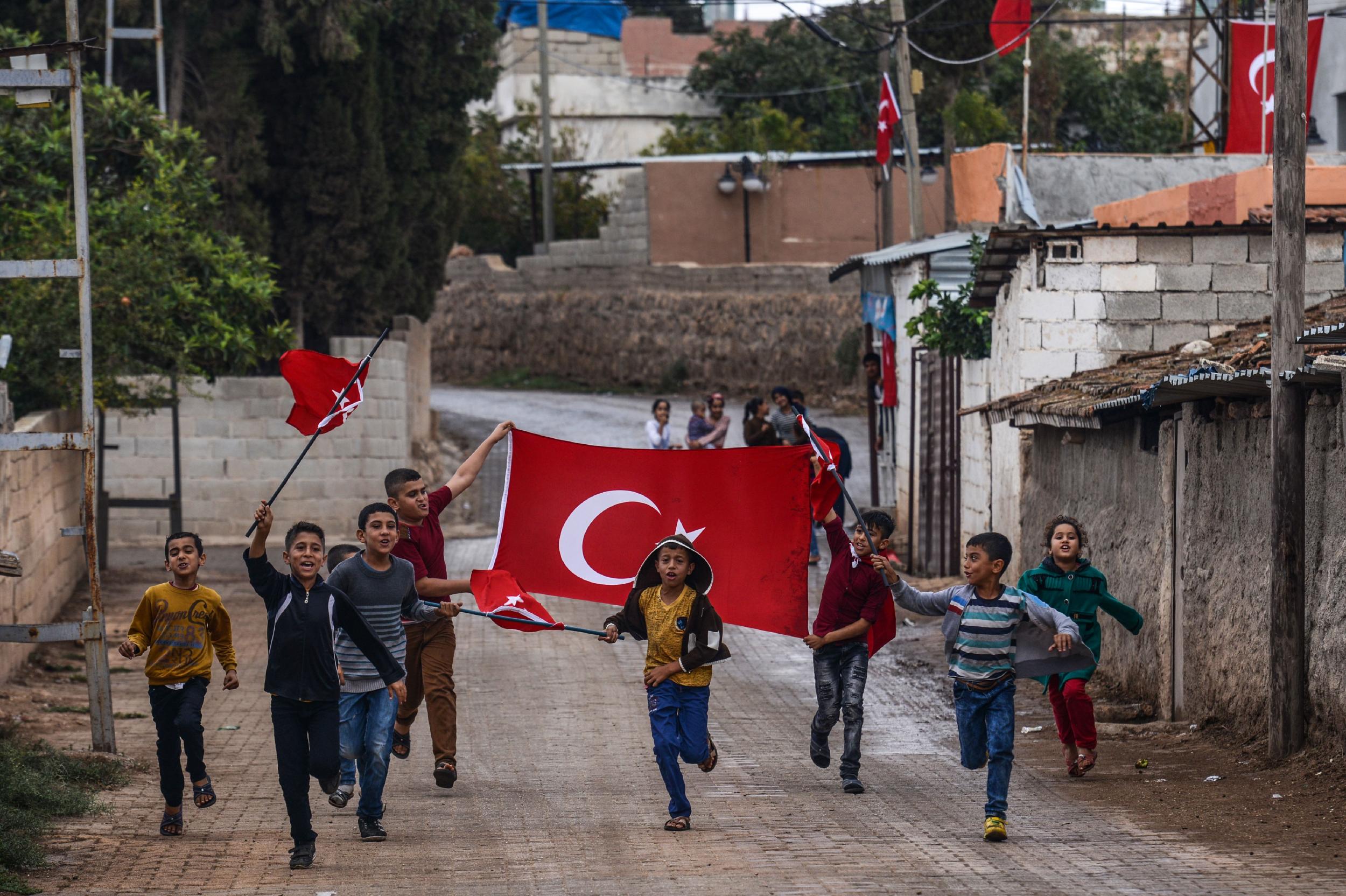 Turkey has sent troops across the border into Syria's northwest Idlib province to aid anti-regime rebel groups, a move which has the potential to spark further violence in the conflict-ravaged area.
A statement from Ankara on Monday said that Turkish soldiers had moved into Idlib overnight as part of an operation to enforce the internationally-brokered 'de-escalation' zone deal, agreed earlier this year.
They would being "reconnaissance activities", the Turkish military said, without specifying how many troops had been committed to the operation, in order to make sure the de-escalation deal was maintained. Turkey said it would also provide aid for civilians in the area.
Footage reportedly shows young Syrian refugees being beaten by Turkish soldiers at border
Idlib is now mostly controlled by Hay'at Tahrir al-Sham (HTS), a Salafist extremist group linked to al-Qaeda, which is not party to the ceasefire deal agreed between the regime and more moderate rebel groups within the Free Syrian Army (FSA) umbrella.
Turkish forces also shelled HTS positions on the edge of Idlib over the weekend. It is unclear whether HTS, heavily outgunned by the Turkish military, will put up any resistance to the Ankara offensive.
Fighting between the two could create a newly active front in Syria's complex civil war, now in its seventh year - and pose new dangers for Idlib's civilians, already pounded in the past by Russian and Syrian air strikes.
"If the [US-led coalition against Isis] or Russia decides on a big operation in this area, that means millions more refugees who will try to go to Turkey. That's why it's in Turkey's interests to not have trouble in this part of Syria," said Wissam Zarqa, a rebel media activist who fled East Aleppo for Idlib when the city fell at the end of last year.
Syrians make fuel from plastic waste
Show all 8
"The question is, can that be done peacefully? Can the Turkish government have checkpoints and some influence here without fighting? Otherwise, things will get more complicated."
The new move from Ankara is the second-largest ever Turkish troop deployment into neighbouring Syria after 2016's Operation Euphrates Shield, when Turkey sent soldiers and tanks to aid local forces in removing Isis from a strip of territory on its border - and also prevent US-backed Kurdish militias from expanding their territory.
Observers say the new offensive is also designed to prevent Kurdish territorial gains in neighbouring Afrin.
Turkey views the Syrian Kurdish militias, allied to the Kurdish PKK insurgency in its own country, as terrorist organisations. However, the US-led anti-Isis coalition backs the Kurds as the most effective ground force against the militants in Syria - which has led to tensions between the world powers in the past.
While Turkey has supported rebel factions against Syrian President Bashar al-Assad and his allies in Moscow throughout the conflict, in the last year relations between Ankara and Moscow have somewhat thawed.
The Turkish, Russian and Iranian cooperation on the de-escalation zone plan means that Turkey is "de facto agreeing to the transition of power for Assad," said Talha Kose, an analyst at the Foundation for Political and Social Research in Ankara, speaking on a panel in Istanbul last week.
"It is a very risky area - Turkey may face a backlash from moderate rebels if it can't deliver humanitarian services" and could "come under pressure" from Russia and Iran to eliminate HTS altogether, he added.
Agencies contributed to this report
Join our commenting forum
Join thought-provoking conversations, follow other Independent readers and see their replies