'When they come, they will kill you': Ethnic cleansing is already a reality in Turkey's Syrian safe zone
Turkey's invasion into northern Syria has caused a demographic shift that many fear will become permanent, reports Richard Hall
Friday 29 November 2019 14:05 GMT
Comments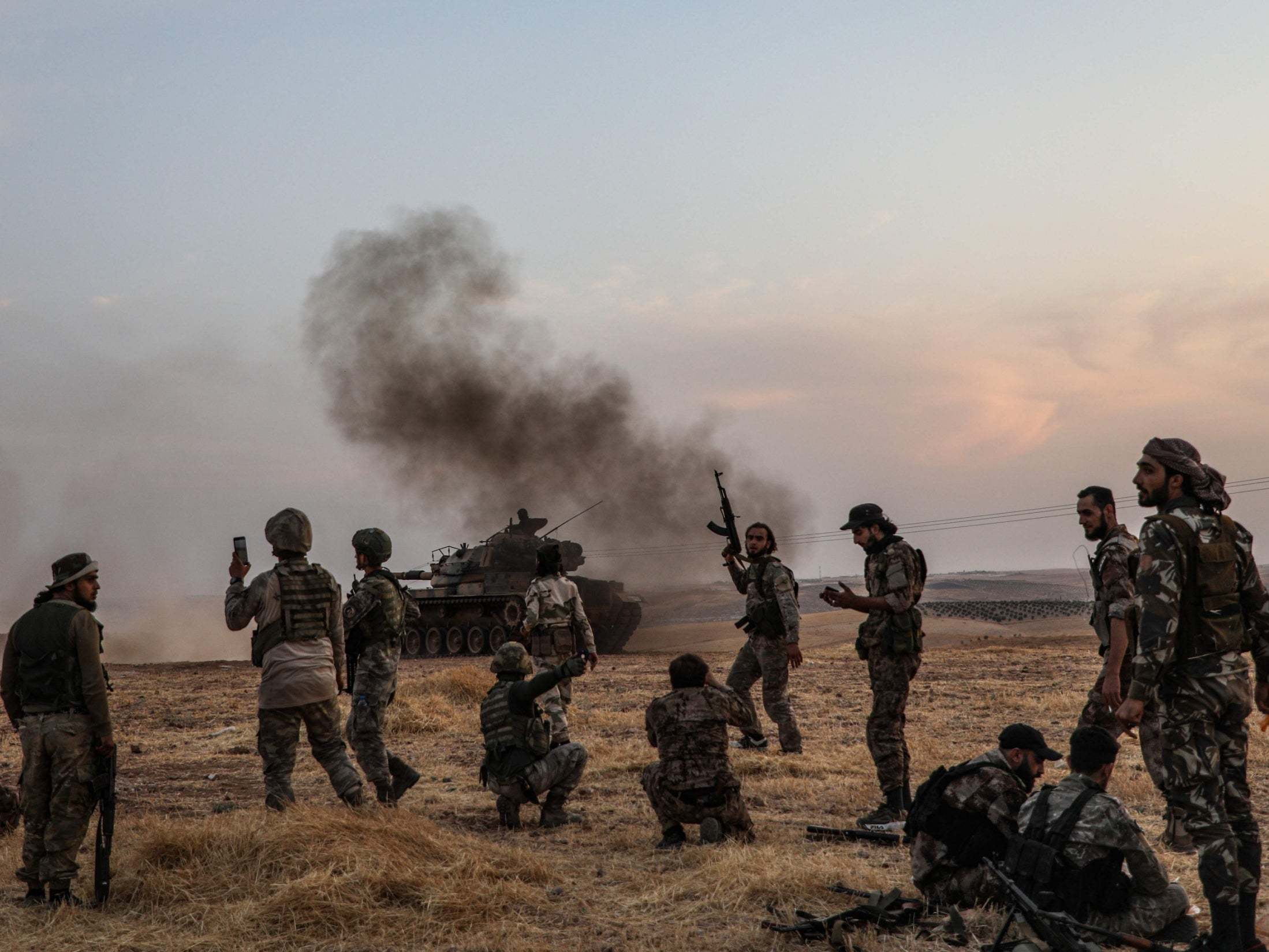 The brutal killings were not hidden, nor were they meant to be. From the very beginning of Turkey's invasion of northern Syria, the fighters it sent across the border to carry out the mission have proudly documented their own war crimes.
Videos posted online by soldiers of the Turkish-backed Syrian National Army (SNA) – showing summary executions, mutilation of corpses, threats against Kurds and widespread looting – have struck terror into the tens of thousands who find themselves in the path of the offensive.
The ethnic dimension to many of the crimes has resulted in a mass exodus of Kurds and religious minorities from these once diverse borderlands.
Now, stranded in displacement camps across northeast Syria and in neighbouring Iraq, they fear they may never be able to return home. And that, they believe, was precisely the point.
"No one can go back there now, it's impossible," says Muhammad Amin, 37, a Kurdish man who fled with his family from the city of Ras al-Ayn in the first days of the Turkish-led operation.
"We've seen the videos," he tells The Independent at a camp near the Syrian town of Tal Tamr. "They are shooting Kurdish people where they find them."
Turkey launches offensive into Syria
Show all 25
The same story is being told by countless others like Amin, in the camps and temporary shelters that have sprung up in the past two months. Taken together, they paint a picture of a dramatic demographic change.
Turkey launched a long-planned incursion into Syria on 9 October to establish what it described as a "safe zone" some 20 miles deep and 300 miles wide along the border.
Recep Tayyip Erdogan, the Turkish president, claimed the offensive was aimed at removing the Kurdish-led Syrian Democratic Forces (SDF) – a group his country classifies as a terror organisation for its links to Kurdish separatists inside Turkey.
The offensive had been threatened for some time, but was only put into action when President Donald Trump abruptly withdrew US forces from the border. Those forces had been working alongside the SDF in Syria in the fight against Isis.
Turkey has supported the operation with airstrikes, drones and artillery. Leading the fight on the ground is a ragtag patchwork of militias who have fought at Ankara's behest in two previous offensives. Some of the rebels had spent years fighting to end the rule of President Bashar al-Assad, while others were newly recruited.
The invasion was only a few days old when the first videos were posted online. Some showed the looting by SNA fighters of recently evacuated homes, but the first evidence of more violent war crimes quickly followed.
Havrin Khalaf, a member of the pro-Kurdish Future Syria Party, was travelling along a highway between the town of Ayn Issa and the city of Hasakah on 12 October when her civilian car was attacked.
A video posted online the next day shows SNA fighters, believed to be from the Ahrar al-Sharqiya faction, gather around the car as a woman's voice is heard from the back seat. Khalaf's body was later found riddled with bullets and showing signs of torture. An autopsy revealed she had a broken leg and her hair had been pulled so hard parts of her scalp were missing.
On the same day, the Syrian Observatory for Human Rights, a UK-based monitoring group, said nine civilians were executed by SNA fighters at a roadblock south of Tal Abyad.
Yet another video showed fighters firing into the body of a deceased man at the side of the road.
These brutal crimes, coming in quick succession, had a chilling effect. Those who hadn't already fled from Turkish airstrikes now did so in fear of ethnically motivated killing.
"When we saw the murder of the politician, Havrin Khalaf, we saw they did the same thing that Isis did," says 41-year-old Basima Daoud, a Yazidi woman who fled her village near Ras al-Ayn with her family and is now living in a hastily constructed displacement camp near Tal Tamr.
"We were afraid they would kill us or take us as sex slaves," she adds, referring to the enslavement of thousands of Yazidi women by Isis in 2014.
In the nearly two months since the operation began, the SNA has captured a swathe of territory between the two border cities of Tal Abyad and Ras al-Ayn that was home to a large population of Kurds, and smaller numbers of Assyrians, Yazidis and Turkmen.
The same area faced massive upheaval just a few years ago when Isis swept across northern Syria. Tal Abyad was occupied by the terror group for more than a year before being recaptured by the SDF.
This time, around 95,000 fled from Tal Abyad and Ras al-Ayn and the surrounding areas, which are now under the control of the SNA. Around half of that number has since returned, but they have been almost exclusively Arab, according to local monitoring groups.
Since the beginning of the campaign, a widespread perception formed among Kurds and other minorities that any non-Arab residents of the area would be targeted by the militias.
"Our neighbours who were Arab told us to leave. They said, 'When they come, they will kill you,'" says Daoud. "There were two Christian families in our village who left for the same reason."
These fears were bolstered by public threats made by the fighters. In one clip, previously reported by The Independent, militia fighters threaten to kill "pigs" and "infidels" as they parade a Kurdish captive. Many similar videos have been shared online.
What happened next only served to convince many Syrian Kurds that these men were serious about their threats.
As the weeks went on, more reports of ethnically motivated killings emerged from the areas recently captured by the SNA. A widespread campaign of looting and confiscation of Kurdish property – much of it also recorded by the perpetrators – and the blocking of return of Kurdish residents by SNA fighters gave the impression that these groups were systematically trying to keep Kurds out.
In a report released this week, Human Rights Watch said it had documented numerous examples of Kurdish homes being confiscated and their possessions looted. In addition, it interviewed three people who said their Kurdish relatives were blocked from returning to areas under SNA control. The rights group also reported that three men who tried to go back to their homes were killed.
Syrian Arab militiamen threaten to massacre Kurdish population
Several residents displaced from the area now under SNA control interviewed by The Independent said their homes had also been looted and their property confiscated. In most cases, they were informed of the takeover of their property by Arab neighbours who had stayed behind.
Daoud was one of them. Her husband is a farmer who owns a substantial tract of land and agricultural equipment.
"Some Arab neighbours called us to tell us the fighters have looted our house and taken it as a headquarters. They have taken our land and our equipment too. They have taken everything," she says, with tears in her eyes.
One local Yazidi leader told The Independent that 45 Yazidi families had fled from the area around Ras al-Ayn alone. Dozens of Christian families from around Tal Tamr have also left their homes behind.
Fasel Amin, 32, was among the first wave of people who fled the Turkish airstrikes in the initial days of the offensive. Today, he is living in a school used to house displaced people.
"We had a house and a shop. They stole everything. Some family members were able to go back briefly to check and it was all empty," he says.
"Turkey wants to control the whole area. It wants to change the whole demography of the area – take the Kurds out and bring the Arabs in."
The question that now haunts Amin and the tens of thousands of others who remain displaced is whether the demographic change that has taken place will be permanent.
Many Syrian Kurds see plenty of reasons which suggest it will be. They only need to point to Turkey's last operation ostensibly targeting Kurdish militants in the Afrin region. There too, in early 2018, Turkey used the same patchwork group of rebel fighters to take control of the area.
Those rebel fighters have been accused of imposing a reign of terror ever since. A United Nations commission of inquiry found in February that "armed group members in Afrin committed the war crimes of hostage-taking, cruel treatment, torture, and pillage".
"Numerous cases involving arbitrary arrests and detentions by armed group members also included credible allegations of torture and ill-treatment, often targeting individuals of Kurdish origin, including activists openly critical of armed groups and those perceived to be so," the UN report added.
More than 130,000 mostly Kurdish residents are still displaced from Afrin, living in camps in the SDF-held region of northeast Syria. Many of their homes are now occupied by Syrians from other parts of the country.
The same process may well play out in Turkey's latest "safe zone". Even before the operation began, Ankara repeatedly said that it would use the newly captured territory to facilitate the return of some one million Syrian refugees from Turkey.
Turkey currently hosts nearly 4 million Syrians, more than any other country in the world. The presence of such a large refugee population has created political problems for Mr Erdogan as the Turkish economy has struggled, and Syrians have been used as a scapegoat for the crisis.
But most of the Syrian refugees in Turkey today are from Sunni Arab areas in Syria. Such a large-scale repatriation to the previously ethnically diverse region where Turkey plans to implement its safe zone would drastically alter its demographics.
Despite Turkish officials frequently insisting that they do not seek to introduce demographic change, that is precisely what is happening. And those insistences have been overshadowed by President Erdogan's rhetoric.
In an interview with Turkey's state-run TRT network on 24 October, Mr Erdogan described the area designated for his planned safe zone as unsuitable for Kurds.
"The people most suitable for that area are the Arabs. These areas are not suitable for the lifestyle of the Kurds," he said.
When pressed by the interviewer to explain why they were not suitable, he replied: "Because these are desert regions."
This has led some experts to conclude that Turkey is indeed aiming to "Arabise" the land it has captured, and raised the prospect of ethnic cleansing by a Nato power.
"The Turkish incursion into northern Syria demonstrates clear hallmarks of ethnic cleansing," says Professor Bridget Conley, research director of the World Peace Foundation based at Tufts University.
"Turkish government statements indicated an intent to displace the Kurdish population and replace it with Syrian Arabs, and pursued this policy with repression and human rights abuses," Professor Conley, who teaches a course called Understanding Mass Atrocities, tells The Independent.
The same assessment was made by the top American diplomat in northern Syria at the time of the Turkish attack. In a damning internal memo, diplomat William V Roebuck criticised the Trump administration for not doing more to stop it.
"Turkey's military operation in northern Syria, spearheaded by armed Islamist groups on its payroll, represents an intentioned-laced effort at ethnic cleansing, relying on widespread military conflict targeting part the Kurdish heartland along the border and benefiting from several widely publicised, fear-inducing atrocities these forces committed," the internal memo said.
That memo was leaked a little under a month ago. Since then, even more evidence has emerged of ethnic cleansing. And yet these pleas have elicited little response from Donald Trump, who has seemingly lost interest in a part of the world he described recently as "blood-stained sand".
In the makeshift camps and busy schools turned into displacement centres that are now scattered across northeast Syria, many watch from afar as their homes are being destroyed and stolen. They share a common feeling of helplessness and betrayal that their former ally, the US, is looking the other way.
"I don't know how to tell you, but I will try to describe it. It's like they sent us down the well and cut the rope," says Aliya al-Ahmed, 31, who has just arrived at a dusty camp near Tal Tamr.
"If those big countries will not solve it, I don't know what will happen. It is always the poor people who suffer. We have nowhere to go."
— Additional reporting by Kamiran Sadoun
Join our commenting forum
Join thought-provoking conversations, follow other Independent readers and see their replies