Turkish President Erdogan offers US 'Ottoman slap' ahead of Rex Tillerson's visit to Turkey
Turkey demands US withdraw support for Syrian Kurdish militia as gulf between Nato allies widens ahead of tense US Secretary of State visit 
Thursday 15 February 2018 17:30 GMT
Comments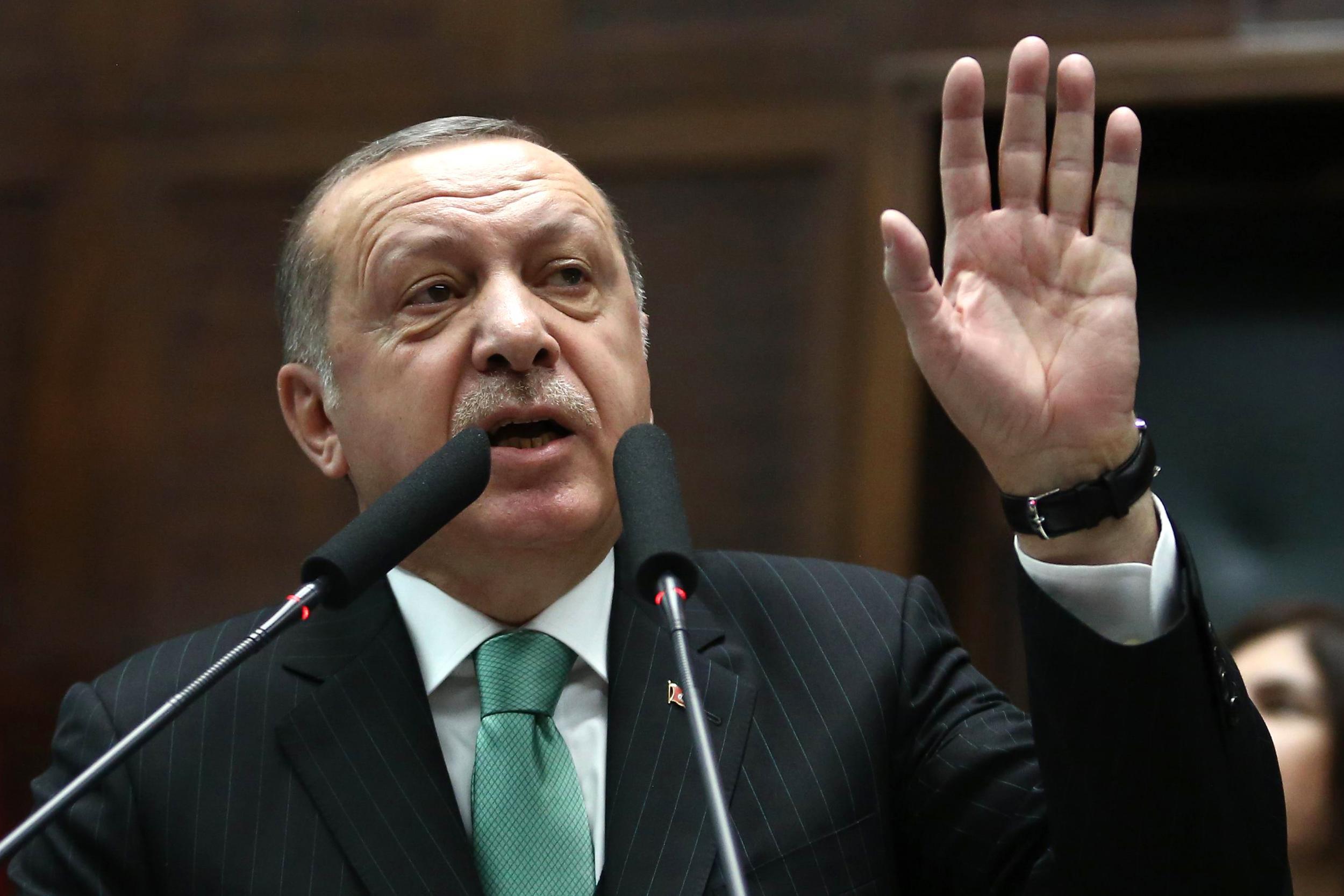 Turkey has demanded the US cut off its support for a Kurdish militia Ankara is fighting in Syria ahead of what is set to be a tense visit from US Secretary of State Rex Tillerson.
Turkish President Recep Tayyip Erdogan launched the air and ground offensive Operation Olive Branch over the border on the Syrian Kurdish enclave of Afrin last month, opening a new front in Syria's bloody conflict which has already killed dozens of civilians and fighters on both sides.
The Kurds in Syria's north have managed to carve out a semi-autonomous state since war broke out in 2011. However, Turkey views the Syrian-Kurdish People's Protection Units, or the YPG, as an extension of the Kurdistan Workers Party (PKK) of south-west Turkey, which is designated as a terrorist organisation by Ankara as well as by the US and EU.
Explosions as Turkey confirms airstrikes on Afrin, Syria
The YPG and broader Arab-Kurdish coalition Syrian Democratic Forces (SDF) have won widespread Western support over the past few years as the most effective ground force against Isis.
In January the US pledged continued support for the YPG and SDF to ensure the jihadi militants do not form a resurgent movement, a strategy which further enraged Turkey in the process.
Relations between the two Nato allies - already sour - have nosedived since.
"We demanded this relationship be ended, I mean we want them to end all the support given to the Syrian arm of PKK, the YPG," Turkish Defence Minister Nurettin Canikli told reporters in a briefing in Brussels on Thursday, a day after meeting US Defence Secretary Jim Mattis on the sidelines of a NATO meeting.
Turkish attack on Afrin, northern Syria – in pictures
Show all 9
"We demanded this structure be removed from the SDF," he said.
The rhetoric from President Recep Tayyip Erdogan has been similarly tough. He has warned that the Turkish-backed forces fighting in Afrin could push eastwards to Manbij, where US troops are stationed.
On Wednesday he said US soldiers which stood in the way of his government's military operations would receive an "Ottoman slap" - a reference to a supposed historical open-handed strike which can kill in one blow.
The salvo was dismissed by US State Department spokesperson Heather Nauert, who said, "We're used to that kind of rhetoric, whether it's from the Turkish government or from other governments… we don't get too riled about that."
The Turkish operation in Afrin, however, has worried the US, which says it could derail efforts to constrain Isis sleeper cells and terror attacks.
On top of long-standing issues such as the fate of Turkish cleric Fethullah Gulen, detained US consulate workers and the US' worry that Turkey's democratic norms have been eroded since the July 2016 coup, Afrin is expected to dominate Mr Tillerson's visit to Ankara on Thursday and Friday.
Speaking with reporters on the sidelines of the Brussels Nato meeting on Wednesday, Secretary of Defence Jim Mattis said talks with his Turkish counterpart had been open, but difficult.
"I believe we are finding common ground and there are areas of uncommon ground, where sometimes war just gives you bad alternatives to choose from," he said
"We continue to collaborate on ways to ensure their legitimate concerns are addressed."
Join our commenting forum
Join thought-provoking conversations, follow other Independent readers and see their replies