Two Israelis charged over fatal arson attack that killed Palestinian toddler and triggered unrest
The suspects' defence lawyers say they gave false confessions under torture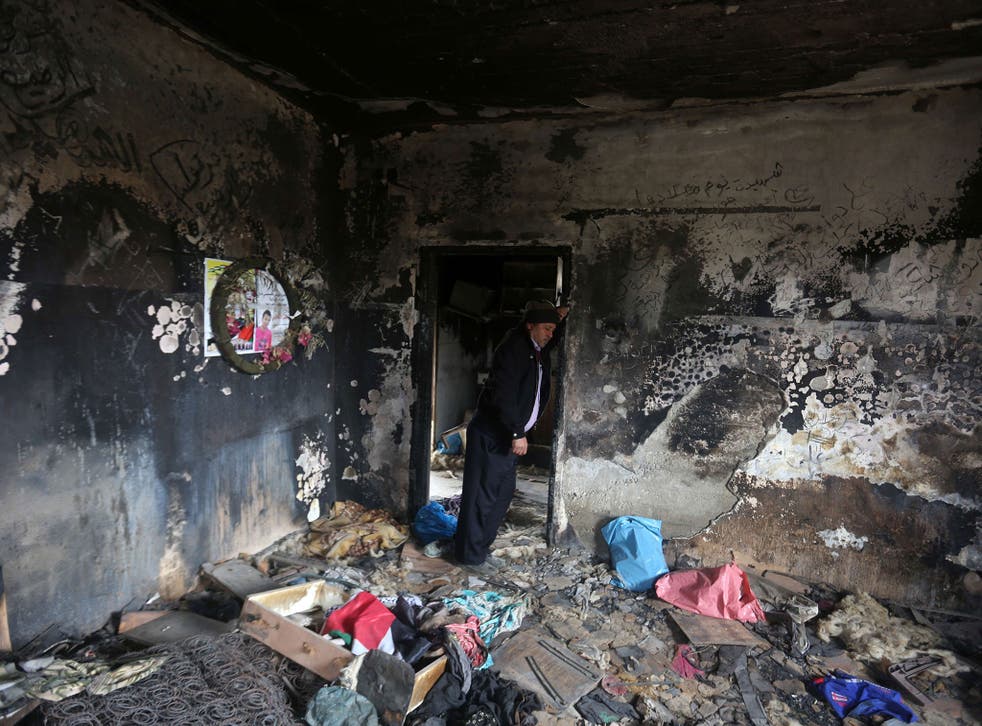 Israeli prosecutors have filed murder charges against a man and a boy for an arson attack in the occupied West Bank that killed three members of a Palestinian family and helped fuel the fiercest eruption of street violence in years.
The attack at the end of July killed 18-month-old Ali Dawabsha and his parents Saad and Riham. Another son, Ahmed, who was four at the time of the attack, is still being treated for his wounds.
Amiram Ben-Uliel, a 21-year-old from a Jewish settlement in the West Bank, was charged with three counts of racially motivated murder at Lod District Court near Tel Aviv. A second Jewish defendant, whose name was withheld due to his age, was charged as an accessory.
Israel's Shin Bet security service claimed that the suspects admitted to carrying out the attack in the village of Duma, saying it was in retaliation for the killing of an Israeli settler by Palestinians a month earlier. It said all the suspects were part of a group of extremists that had carried out a series of attacks over the years in a religiously inspired campaign to undermine the government and sow fear among non-Jews.
The indictment said that Mr Ben-Uliel admitted spraying graffiti on the Dawabsha family home and then tossing a firebomb through a bedroom window before fleeing the scene. Mr Ben-Uliel's parents said they believe in his innocence and that he was tortured during interrogation.
This view was also taken by defence lawyers for the pair who said they had given false confessions under torture in closed-door interrogations, an allegation denied by Israel's Prime Minister, Benjamin Netanyahu, and Shin Bet.
"I doubt such confessions will stand up in court," their lawyer Hai Haber said. "We know there's no significant external evidence linking the suspects to this incident."
Thirteen other Israeli Jews, most of them minors, were also indicted for hate crimes, including assaulting a Palestinian, vandalism of Arab property and setting fire to a church. Referred to in Israel as "price-tag attacks", such offences have usually been carried out in what the attackers say are reprisals for Palestinian violence against Israelis or government curbs on unauthorised building in the West Bank.
The attack in Duma and the ensuing Israeli investigation laid bare fissures in Mr Netanyahu's coalition government, but today he said the indictments demonstrated the rule of law in Israel.
Saad Dawabsha's brother, Naser, said he hoped the defendants would receive the maximum penalty, but was sceptical of Israel's seriousness in prosecuting the case.
"We have no trust in the Israeli judiciary. They would not have launched an investigation were it not for the international pressure," he said
Twenty-one Israelis and a US citizen have died in the latest bloodshed, a number that will rise if police deem a Tel Aviv shooting that killed two people on Friday as a pro-Palestinian attack. The gunman, an Israeli Arab, is at large. Israeli forces or armed civilians have killed at least 132 Palestinians, 82 of whom the authorities described as assailants. Most of the others were killed in clashes with security forces.
Israel says the violence is being fanned by a Palestinian campaign of incitement, while the Palestinians respond by saying it is rooted in frustrations stemming from decades of Israeli occupation.
The violence continued today, as a female Israeli soldier was shot in the West Bank city of Hebron, the military said. She was moderately wounded and troops were searching for the shooter. A few hours later, also in Hebron, the military said another soldier was shot and wounded.
REUTERS; AP
Join our new commenting forum
Join thought-provoking conversations, follow other Independent readers and see their replies