UAE hit by rare snowfall and arctic winds as temperatures drop to -5 degrees
Areas of the Gulf country reported 10cm (four inches) of snow and 80km (50 mile) winds during the weekend's unprecedented cold snap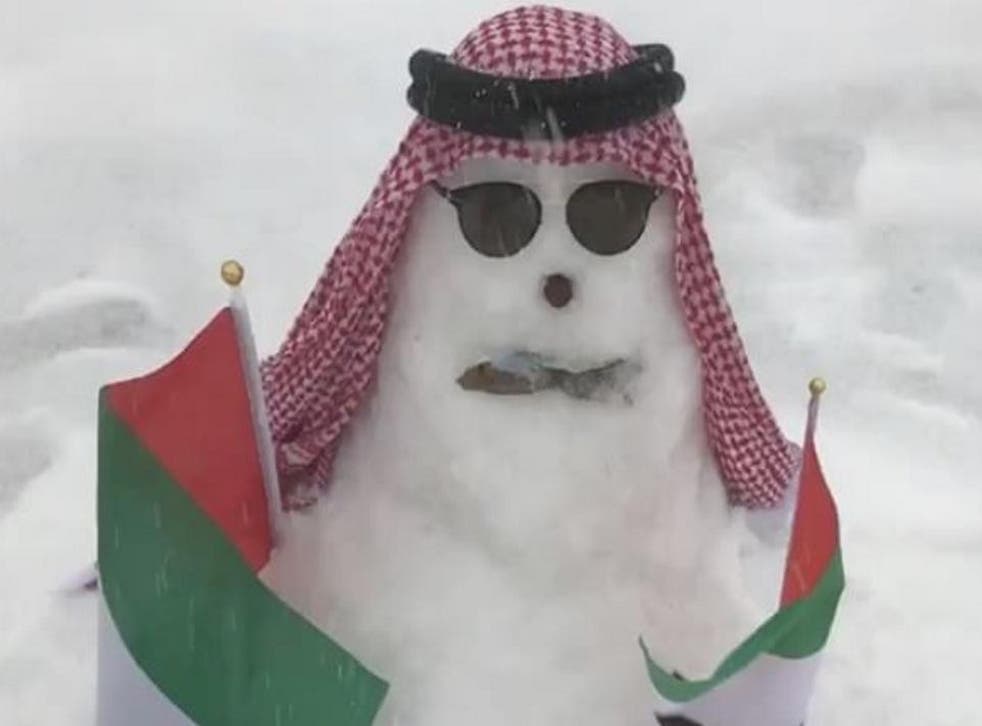 The United Arab Emirates has been hit by some of the coldest weather in the region in years, stunning Emiratis who have been enjoying the rare snowfall.
Temperatures plummeted to minus five degrees celsius in mountainous Ras Al Khaimah over the weekend, leaving the normally hot and arid region covered in up to 10cm (four inches) of snow, the UAE's National Centre of Meteorology and Seismology said.
Pictures and videos of snowball fights, snowmen and tobogganing on Jebel Jais mountain on the UAE-Oman border quickly flooded social media as locals made the most of the freak weather. While Ras Al Khaimah usually sees some snow each winter, the heavy fall is unusual.
The last time heavy snow was recorded was 2009, when up to 20 centimetres (eight inches) fell on Jebel Jais. One local told the UAE's The National newspaper at the time that the weather was so rare the local dialect lacked words to describe it.
While the snow was cause for celebration in Ras Al Khaimah, in Dubai on Friday hail and gale force winds ripped through the city, toppling a crane on the main motorway and sparking a fire that injured one person and destroyed three cars, local media reported.
While parts of the Tour of Dubai cycling race were cancelled as a precaution, the extreme weather appears to be over, with clear skies and temperatures of around 10 degrees expected in Ras Al Khaimah for the next few days.
Meanwhile, on the coast and in Dubai itself, the temperature is expected to remain above 20 degrees celsius for the rest of the week.
Join our new commenting forum
Join thought-provoking conversations, follow other Independent readers and see their replies