How UK police are turning to Israel for help stopping 'lone wolf' terror attacks
Exclusive: 'I must admit that if I was walking around as a police officer in London at a time like this, with just a baton for protection, then I would be worried'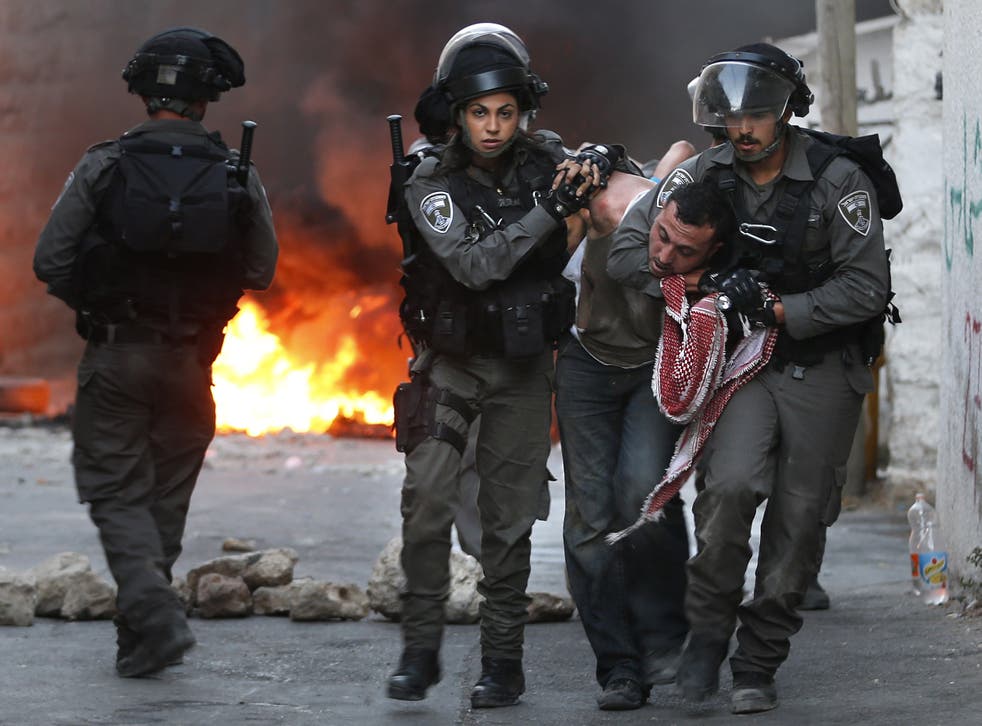 "Eight minutes would be too long, we cannot afford eight minutes" Chief Inspector Micky Rosenfeld shook his head. "Too many could be killed and injured in that time, I am afraid, we need to move and counter attacks here much faster."
The terrorist atrocity at London Bridge, using a van and knives, ended after eight minutes when the three killers were shot dead by police. There would, undoubtedly, have been more casualties than the eight killed and 48 injured, had the vicious assault continued longer, and the prompt action of the armed officers was widely lauded.
But in Israel, where there has been an upsurge of such attacks for more than two years, with 45 killed, a time gap of eight minutes before those responsible were "neutralised" would not be acceptable, stressed Chief Inspector Rosenfeld as well as a number of other security officials. The reaction to an attack, they stated, must be quick as well as decisive.
The rise in the number of Islamist attacks by "lone wolves" in Europe has led to increased liaison on the issue between a number of foreign security agencies and the Israelis. A British team, according to Whitehall sources, is due to travel to Israel to look at the methods used there in the near future.
There are, of course, significant differences between political violence in the UK and Israel. The murders and maiming in the streets of Britain are in pursuit of a murderous Islamist jihad with a variety of justifications offered including retaliation for the war against Isis in Iraq and Syria. In Israel and the occupied territories it is justified as part of the struggle for Palestinian nationhood against Israel.
There is also a key difference when it comes to responding to attacks in the two countries. Unlike Israel, Britain's unarmed police force with a small number of specialised firearms units.
This week in London, PC Wayne Marques, of British Transport Police, described how he had fought off the three London Bridge terrorists, Khuram Shazad Butt, Rachid Redouane and Youssef Raghba, slashing with butchers' knives with just a baton. The 38-year-old officer was blinded, temporarily, by a blade thrust close to his eye and suffered injuries to his hands and leg.
Chief Inspector Rosenfeld, who was born in North London, at Finchley, before his family emigrated to Israel reflected "I must admit that if I was walking around as a police officer in London at a time like this, with just a baton for protection, then I would be worried.
"I know, of course, the arguments why the police are traditionally unarmed in Britain and this is obviously the policy governments have decided to follow. But having armed officers mean that not only can they protect themselves better, they are in a better position to protect the public."
Speaking at Damascus Gate in Jerusalem, where there have been a dozen attacks in the last 18 months, he continued: "Of course when it comes to timing of response, we need to take into account how big a city London is, and how shorter the distances are here in Israel. You can cross central Jerusalem by motorbike in around ten minutes. But we have mobile armed patrols , including on motorbike, here 24/7, extensive surveillance and intelligence, and the ability to get to scenes of emergencies very quickly."
World news in pictures

Show all 50
There is another important difference in the circumstances in the two countries. Civilians can keep firearms in Israel, something they are permitted to do after national service. There has been a number of cases where those taking part attacks have been shot dead by passers-by carrying guns.
The Israeli Defence Force's Counter Terrorism Training Centre have numerous recordings of this type of lethal public intervention. The Centre's commander, who did not want his identity publicised, was also of the view that eight minutes was too long a time before an attack is stopped.
But he acknowledged "We have more than 30,000 members of the public who can carry firearms, they are trained during national service, and obviously that is a very useful resource to have when dealing with street attacks since we have started facing this threat."
Isis claimed 'credit' for its first operation in Israel two weeks ago after a policewoman was stabbed to death in east Jerusalem. Hamas has also been accused of being behind some of the attacks, but, according to security officials, most have been carried out, as in the West, by individuals, or small groups, often accessing jihadist material on the Internet.
The security apparatus of Fatah provides valuable information which has led to assaults being prevented and suspects arrested, say security officials. Israeli security agencies have persuaded prime minister Benjamin Netanyahu not to carry out sweeping punitive action in the occupied territories in retaliation for the attacks – something advocated by hardline members of his cabinet. But talks towards a Palestinian state have stalled: Fatah leader Mahmoud Abbas has received little leeway from the Netanyahu government and cooperation with Israel may become more unpopular.
But even if human intelligence begins to dry up, Israeli officials point out that they built up wide ranging communication and surveillance system. In addition, no fewer than a thousand members of the police force 29,000 strong are involved in monitoring the Internet and social media sites.
Israel has rapidly expanding export sales in surveillance. The country's leading defence electronic contractor, Elbit, showcases a nationwide database system called "WIT" (Wise Intelligence Technology) which can be used in conjunction with cameras, "Skyeye", mounted on drones or helicopters. It draws in information from signals intelligence as well as open sources such as Facebook and Twitter and can automatically alert emergency services if a terrorist attack is underway. It offers technology which can integrate multiple communications channels to smartphones and walkie-talkies of security officials.
Nir Mariash, Elbit's director of homeland security unit, a former police brigadier, promotes WIT as "a system of systems. It is an end-to-end solution to counter terrorism which can also be used to combat crime, it is something which can obviously be used abroad."
The UK, however, does not have some of the basic tools needed for the system, such as identity cards. Parts of it may also fall foul of privacy and data protection laws. "The system can be adjusted for different needs," said Mr Mariash, "the security agencies need to be agile, to adjust: after all that is what the terrorists are doing. The problem of terrorism, as we know, isn't going to go away."
Register for free to continue reading
Registration is a free and easy way to support our truly independent journalism
By registering, you will also enjoy limited access to Premium articles, exclusive newsletters, commenting, and virtual events with our leading journalists
Already have an account? sign in