UK unveils £1.6m aid package for Gaza to provide life-saving medical treatment to nearly 400,000 people
Package announced by new Middle East minister this week will build limb-reconstruction unit in Gaza, The Independent can reveal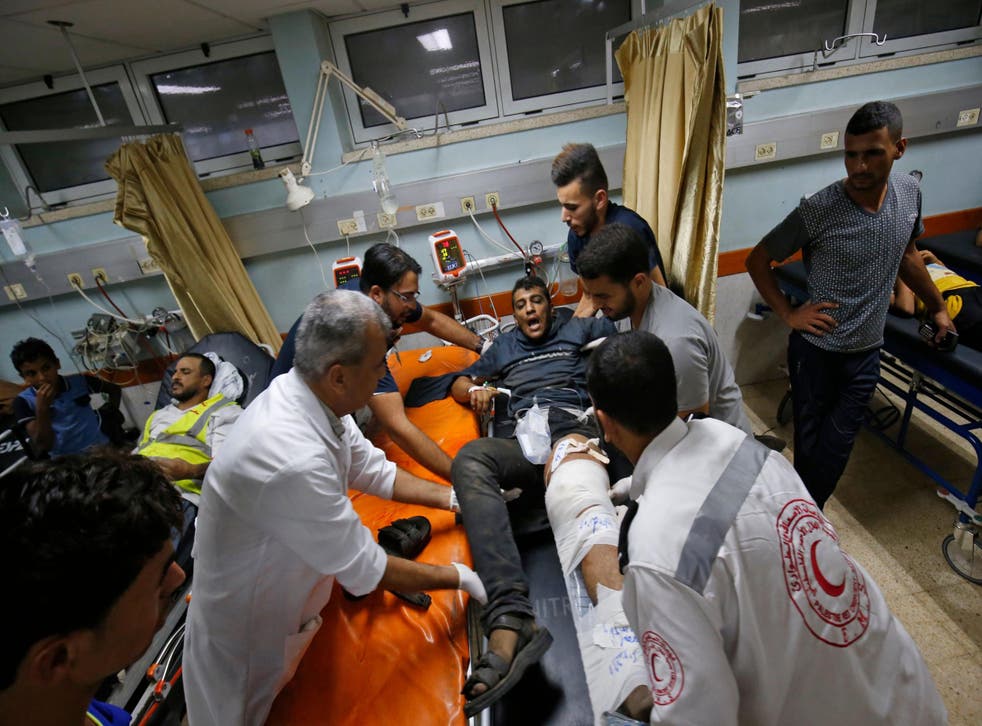 Britain's new Middle East minister has unveiled a £1.6m aid package for Gaza to help provide life-saving medical treatment for nearly 400,000 people, warning the crisis in the besieged enclave was "unsustainable".
During his first trip overseas in the new role, Andrew Murrison visited Gaza to support the collapsing health service, which has been battered by a 12-year Israeli siege and multiple devastating wars.
The funds, which will be given to the World Health Organisation, will establish a new limb-reconstruction unit that the UK says will address urgent gaps in trauma and emergency care there
Gaza's ailing hospitals have struggled to treat thousands of people who have been injured by Israeli fire during regular rallies and clashes at the border over the past year.
Israeli soldiers have killed more than 190 people and shot and wounded 6,800 more during the weekly protests, which have seen Palestinians hurl firebombs and explosives at the security fence. Of the injured at least 120 have had their limbs amputated, including 20 children.
The United Nations warned last week that without an urgent injection of funds an additional 1,700 people in need of limb-saving surgery could lose their legs and arms due to funding shortfalls.
Mr Murrison said that UK aid to the WHO would establish a new limb-reconstruction unit in Gaza to mitigate that, as well as providing valuable expertise to help Gaza's health service deal with emergency patients more efficiently.
The former navy doctor said the package of UK aid support will assist Gaza in dealing with the 28,000 trauma patients in the past year.
"The situation in Gaza is unsustainable and the health services are struggling to deliver basic care to those in need of emergency medical attention," the minister said from Gaza.
"I've seen first-hand how important this new UK aid package is to save the lives and limbs, relieving at least some of the strain on Gaza's health system," he added.
The Department for International Development said funds would also create an emergency medical team coordination cell to manage more efficiently the treatment of patients with urgent life-threatening conditions.
It will also provide equipment such as radios and GPS maps to the ambulance service to improve their ability to respond.
DfID added that the aid to Gaza is designed to complement the UK's £2m package it delivered to the International Committee of the Red Cross in March, which provided surgical equipment, drugs and disposables, wound-dressing kits, rehabilitative prosthetics and post-surgery physiotherapy.
Wednesday's announcement comes in the middle of a humanitarian funding crisis.
The UN's Palestinian refugee agency, UNRWA, which supports over 5 million Palestinians across Gaza, the West Bank, Jordan, Syria and Lebanon, warned this week that it would run out of funds by mid-June.
In the Palestinian territories, this will mean a million people in Gaza will go hungry, UN schools will be forced to close and UNRWA's health services including vaccination clinics will close down.
UNRWA was plunged into a financial crisis last year when the US, its biggest donor, slashed all funds leaving it with a $400m budget deficit.
US special envoy Jason Greenblatt defended Washington's decision in a UN Security Council session on Wednesday, saying UNRWA needed to be dismantled completely on the grounds it is "irredeemably flawed" and had "failed the Palestinian people".
UNRWA, which vehemently disagreed, will host a donor conference next month to try to drum up funds.
In the same week, the US plans to host an "economic workshop" in Bahrain to encourage investment in the Palestinians economy, during which they are pitted to unveil Donald Trump's "deal of the century" peace plan.
However, the Palestinians have already rejected both the conference and the peace deal on the grounds that it will likely be too pro-Israeli.
The Gaza amputee football team that's a source of hope for players
The Palestinian authority has also aired its fears that the US has abandoned a two-state solution to the decades-long conflict, which is generally accepted by the International community
Mr Murrison said the UK was "committed to making progress towards a two-state solution".
"Only a just and lasting resolution that ends the occupation and delivers peace for both Israelis and Palestinians will fully resolve the problems facing Gaza," he said.
Register for free to continue reading
Registration is a free and easy way to support our truly independent journalism
By registering, you will also enjoy limited access to Premium articles, exclusive newsletters, commenting, and virtual events with our leading journalists
Already have an account? sign in
Register for free to continue reading
Registration is a free and easy way to support our truly independent journalism
By registering, you will also enjoy limited access to Premium articles, exclusive newsletters, commenting, and virtual events with our leading journalists
Already have an account? sign in
Join our new commenting forum
Join thought-provoking conversations, follow other Independent readers and see their replies