Relatives of crew onboard captured UK-flagged tanker say they have 'no idea' when they will see them again
Exclusive: Father of crew member said he spoke to his son early Thursday, urged all governments involved to help bring his loved one home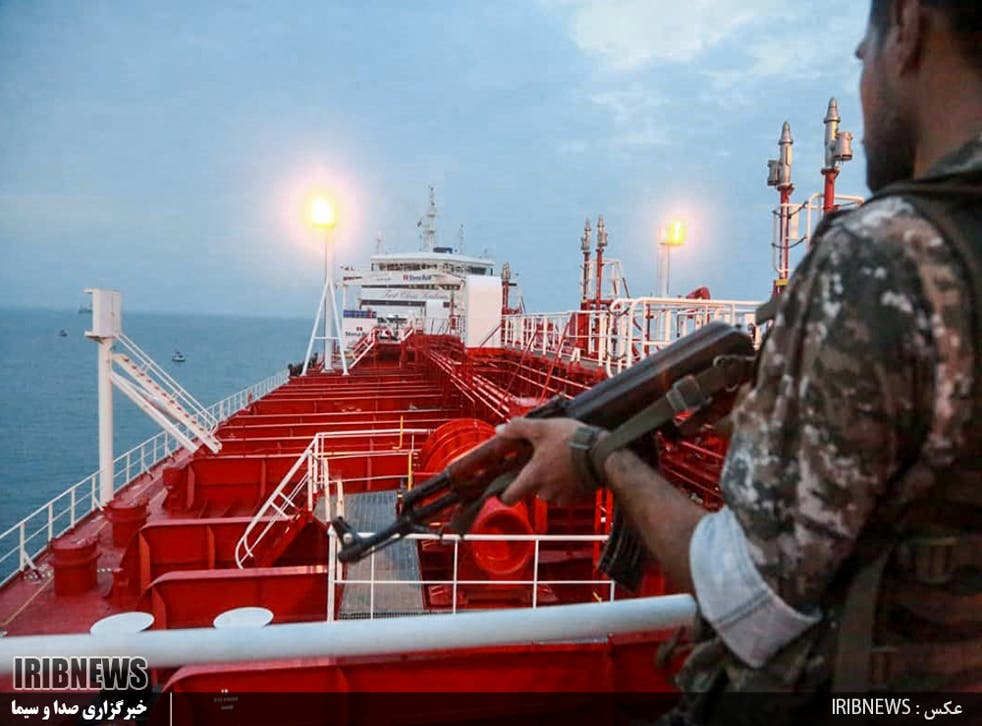 The distraught families of the crewmen onboard a British-flagged tanker seized by Iran have made first contact with their loved ones but expressed fears they have "no idea" when they might be released.
Indian national T.V. Pappachan, 58, whose son Dijo, 26, is one of 23 seamen onboard, told The Independent he felt "huge relief" he received a short phone call from Dijo in the early hours of Thursday morning.
The crew have been held incommunicado since the Stena Impero was seized by Iran's Revolutionary Guard on Friday amid heightened tensions between Tehran and the UK since the seizure of Iranian supertanker Grace 1 off the coast of Gibraltar earlier this month.
Speaking from Kerala, India, Mr Pappachan said that Dijo and the others appeared "calm" and safe, but had not been told when they would be permitted to go home.
The owners of the tanker also confirmed that crew members had been able to speak directly to their families, saying in a statement on Thursday they were continuing to "hold dialogue" with all governments and authorities involved.
Mr Pappachan said the family was "pinning hope on the ongoing diplomatic efforts" to ensure a speedy return of his son, who he last spoke to just hours before the dramatic capture.
​"We feel much better now after hearing from Dijo, that he is being fed properly and treated well. We now want him to return safely. That is all. But he said he had no idea when they would be released," he said.
World news in pictures

Show all 50
"I understand that media and other governments are putting on pressure. We are pinning our hopes on the ongoing diplomatic efforts. So far the Iranian authorities have given the crew no indication about a release," he added.
His son said the crew were "really terrified" when the Iranian security forces first approached the boat and took control of the vessel.
"He said they came in helicopters and seized the ship. After the initial panic, the crew understood that they have been taken into custody and will not be harmed in any way."
"They are all doing fine and appear to be being treated well by Iranian authorities. He said several Iranian officials were on the vessel and all crew members were allowed to talk to their family members for a few minutes."
The Stena Impero was detained along with 23 crew members who are of Indian, Russian, Latvian and Filipino nationality.
The shipping company released a statement on Thursday saying: "Stena Bulk and Northern Marine Management continue to hold dialogue with all the governments and authorities directly involved in order to secure the release of crew and vessel.
"We await a decision from the local authorities on our request to attend the vessel," it added.
The news came as a report from Iran's semi-official Tasnim news agency claimed the UK sent a mediator to the country to discuss the freeing of the tanker, but this was later denied by senior foreign office sources.
On Wednesday, Iran's president, Hassan Rouhani, suggested that Stena Impero could be released if Britain takes similar steps to hand back an Iranian oil tanker seized by the Royal Navy off Gibraltar earlier this month.
The British Department for Transport announced on Thursday that it would be offering Royal Navy escort for British-flagged ships travelling through the strategic water way.
Mr Pappachan said Dijo had only joined the boat from Gujarat, western India, a month before it was seized, and had little idea about the dangers of operating in the Strait of Hormuz.
The family found out the vessel had been taken when they received a phone call from the Swedish company that owns the tanker.
"It was completely unexpected that his ship will be seized. I honestly did not know the seriousness of the crisis, I don't think he did either. We were shocked." the father said.
"All of the crew had gone to eke out a living. It is the responsibility of all governments to ensure their safety," the father added.
"As any father, I want my son to safely return home. But it is not only about my son. It is a matter between countries."
Register for free to continue reading
Registration is a free and easy way to support our truly independent journalism
By registering, you will also enjoy limited access to Premium articles, exclusive newsletters, commenting, and virtual events with our leading journalists
Already have an account? sign in
Register for free to continue reading
Registration is a free and easy way to support our truly independent journalism
By registering, you will also enjoy limited access to Premium articles, exclusive newsletters, commenting, and virtual events with our leading journalists
Already have an account? sign in
Join our new commenting forum
Join thought-provoking conversations, follow other Independent readers and see their replies