UN condemns attack on chemical weapons inspectors as Syria says it is ready for imminent action
UN spokesman also describes reports that the inspectors departure is to make way for military action as 'grotesque'
Heather Saul
Saturday 31 August 2013 08:29 Comments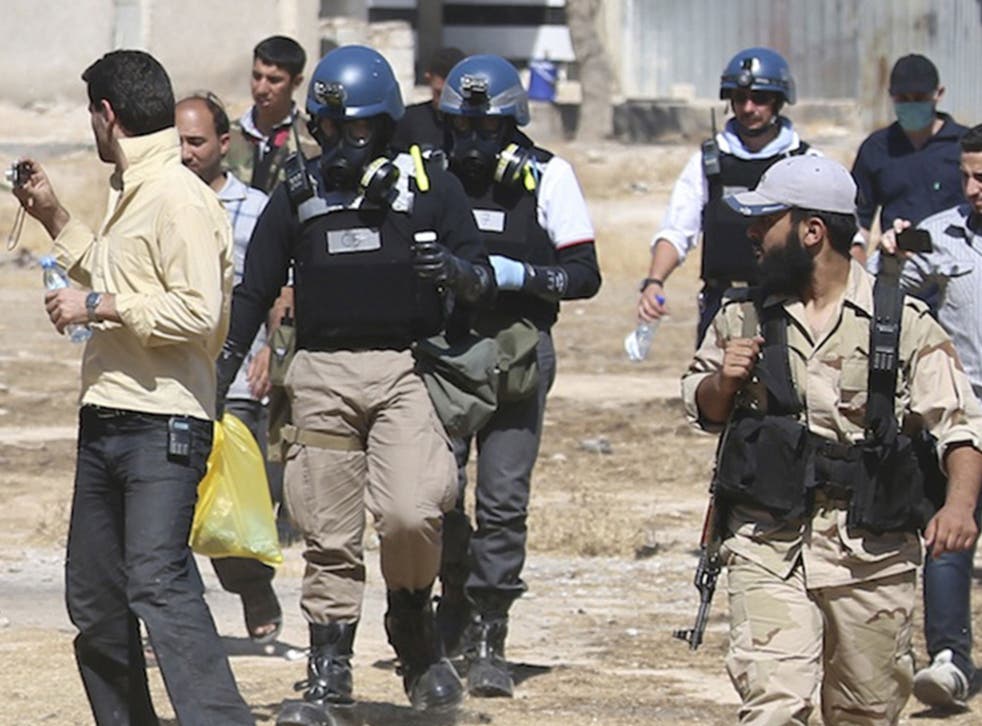 A United Nations spokesperson condemned an attack on UN weapons inspectors earlier this week as the team wrapped up their investigations on the site of an alleged chemical attack in Syria.
An emergency conference was held by the UN spokesperson in New York this afternoon, following a closed meeting with Secretary-General Ban Ki-Moon and UN disarmament chief Angela Kane.
He said Mr Ban will be briefed tomorrow in more detail by the UN team who inspected the site of an alleged chemical attack in Damascus, that the US claims left 1,429 people, including 426 children dead.
There would be no timeline for when their evaluation would be complete, the spokesperson said, and whatever measures could be taken to speed up the process of analysis up were being taken.
The spokesperson said: "The team is now in the Netherlands and will spend days collating samples and other evidence which they have prior to testing in laboratories in Europe."
The spokesperson stressed that "the UN mission is uniquely capable of establishing in an impartial and credible manner the facts of any use of chemical weapons based directly on evidence collected on the ground", and not to determine who carried out the attacks. He said: "The mandate is robust and provides for the UN to provide in an impartial and credible manner a picture of what happened."
He praised the UN team for "stepping up to the plate" and continuing their investigation, despite their convey being shot at. "They braved sniper fire to collect samples and interview witnesses and survivors. I think I would say that is the definition of stepping up to the plate", he said.
"It was outrageous that they were shot at," he added.
"The team will return to conduct the investigation into all pending allegations. They are satisfied that they have material that they can now analyse.
He described the idea that the departure of inspectors from Syria "somehow opens window for military action" as "grotesque".
"The team departed hours after US President Barack Obama said he is weighing "limited and narrow" action against a Syrian regime that the administration has bluntly accused of launching the deadly attack.
"We are not giving a time-line [..] but before the mission can draw any conclusions, the laboratory phase must be completed.".
He refused to comment on whether the UN had urged restraint from the US over military strikes.
His comments came after a Syrian official said this afternoon the country is expecting an attack "at any moment" and warned "we are ready to retaliate", according to AFP.
US President Barack Obama is due to speak to the media this evening. The White House has denied reports that it will be to announce imminent military action.
After four days of on-site inspections, the team wrapped up its investigation on Friday into the suspected chemical weapons attack on rebel-held suburbs of Damascus on 21 August. The experts took blood and urine samples from victims as well as soil samples from the affected areas for examination in European laboratories.
The United Nations has about 1,000 national and international staff working on humanitarian and relief projects in Syria, spokeswoman Alessandra Vellucci said on Friday.
But Syrian President Bashar al-Assad's government said America was "full of lies" and accused opposition rebel groups of committing the attack.
The inspectors' departure brings the looming confrontation between the US and President Bashar Assad's regime one step closer to coming to a head.
US secretary of State John Kerry cited a US intelligence assessment that said: "The United States Government assesses with high confidence that the Syrian government carried out a chemical weapons attack in the Damascus suburbs on 21, August, 2013.
"We further assess that the regime used a nerve agent in the attack.
"A preliminary US government assessment determined that 1,429 people were killed in the chemical weapons attack, including at least 426 children, though this assessment will certainly evolve as we obtain more information."
The report added that the Syrian regime "maintains a stockpile of numerous chemicals", including Sarin gas.
Obama has said that if he opts for a military strike, any operation would be limited in scope and only aimed at punishing Assad for his alleged use of chemical weapons.
But any US action carries the potential to trigger retaliation by the Syrian regime or its proxies against US allies in the region, such as Jordan, Turkey and Israel. That would inject a dangerous new dynamic into a Syrian civil war that has already killed more than 100,000 people and created nearly 2 million refugees.
Additional reporting by agencies
Register for free to continue reading
Registration is a free and easy way to support our truly independent journalism
By registering, you will also enjoy limited access to Premium articles, exclusive newsletters, commenting, and virtual events with our leading journalists
Already have an account? sign in
Join our new commenting forum
Join thought-provoking conversations, follow other Independent readers and see their replies