UN draft report of 'child killers' blacklists Saudi Arabia
Report due to be released Friday names Saudi-led military coalition for deaths and injury of children in Yemen's civil war 
Thursday 05 October 2017 10:49 Comments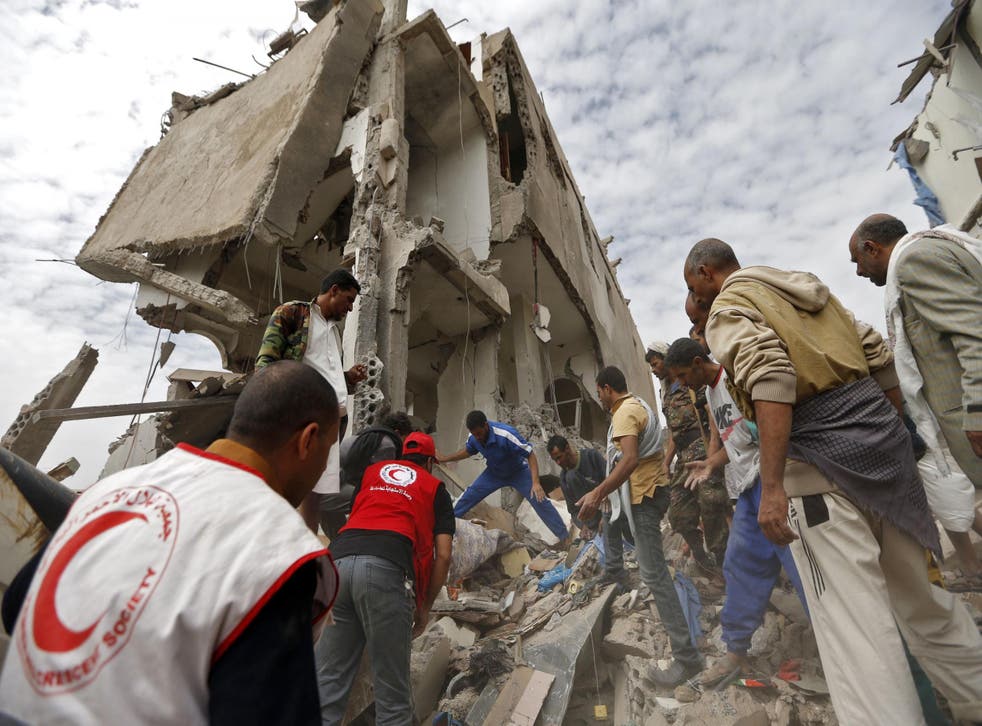 A new UN report into child welfare in armed conflict singles out the Saudi-led military coalition currently bombing Houthi rebels in Yemen for maiming and killing hundreds of children, reports say.
The potentially incendiary findings of a draft version of the report, due to be released Friday, was leaked to Reuters earlier this week.
"In Yemen, the coalition's actions objectively led to the listing for the killing and maiming of children, with 683 child casualties attributed to this party, and, as a result of being responsible for 38 verified incidents, for attacks on schools and hospitals during 2016," the annex to the full draft report says.
The child victims of Yemen's civil war
The annex also blacklists the Houthis, Yemeni government forces and allied militias as well as Al Qaeda in the Arabian Peninsula for crimes against children.
In what is being seen as an effort to dampen inevitable Saudi criticism of the report, the draft notes that the coalition has "put in place measures to improve the protection of children" in future.
The annex of blacklisted parties is split into organisations and countries which have put in place checks and balances to keep children safe, and those which have not.
The situation in Yemen

Show all 14
The coalition was briefly added to the blacklist in last year's report and then removed by then-UN chief Ban Ki-moon pending review.
At the time, the secretary general accused Saudi Arabia of exerting "unacceptable" undue pressure after sources told Reuters that Riyadh threatened to cut its UN funding. Saudi Arabia denied threatening Mr Ban.
The wording of the draft, produced by the UN's children and armed conflict envoy Virginia Gamba, may yet be changed. It does not subject those named to any UN action, but rather " shames parties to conflicts in the hope of pushing them to implement measures to protect children".
Once it is approved by UN Secretary-General Antonio Guterres it will be submitted to the UN Security Council in the next few weeks before discussions on its findings on 31 October.
The UN itself and the Saudi delegation to the international body declined to comment, stating they would wait for the official report.
Yemen descended into a full-blown civil war in March 2015, and has been suffering from a cholera epidemic since March of this year.
Two and a half years of civil war have decimated the country's infrastructure and put seven million of the 27-million strong population on the brink of famine.
Michael Fallon claims Saudi Arabia is only 'defending itself' when attacking Yemen
Saudi Arabia and its regional partners have justified an extensive bombing campaign on Yemen's Shia Houthi rebels, who control the capital Sanaa, at the request of the exiled, internationally recognised Yemeni President Abdrabbuh Mansour Hadi.
The intense air strikes – which in some cases have targeted civilian buildings such as hospitals and funeral gatherings – have killed thousands of civilians.
Saudi Arabia's blockade on Yemen's ports, land borders and air space has also been heavily criticised for preventing food and medical aid reaching civilians.
Reuters contributed to this report
Register for free to continue reading
Registration is a free and easy way to support our truly independent journalism
By registering, you will also enjoy limited access to Premium articles, exclusive newsletters, commenting, and virtual events with our leading journalists
Already have an account? sign in
Join our new commenting forum
Join thought-provoking conversations, follow other Independent readers and see their replies