UN fears Pakistani rogue scientist passed on nuclear secrets to Syria
Find feeds speculation that regime collaborated with nuclear trafficker who helped Gaddafi
Catrina Stewart
Wednesday 02 November 2011 01:00 Comments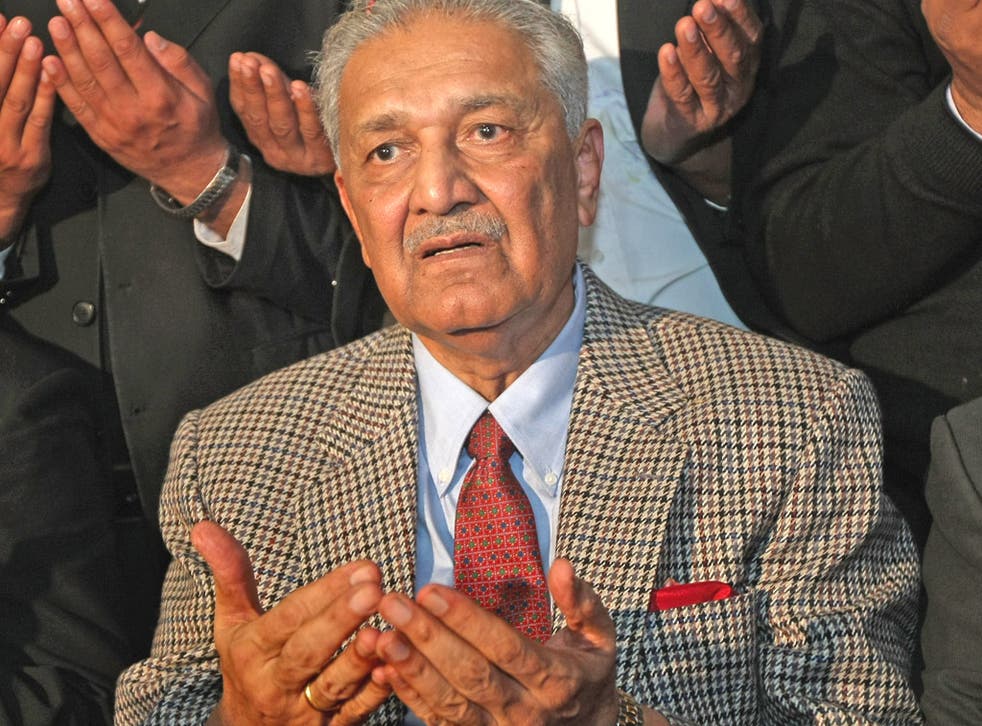 The reported discovery of a previously unknown complex in Syria has raised UN suspicions that Damascus collaborated with Abdul Qadeer Khan, the architect of Pakistan's nuclear bomb project, to obtain nuclear technology for a covert weapons programme.
The facility near the Iraqi border is almost identical to the design plans for a uranium-enrichment plant provided to Libya as the North African country developed its nuclear weapons programme with the assistance of Mr Khan and his nuclear trafficking network, the Associated Press news agency reported. Officials apparently visited Damascus to investigate last week.
The UN's International Atomic Energy Agency, or IAEA, is also understood to have copies of correspondence between Mr Khan and a Syrian government official, Muhidin Issa, who apparently suggested collaboration following Pakistan's successful nuclear test in 1998, AP said, citing a former UN investigator.
There is no evidence, say investigators, that the plant in the city of Al-Hasakah was ever used for nuclear purposes – it is currently in use as a cotton-spinning plant – but its design, combined with the existence of a second suspected nuclear facility bombed by Israeli warplanes in 2007, suggests a strong possibility that Syria was at one point pursuing nuclear-weapons capability much more vigorously than was previously supposed.
Syria has never admitted to having a nuclear-weapons programme. Israel destroyed what the UN believed was a nuclear plant built with the assistance of North Korea that had not yet gone into operation, but Syria has always maintained that the Dair Alzour facility was a non-nuclear military installation, and that the uranium particles subsequently found at the site came from the missiles used to destroy it.
A popular uprising met with a brutal crackdown by the regime has deflected attention from Syria's nuclear activities in recent months. IAEA officials visited Damascus last week hoping to revive an investigation into Dair Alzour, but there was no tangible sign of progress. Despite the existence of the two complexes, there is little evidence that Syria has actively pursued nuclear weapons since the Dair Alzour facility was destroyed four years ago, nor is there any suggestion that it has resumed its activities now.
But there has long been speculation that Mr Khan offered nuclear technology to Syria – speculation fuelled by the Syrian President Bashar al-Assad's admission to an Austrian newspaper in 2007 that the Pakistani expert had contacted government officials but Syria did not respond.
Hailed as the father of Pakistan's nuclear programme, Mr Khan shocked his countrymen when it emerged in 2004 that he had sold nuclear secrets abroad.
He was found out when nuclear components destined for Muammar Gaddafi's Libya were seized in 2003 from a German-owned ship.
It subsequently emerged that Mr Khan sold nuclear technology to Iran and North Korea. He made a televised confession to the country that he later retracted and was held under house arrest by the Pakistani authorities until 2009.
Correspondence between Mr Khan and a Syrian official, Mr Issa, in the 1990s suggest that there was at least a tentative approach even if it did not develop into a formal relationship. Mr Issa, then a Deputy Minister of Education, congratulated Pakistan for its nuclear achievement in 1998 and followed up by suggesting some co-operation with Mr Khan and proposed a visit by Syrian officials to Mr Khan's laboratory, the former UN official told AP.
It was apparently the belief that Mr Khan may have approached Syria that prompted the hunt by UN investigators for the Al-Hasakah complex, and a Kuwaiti newspaper report claiming that Syria had a secret nuclear site in the city enabled them to hone in on the site.
Satellite imagery showed that the complex was almost identical to that of the Libyan-acquired design for a uranium-enrichment plant, down to the covered area providing protection to cars from the sun.
Damascus has reportedly not responded to IAEA requests to visit the site. The IAEA declined to comment on the reports yesterday.
Abdul Khan: Atomic outcast
Abdul Qadeer Khan, 75, is known as the father of Pakistan's nuclear programme, and is still revered by many in the country as someone who helped it to match its rival India in the arms race. In the West, he is seen as a dangerous nuclear proliferator, who helped pariah regimes including Iran, North Korea and Libya to develop secret weapons programmes.
After working as a nuclear scientist in Europe in the 1970s, Mr Khan returned home, where the authorities threw resources into efforts to develop a weapon, successfully testing a device in 1998.
But under pressure from Washington, Mr Khan confessed in 2004 that he had sold nuclear know-how to other regimes, and has spent most of the intervening years with his movements restricted.
Mines being planted on Lebanon border
Syria is planting landmines along parts of the country's border with Lebanon as refugees stream out of the country to escape the crackdown on anti-government protests, officials and witnesses say. A Syrian man whose foot had to be amputated after he stepped on a mine just across from the Lebanese village of Irsal on Sunday was the first known victim of the mines, a doctor who treated him in Lebanon said.
Witnesses on the Lebanese side of the border said they have seen Syrian soldiers planting the mines in recent days in the province of Homs and across from Lebanon's eastern Baalbek region. A Syrian official claimed the mines were meant to prevent arms smuggling into the country. The exodus to Lebanon and Turkey has proven an embarrassment for the President Bashar al-Assad. AP
Register for free to continue reading
Registration is a free and easy way to support our truly independent journalism
By registering, you will also enjoy limited access to Premium articles, exclusive newsletters, commenting, and virtual events with our leading journalists
Already have an account? sign in
Join our new commenting forum
Join thought-provoking conversations, follow other Independent readers and see their replies