Israel orders demolition of Palestinian village in West Bank
Notices served in Khan al-Ahmar after legal battle over village's future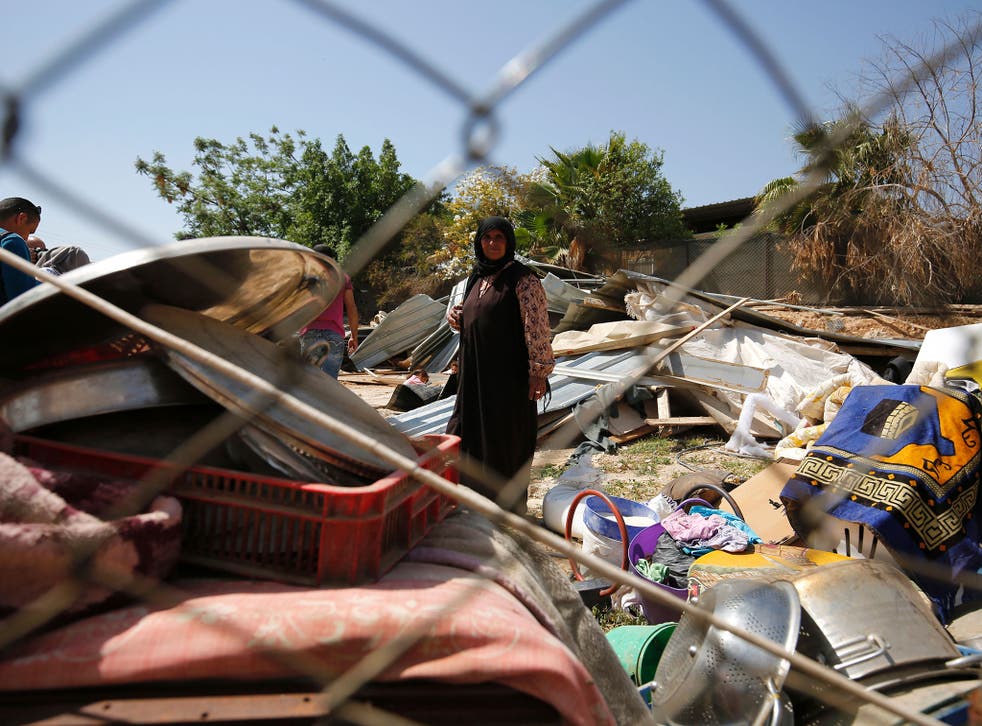 The United Nations has condemned Israel's impending demolition of a school and homes in a West Bank village.
Officers distributed dozens of military "stop work" orders in the Bedouin community of Khan al-Ahmar, which lies between two Israeli settlements in the Occupied Palestinian Territories.
The UN Relief and Works Agency for Palestine Refugees (UNRWA) said "almost every structure" is under threat, affecting the homes and livelihoods of almost 140 people, of whom almost half are children.
Khan al-Ahmar's primary school, which was built in 2009 with international support and has around 140 pupils from surrounding Bedouin communities, is among the buildings that could be destroyed.
Robert Piper, the UN's aid and development co-ordinator for the Occupied Palestinian territories, said the pressure on residents to move to a planned relocation site is "unacceptable and must stop".
"The entire existence of this community…is under threat," he added.
"I am gravely concerned about Israel's continued pressures to force these Bedouin from their homes, destroying their livelihoods and their distinct culture.
"Many of these Palestinian refugee families have already had their homes demolished several times within the last couple of years.
"I urge the Israeli authorities to halt all plans and practices that will directly or indirectly lead refugees to be displaced once again."
The Coordinator of Government Activities in the Territories (Cogat) told The Times of Israel that orders were given to "cease construction" but said residents were invited to a hearing about the buildings on Thursday where they would be able to present their case.
The process frequently signals the start of demolitions but no date has been given.
Destruction operations frequently draw protests and security crackdowns, including in the Bedouin village of Umm al-Hiran, where police shot dead an Arab driver whose car ran over and killed an Israeli officer.
Police and Israeli politicians initially claimed the incident was a terrorist car-ramming attack but are reportedly set to reverse the judgement amid evidence police opened fire unnecessarily and caused the driver to lose control of his car.
"If there was a mistake, we have to say we erred, but I will wait for the official report," Benjamin Netanyahu, the Israeli Prime Minister, said.
Khan al-Ahmar is one of 46 communities in the West Bank deemed to be at risk of forced transfers by Israeli authorities, in what the UN says would be a grave breach of international law under the Geneva Convention.
Thousands of Palestinian homes have been destroyed by Israeli authorities on the grounds they were built illegally without a permit, with a spike being recorded in East Jerusalem since Donald Trump's election victory.
The UNRWA said permission is "largely impossible to obtain" from Israel due to the "discriminatory planning and zoning regime" it imposes in areas of the West Bank and East Jerusalem under its control.
"The developments in Khan al-Ahmar are not unique," said Mr Piper.
The Israeli–Palestinian conflict intensifies

Show all 10
"Thousands of families live in fear of demolitions at any moment, and entire communities exist in chronic instability. When schools are demolished, the right to education of Palestinian children is also threatened. This creates a coercive environment that forces certain Palestinian communities to move elsewhere."
"The international community must work together to provide assistance and protection to vulnerable communities and insist that international law is respected."
It comes at the end of a long legal battle by the between the Israeli government and settlers to enforce a previous demolition order for the village, which reached Israel's High Court last year.
Three new conservative members – including a settler – were elected to join the court on Thursday, as part of a push by Israel's ultranationalist justice minister for it to represent right-wing Israelis.
The 15-member court, widely seen as a liberal bastion, has drawn criticism from Ayelet Shaked, and other pro-settlement politicians over rulings supporting Palestinian property rights in the West Bank and its occasional reversal of Israeli laws it deemed illegal.
Britain is among the countries to voice alarm over the demolitions, amid a surge in plans for new settlement construction by Israel, which is regarded as illegal under international law.
Additional reporting by agencies
Join our new commenting forum
Join thought-provoking conversations, follow other Independent readers and see their replies