UN suspends Gaza aid programme after protest turns violent
The UNRWA provides food aid and job creation schemes in the Palestinian enclave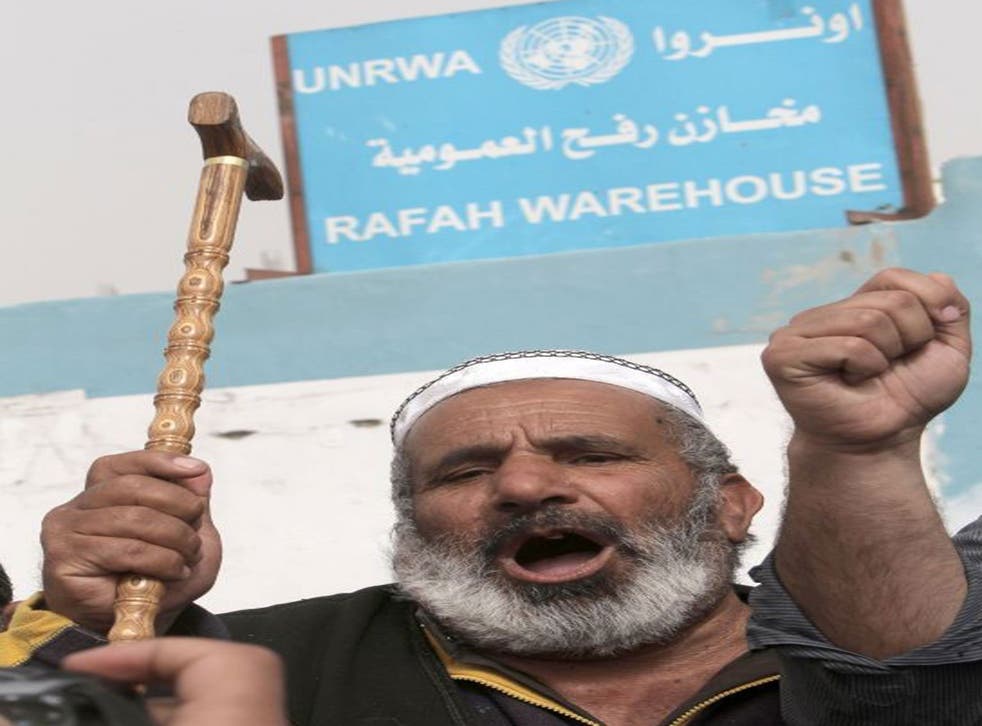 The United Nations has suspended significant operations in Gaza after demonstrators protesting against cuts to the agency's programmes in the Palestinian enclave breached the organisation's headquarters.
There have been several demonstrations against cuts to the United Nations Relief and Works Agency (UNRWA)'s aid work - specifically cash hand outs to Gazans - in recent weeks but the protests escalated on Thursday when several people stormed its main compound in Gaza city. In response, UNRWA said it would close its relief and distribution centres until it receives guarantees from Hamas, the Islamist group that controls Gaza, of greater security.
Robert Turner, UNRWA's director of operations in Gaza, said that the agency, "respect[ed] people's right to peaceful demonstration but what happened today was completely unacceptable: the situation could very easily have resulted in serious injuries to UNRWA staff and to the demonstrators. This escalation, apparently pre-planned, was unwarranted and unprecedented. These demonstrations affect our ability to provide much needed service to the Palestine refugees in Gaza and - because they also targeted the Gaza headquarters building - our operations in the West Bank, Jordan, Lebanon and Syria."
UNRWA's work is vital in Gaza. The organisation provides assistance – including food aid and job creation schemes - to more than 800,000 people in the isolated territory, which is subject to tough controls imposed by both Israel and Egypt. However, UNRWA has also protested that it has a funding deficit of $67m and that without more money it will be forced to scale back its activities.
The agency receives money from a number of western donors, including the US and the European Union, and often there is a shortfall between what is pledged and what is subsequently paid. It is believed that there is a shortage in both UNRWA's general fund, and its emergency project funding, which competes with other disaster appeals.
Unemployment is a grave problem in Gaza, and much of UNRWA's work centred on job creation projects. Gaza's population – between 1.5 and 1.7 million – is growing exponentially and is expected to top two million within seven years. More than a million people are classified as refugees.
UNRWA has a difficult relationship with Hamas, despite providing a lifeline for as much as half the population in Gaza. There have been rows about what is taught in UNRWA-sponsored schools and last month, UNRWA cancelled the running of the annual Gaza marathon after Hamas refused to allow women to compete.
Hamas yesterday urged UNRWA to reconsider its decision to suspend its work. Sami Abu Zuhri, a spokesman for Hamas, said the group condemned any violence against UNRWA but said the decision to close the food centres as "unjustified".
"People have the right to protest against UNRWA's cuts, but at the same time we condemn any violence against the organisation. When the administration of UNRWA asked the Palestinian security services to intervene, they stopped the chaos. We ask UNRWA to reconsider its decision and [reiterate] the importance of UNRWA's role in helping Palestinian refugees," he added.
Register for free to continue reading
Registration is a free and easy way to support our truly independent journalism
By registering, you will also enjoy limited access to Premium articles, exclusive newsletters, commenting, and virtual events with our leading journalists
Already have an account? sign in
Register for free to continue reading
Registration is a free and easy way to support our truly independent journalism
By registering, you will also enjoy limited access to Premium articles, exclusive newsletters, commenting, and virtual events with our leading journalists
Already have an account? sign in
Join our new commenting forum
Join thought-provoking conversations, follow other Independent readers and see their replies