UN to resume aid convoys to Syria after attack that killed more than 20 people
'We're ready to deliver aid to besieged and hard-to-reach areas,' says the WHO representative in Syria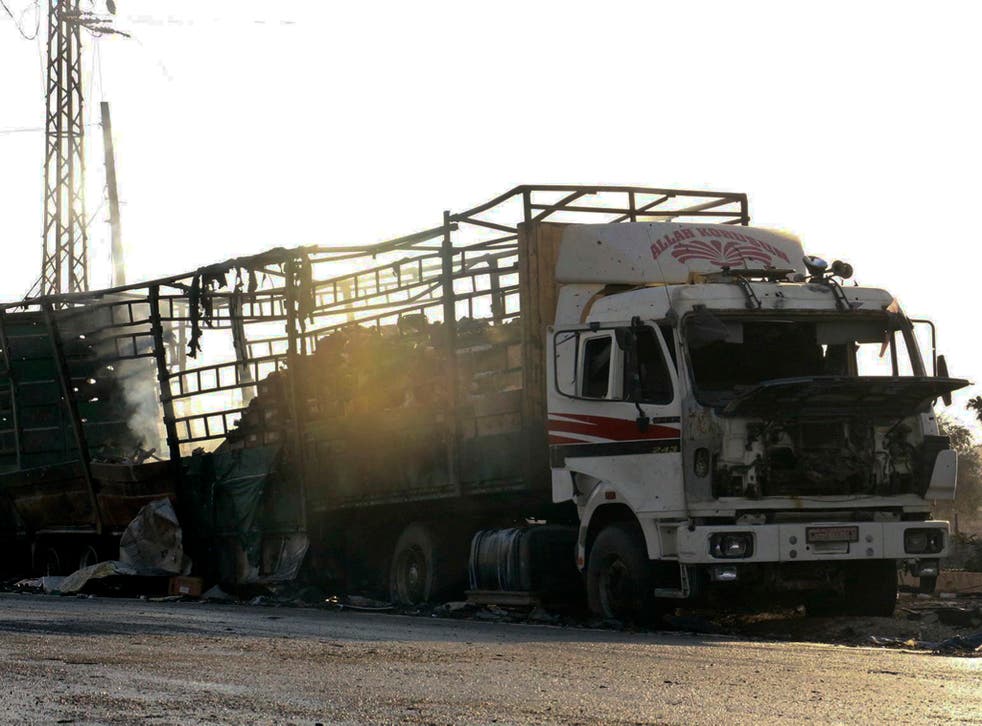 The United Nations has resumed aid convoys within Syria after an attack which killed more than 20 civilians.
"The preparation for these convoys has now resumed and we are ready to deliver aid to besieged and hard-to-reach areas as soon as possible," the UN Office for the Coordination of Humanitarian Affairs said in a statement.
US Secretary of State John Kerry insisted the ceasefire was "not dead" despite the attack, in which a Red Crescent warehouse and health clinic were also seriously damaged, and aid supplies for thousands of people were destroyed.
The attack came amid a resumption of hostilities following the fragile, week-long ceasefire, which it was hoped would mark the beginning of the end of Syria's bloody five-year civil war.
The World Health Organisation (WHO) representative in Syria, Elizabeth Hoff, said: "We are definitely preparing health items to go to Moadamiya as soon as possible. "The convoy is being loaded today and scheduled for tomorrow."
The strike hit at least 18 of the 31 trucks in the convoy, which was bringing food relief from UN stores to the town of Urm al-Kubra, west of Aleppo, in an area controlled by rebel groups.
The US made it clear on Monday night that it held Moscow responsible for the deaths, regardless of whose planes carried out the strike.
Russia and Syria deny responsibility for aid convoy strike
A US State Department statement said: "We don't know at this point whether it was the Russians or the regime. In either case, the Russians have the responsibility certainly to... refrain from taking such action themselves, but they also have the responsibility to keep the regime from doing it."
Both Russia and Syria have denied responsibility for the attack.
Register for free to continue reading
Registration is a free and easy way to support our truly independent journalism
By registering, you will also enjoy limited access to Premium articles, exclusive newsletters, commenting, and virtual events with our leading journalists
Already have an account? sign in
Register for free to continue reading
Registration is a free and easy way to support our truly independent journalism
By registering, you will also enjoy limited access to Premium articles, exclusive newsletters, commenting, and virtual events with our leading journalists
Already have an account? sign in
Join our new commenting forum
Join thought-provoking conversations, follow other Independent readers and see their replies