United Nations condemns Israel for 'excessive, disproportionate and indiscriminate force' against Palestinians
America's UN ambassador Nikki Haley condemned the resolution as 'morally bankrupt' for omitting mention of Hamas
Jeremy B. White
San Francisco
Thursday 14 June 2018 00:40 Comments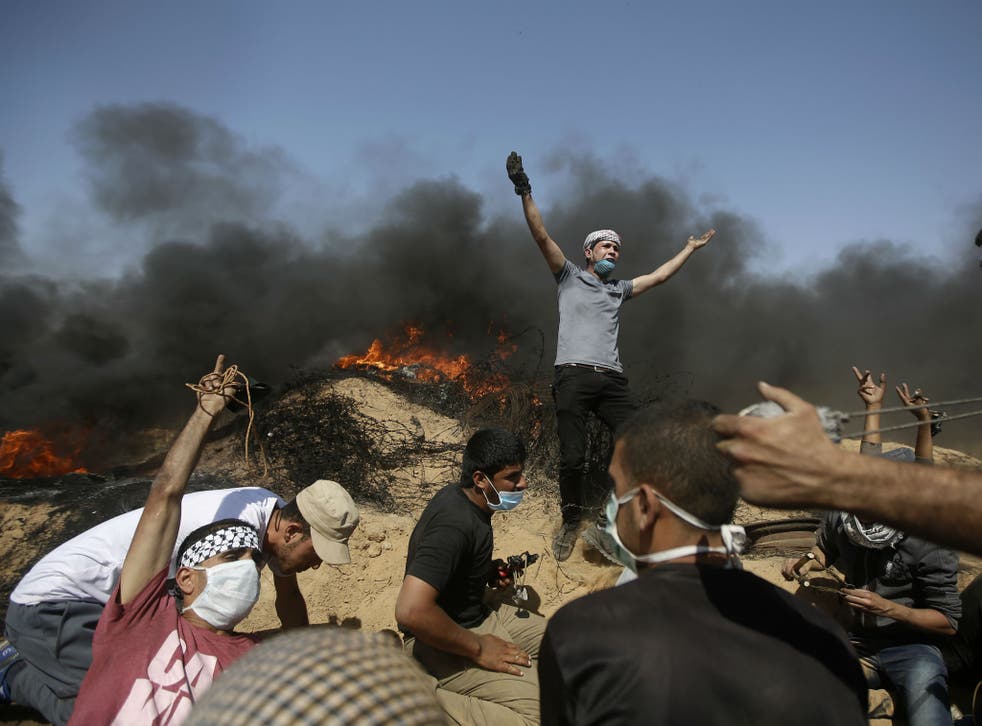 The United Nations has overwhelmingly passed a resolution condemning Israel's use of "use of any excessive, disproportionate and indiscriminate force" against Palestinians in the Gaza Strip.
Scores have died and thousands have been injured as Israeli troops have responded with live fire to protesters near a border fence, who have in some cases in some cases carrying burning tires and floating explosives on kites.
By a vote of 120 to 8, the United Nations approved a resolution decrying the "use of live ammunition against civilian protesters, including children, as well as medical personnel and journalists" and underscoring its "grave concern at the loss of innocent lives".
The measure also called for the creation of a mechanism to ensure the "protection of the Palestinian civilian population" and urged Israel to lift its economic blockade on an area ruled by the militant group Hamas.
In the face of persistent international criticism, the United States and Israel have accused detractors of ignoring Hamas's role in inciting violence by firing rockets into Israel and encouraging demonstrators to rush the border.
After the UN voted down an American-authored amendment faulting Hamas, the final resolution made no mention of the designated terrorist group. It did deplore "the firing of rockets from the Gaza Strip against Israeli civilian areas".
Gazans protest as US embassy moves to Jerusalem – in pictures

Show all 37
In a statement after the vote, America's ambassador to the United Nations Nikki Haley released a statement criticising the UN for arriving at "the morally bankrupt judgment that the recent Gaza violence is all Israel's fault".
"It is no wonder that no one takes the UN seriously as a force for Middle East peace", Ms Haley said, adding that "peace will only be achieved when realities are recognised, including Israel's legitimate security interests, and the need to end Hamas' terrorism".
Gaza militants pelt Israel with rockets in biggest attack in years
The office of Israeli prime minister Benjamin Netanyahu praised Ms Haley for a "strong statement today exposing the hypocrisy of the UN's bias against Israel.
The contours of the debate, with Israel and America aligned in opposition to a majority of the international community, were familiar.
Donald Trump's controversial decision to recognise Jerusalem as Israel's capital and move the US embassy generated an international outcry and was blasted in a separate UN resolution.
Register for free to continue reading
Registration is a free and easy way to support our truly independent journalism
By registering, you will also enjoy limited access to Premium articles, exclusive newsletters, commenting, and virtual events with our leading journalists
Already have an account? sign in
Register for free to continue reading
Registration is a free and easy way to support our truly independent journalism
By registering, you will also enjoy limited access to Premium articles, exclusive newsletters, commenting, and virtual events with our leading journalists
Already have an account? sign in
Join our new commenting forum
Join thought-provoking conversations, follow other Independent readers and see their replies