Up to 83 people killed as Syrian students taking exams are caught in blasts
While many students had stopped going in for classes, they were sitting exams at the time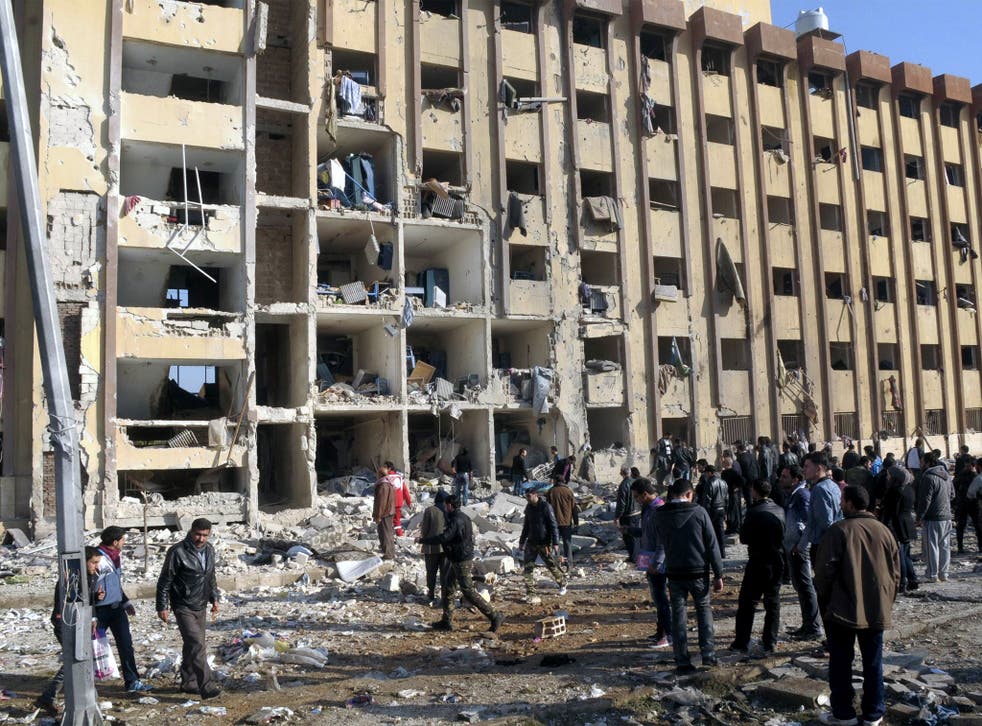 Twin explosions struck a university campus in Aleppo today as students gathered for mid-term exams, killing as many as 83 people in one of the bloodiest single incidents in the struggle for control of Syria's biggest city.
The blasts – the cause of which remains unclear – came just minutes apart this afternoon. Both sides traded blame, with activists saying the destruction had been caused by a regime airstrike and Syrian state television claiming "terrorists" had fired rockets at the campus.
The frontage of the university's agriculture building was ripped off by the explosions, while tangled, smoking car wrecks lay smouldering in the rubble-strewn street. Footage from the scene showed the moment the second explosion hit, with students screaming and fleeing in panic.
Aleppo has been convulsed by violence since the summer, when rebels launched an offensive to seize the city – once Syria's commercial capital – hoping to gain a foothold in the north. In recent months the fighting has reached a stalemate, but airstrikes continue to terrorise citizens while grinding street battles show no sign of let-up.
Activists on the ground and the London-based Syrian Obser- vatory for Human Rights said the death toll in the explosions had climbed to 83, while Mohammed Wahid Akkad, the governor of Aleppo, said 82 had died and at least 160 were injured.
The explosions came as a leaked US State Department cable reportedly concluded that Syrian forces were likely to have used chemical weapons last month. The cable, signed by the US Consul General in Istanbul, Scott Frederic Kilner, was said to have outlined results from an investigation into poison gas use in Homs two days before Christmas.
"We can't definitely say 100 per cent, but Syrian contacts made a compelling case that Agent 15 was used in Homs," an official in the Obama administration told The Cable blog tonight.
As well as students, many of those killed today are believed to be the internally displaced taking refugee in the campus's largely derelict student accommodation. One of the missiles hit a dormitory building, according to activists.
Jet aircraft were not visible in footage showing one of the blasts circulated today, but activists were adamant that regime airstrikes were responsible. Syria's ambassador to the United Nations, Bashar Jaafari, described the incident as "a cowardly terrorist act which targeted the students of Aleppo University".
The UN estimates that more than 60,000 people have been killed in the conflict.
Register for free to continue reading
Registration is a free and easy way to support our truly independent journalism
By registering, you will also enjoy limited access to Premium articles, exclusive newsletters, commenting, and virtual events with our leading journalists
Already have an account? sign in
Register for free to continue reading
Registration is a free and easy way to support our truly independent journalism
By registering, you will also enjoy limited access to Premium articles, exclusive newsletters, commenting, and virtual events with our leading journalists
Already have an account? sign in
Join our new commenting forum
Join thought-provoking conversations, follow other Independent readers and see their replies