US and France to push back Isis by expanding military operations in Syria and Iraq
The two leaders met in Washington after more than 130 people were killed in Paris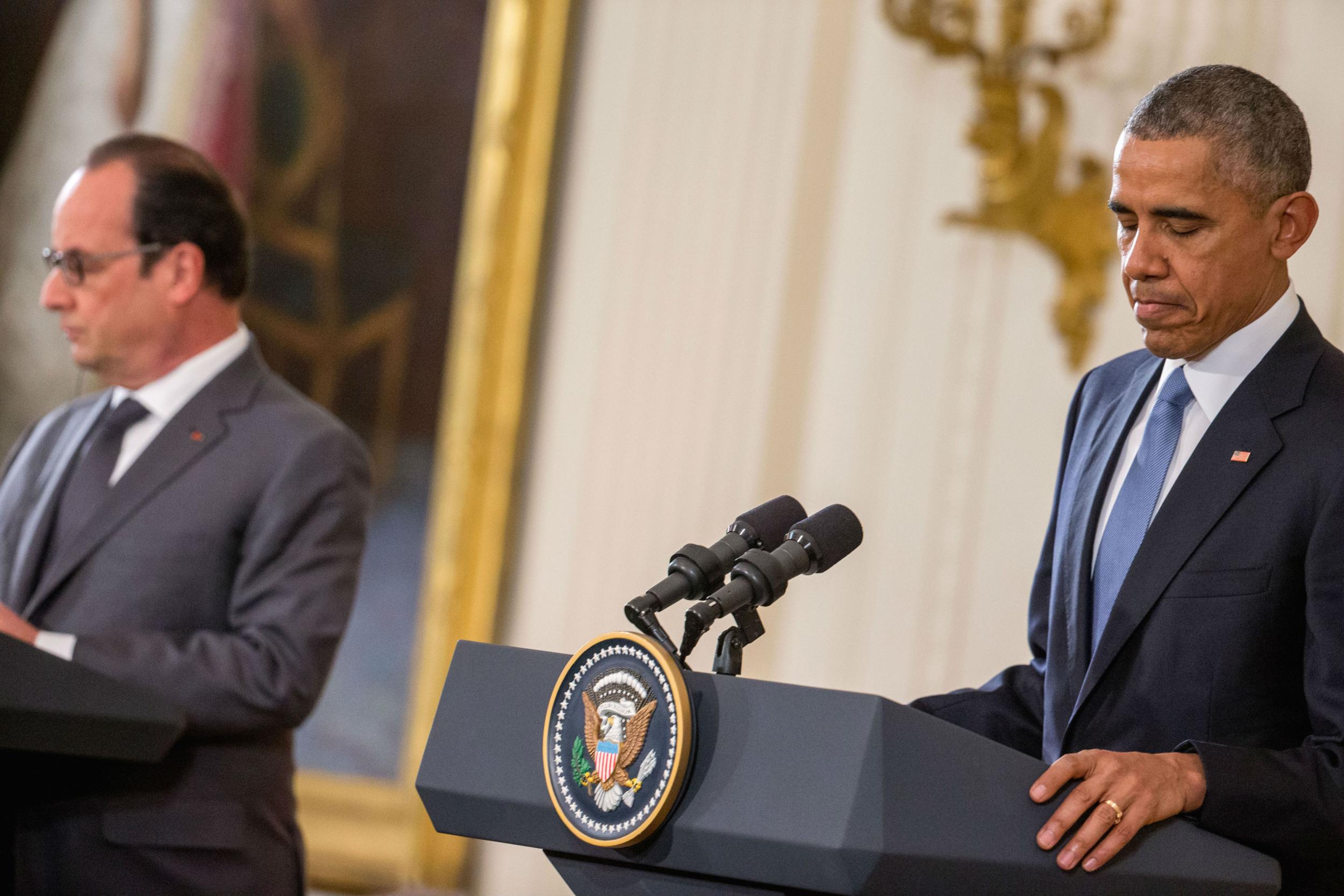 France and the US have agreed to expand their military operations in Syria and Iraq in an effort to reclaim territory currently in the hands of Isis, though the two countries claim they do not intend to put troops on the ground.
Speaking at the White House, President Francois Hollande and Barack Obama said the two countries would also increase their intelligence sharing in an effort to push back Isis from key strategic locations. They said they were committed to closing the flow of fighters into Syria across the Syrian border.
"As Americans, we stand by our friends in good times and in bad, no matter what," said Mr Obama. "We cannot give terrorists the victory of changing how we go about living our lives."
Speaking 11 days after Isis fighters killed more than 130 people in a series of coordinated attacks, the two leaders also called on Russia to aid the fight against Isis, and put an an end to operations that were targeting forces opposed to Syrian president Bashar Al-Assad.
They spoke on a day when the already complex situation in Syria and the region, was made more chaotic by the shooting down by Turkey - a member of NATO - of a Russian war plane.
Mr Obama has been repeatedly criticised by Republicans for failing to do more to halt the expansion or Isis in both Iraq and Syria, and instead relying on air strikes and the arming of local forces, such as the Kurdish peshmerga.
He claimed that the actions of a US-led coalition had already taken thousands of Isis fighters off the battlefield and supported efforts against the Islamic extremists by the Iraqi government.
But he said even before the attacks on Paris, he had said down with his military commanders to review how to "accelerate" such efforts.
Mr Hollande has been trying to rally a broader coalition to take on Isis and French diplomats were the centre of recent efforts at the UN to secure a resolution by the Security Council for all members to "redouble and coordinate their efforts" against Isis and to eradicate its safe havens.
On Thursday, Mr Hollande, will travel to Moscow and make his case directly to President Vladimir Putin. The French leader said planned to tell Mr Putin that France can work with Russia if it concentrates its military action in Syria on fighting Isis. France, the US and the UK have claimed that many of the Russian strikes in Syria have targeted so-called moderate rebels opposed to Mr Assad that are being armed and financed by the West.
"We do not want to exclude anyone," said Mr Hollande.
Mr Hollande's mission to Moscow will not have been made easier by the downing of a Russian war plane by Turkey, the first time in more than 50 years that a NATO member has carried out such an act.
Mr Putin called Turkey's action a "stab in the back by the terrorists' accomplices" and warned of "significant consequences". Mr Obama said that while the precise facts of the incident were still being gathered, he believed Turkey had the right to protect itself.
Amid a heated controversy within the US about the admission of Syrian refugees - Mr Obama has said the US will accept 10,000 of the next 12 months - the US leader said that France was accepting 30,000 Syrians, despite the recent attack.
In a message aimed at Republicans such as Donald Trump who have opposed the admission of such refugees and even suggested placing US Muslims under surveillance, Mr Obama said arrivals underwent 18 months of screening.
He urged Americans not to give into fear and said "everything was being done to keep the US safe".
"US assistance has supported recent French strikes in Syria and we're going to keep stepping up that coordination," Mr Obama said.
"We will continue to do everything in our power to defend our nation. We will win and groups like ISIL will lose."
Join our commenting forum
Join thought-provoking conversations, follow other Independent readers and see their replies