US soldiers killed 'hundreds' in battle with Syrian forces and Russian mercenaries, says American general
American forces say air strikes were launched in self-defence following surprise attack on US base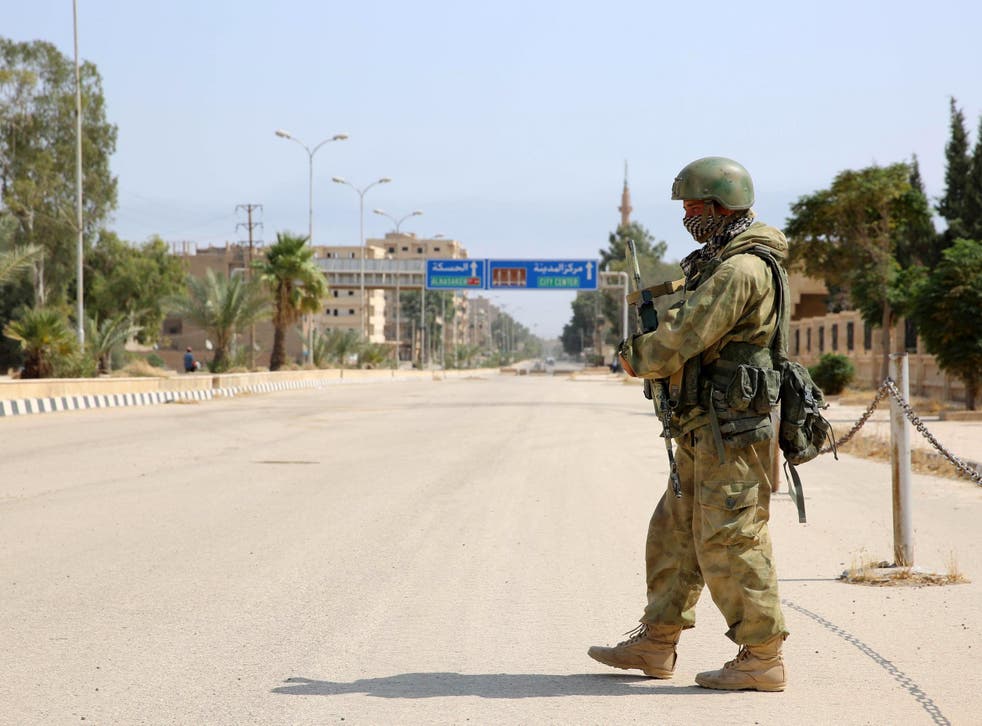 American troops may have killed hundreds of Syrian forces backed by Russian mercenaries, a US army general has said.
Up to 300 pro-regime fighters are thought to have died in American bombing that was launched in response to a surprise attack on a US-held base in the oil-rich Deir Ezzor region last month.
The US launched artillery fire and air strikes after coming under attack on 7 February from a group which also included Russian private military contractors.
"Those [incoming] artillery rounds could have landed and killed Americans and that's why we continue to prepare our defences," Brigadier General Jonathan Braga told NBC News.
Many of those killed are believed to have been Russians employed by a contracting firm. Moscow insisted its regular soldiers were not involved.
However, BGen Braga said he was "absolutely concerned" the conflict could have grown into a larger confrontation with Russia.
The clash is believed to have been the deadliest between US and Russian forces since the end of the cold war.
The Kremlin has only confirmed the deaths of "several dozen" of its citizens, but continued to insist its military was not involved. It initially said it had no information on the deaths of any Russian mercenaries.
The Pentagon, meanwhile, said the air strikes were launched in self-defence following an "unprovoked" advance on land controlled by the US-backed Syrian Democratic Forces, a coalition of Kurds and Syrian rebels.
Neither Moscow nor Washington have publicly offered many details about the clash.
"We only deal with the data that concerns Russian forces servicemen," said President Vladimir Putin's spokesman Dmitry Peskov. "We don't have data about other Russians who could be in Syria."
World news in pictures

Show all 50
It later said five of its citizens had been killed, a figure it subsequently increased to "several dozen".
BGen Braga said that reports that between 200 and 300 of the Russian and Syrian force had been killed was "close to our estimates."
The US deployed around 2,000 troops to Syria to fight Isis, which has now been forced out of much of the territory it controlled.
While the US opposes Bashar al-Assad's Syrian government, American forces have not been targeting his regime's soldiers or those of its civil war allies, such as Russia.
* Update: A previous version of this article suggested in its headline that hundreds of fighters who died in the attack were Russian. Although the US army estimates that between 200 and 300 fighters were killed, it is not known how many of them were mercenaries employed by a Russian contracting firm. 23/3/18
Join our new commenting forum
Join thought-provoking conversations, follow other Independent readers and see their replies