US-led coalition killed 300 civilians in just 11 air strikes in Syria, Amnesty International report finds
Group calls on authorities to 'come clean' about full extent of casualties and damage
Lizzie Dearden
Wednesday 26 October 2016 08:07 Comments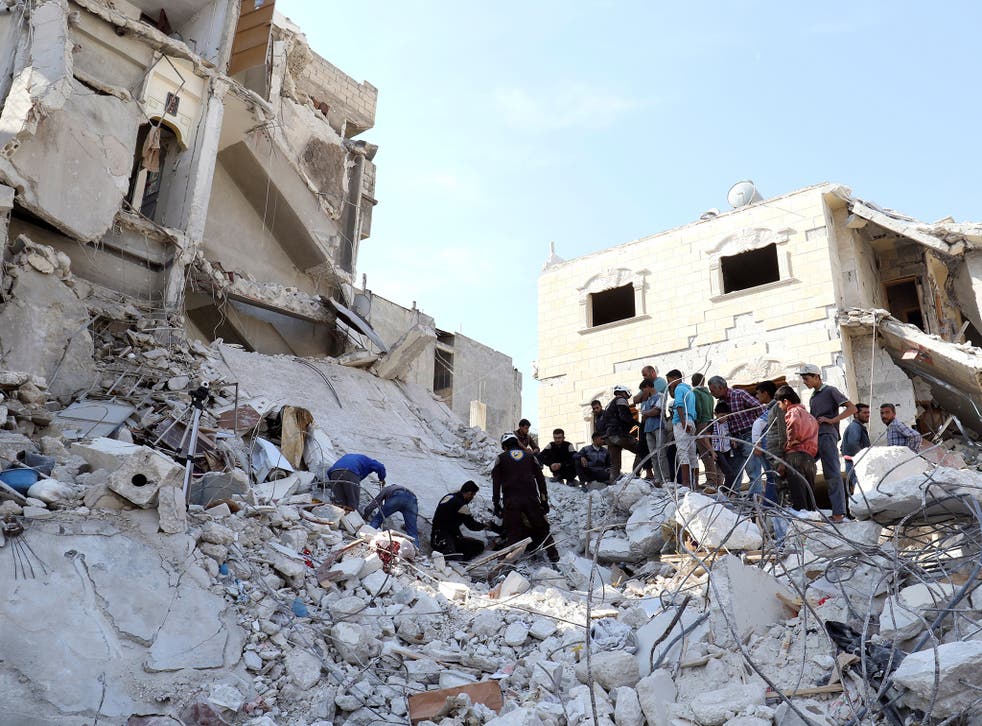 At least 300 civilians have been killed in just 11 air strikes by the US-led coalition, a report has found amid concern for families trapped in Isis' stronghold of Mosul.
Amnesty International urged the Pentagon and its allies to "come clean" about the full extent of deaths in operations against the so-called Islamic State, with official inquiries so far acknowledging only dozens of casualties.
Assessing reports from the ground, eyewitness interviews, satellite imagery, photos and video footage, investigators said US Central Command (Centcom) may have "failed to take necessary precautions to spare civilians and carried out unlawful attacks" in Syria.
Airstrike on weapons facility in Mosul, Iraq
The 11 coalition attacks reviewed by Amnesty include strikes during operations to drive Isis out of Manbij over the summer, when more than 100 civilians, including children, where reportedly killed in the villages of al-Tukhar, al-Hadhadh and al-Ghandoura in their homes and at a market.
Lynn Maalouf, deputy director for research at Amnesty International's Beirut office, said: "It's high time the US authorities came clean about the full extent of the civilian damage caused by coalition attacks in Syria.
"We fear the US-led coalition is significantly underestimating the harm caused to civilians in its operations in Syria.
"Analysis of available evidence suggests that in each of these cases, coalition forces failed to take adequate precautions to minimise harm to civilians and damage to civilian objects.
"Some of these attacks may constitute disproportionate or otherwise indiscriminate attacks."
She echoed concern raised by the United Nations and other groups for more than 1 million civilians trapped in the Iraqi city of Mosul, Isis' largest remaining stronghold in the country, as it is targeted by an international ground and air advance.
"It is even more pressing that Centcom be fully transparent about the impact of their military actions on civilians," Ms Maalouf added.
"And it is crucial that they adhere scrupulously to international humanitarian law, including by taking all feasible precautions to spare civilians and to minimise harm to civilian homes and infrastructure."
British jets prepare for air strikes in Syria

Show all 10
The group has sent a memorandum outlining its questions and concerns to the US Department of Defence but said it has not yet received a reply.
A survivor of an air strike that hit two houses where civilians were sheltering in Ayn al-Khan, al-Hasaka governorate, on 7 December last year described being woken by a huge explosion.
"The house shook and began to crumble, the windows shattered," he said.
"I ran outside and saw my neighbour's house completely destroyed. I could hear people calling out from beneath the rubble."
As he helped dig out survivors, a helicopter gunship launched a second attack.
"At this point I had a two-month-old baby boy in my arms who I had rescued," he said. "The hit caused me to fall and drop him. I fell into the hole made by the air strike.
"That was what saved me. My mother, aunt, wife and children - a daughter who was four-years-old and a son who was two-and-a-half were all killed.
"The woman and her son who I'd rescued were killed. Everyone but me was killed."
The attack is believed to have been targeting a group of Isis fighters who had moved into a house on the edge of the village five days earlier and were later joined by reinforcements.
In another incident on 11 August, an air strike targeting a mortar factory in Atmeh, Aleppo governorate, destroyed two adjacent civilian homes and killed eight civilians including six children.
Talha al-Amouri, an eyewitness, told Amnesty his sister-in-law, mother of five of the children killed, was eight months' pregnant at the time of the attack and had a stillbirth as a consequence.
"How could they have known that there was an ammunitions factory but not that there were homes with civilians nearby?" he asked.
Since the start of its air campaign in 2014, the US has acknowledged at least 55 civilian deaths in Iraq and Syria and says more reports are under investigation.
Colonel Patrick Ryder, a spokesperson for Central Command, said the casualties were "deeply regretted" but claimed forces were carrying out "the most precise air campaign in the history of warfare".
Incidents confirmed by internal investigations include civilians being killed while overtaking or passing targeted cars carrying Isis fighters or standing near "legitimate targets", although monitors have recorded incidents of alleged mistaken identity including an operation that killed more than 70 civilians in July.
Research by organisations including the Syrian Network for Human Rights, Airwars, the Syrian Observatory for Human Rights and the Violations Documentation Centre have put the number of civilians killed in US-led air strikes at more than 1,000.
A spokesperson for the US military said: "Centcom has extensive processes and techniques in place to avoid or minimize civilian casualties.
"Every report of civilian casualties, from either internal or external sources, is scrutinised regarding possible casualties and collateral damage.
"Assessments that are determined to be credible are reviewed as to whether the actions comply with the principles of the Law of Armed Conflict."
Amnesty and other groups have also accused the Syrian government and its Russian backers of killing hundreds or thousands of civilians in indiscriminate bombing.
Isis and other militant groups are also responsible for killing civilians and committing war crimes and crimes against humanity in the Syrian civil war.
Register for free to continue reading
Registration is a free and easy way to support our truly independent journalism
By registering, you will also enjoy limited access to Premium articles, exclusive newsletters, commenting, and virtual events with our leading journalists
Already have an account? sign in
Join our new commenting forum
Join thought-provoking conversations, follow other Independent readers and see their replies