Donald Trump win celebrated by Al-Qaeda and Egyptian jihadis as beginning of 'America's ruin'
Prominent Salafist leaders and clerics took to social media to share their delight in US election result which propelled Republican outsider into the White House
Wednesday 09 November 2016 19:26
Comments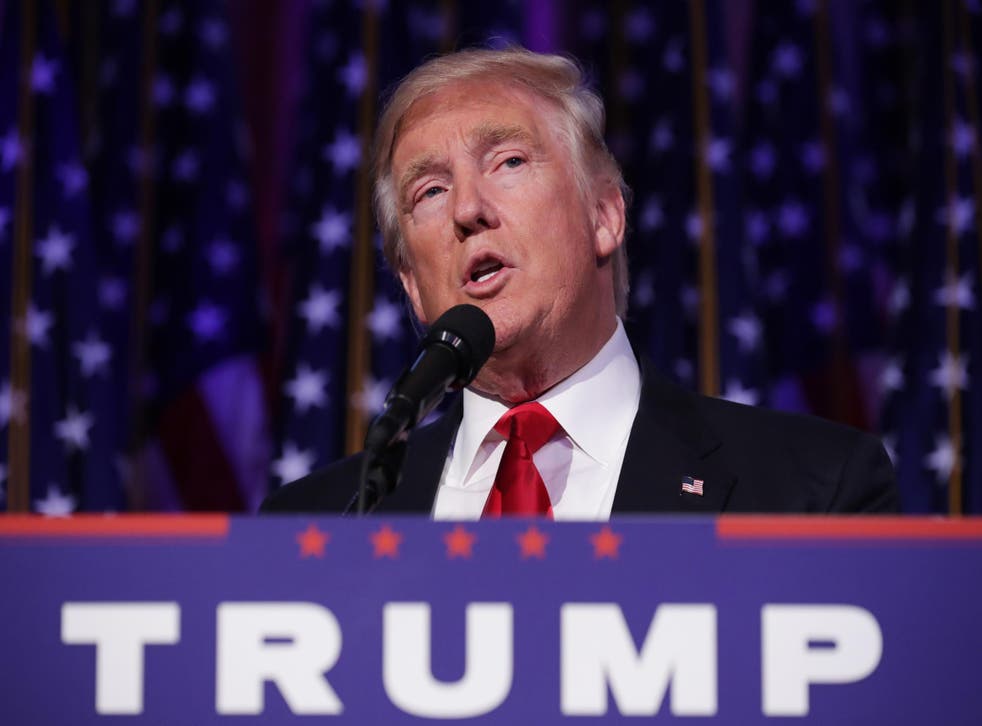 Russian President Vladimir Putin and Egyptian President Abdel Fattah el-Sisi are among the authoritarian world leaders who have welcomed the news that Donald Trump has been elected as the 45th president of the United States.
Ku Klux Klan leader David Duke was also delighted that Mr Trump had managed to snatch victory from the pollsters' predicted winner Hillary Clinton on Wednesday.
The sentiment has been echoed by a group that is not exactly a part of Mr Trump's target demographic: hardcore jihadist and Salafist sources across the Middle East.
"Trump's victory is a hard slap to those promoting the efficiency of democratic systems," Hamza al-Karibi, a spokesperson for the al-Qaeda affiliated Syrian jihadist group Jabhat Fatah al-Sham wrote to his Twitter followers. "Starting today, we won't need media releases clarifying the West's machinations. All we need to do is retweet what Trump says," he added.
"Trumps [sic] winning might be bad for us in the short run. However, it is better for Muslims in the long run as he'll ruin the US," prominent Egyptian-born jihadi cleric Dr Tariq Abdel Haleem wrote in English.
Jordanian Abu Muhammad al-Maqdisi - described by West Point military academy's anti terrorism centre as "the most influential living jihadi theorist," and who is responsible for running al-Qaeda's online library - also took to Twitter to share his delight, saying Mr Trump's electoral victory could herald "the beginning of America's fragmentation and the era of its breakup."
The Republican presidential nominee had previously been criticised for his inexperience of foreign policy and his repeated claim that the US-backed Operation Inherent Resolve to oust Isis from Mosul will fail.
Speaking at the time, Charlie Winter of the International Centre for the Study of Radicalisation at King's College London said Mr Trump's comments were unhelpful in the fight against extremism, calling the candidate a "fantastic recruitment sergeant for Isis."
Register for free to continue reading
Registration is a free and easy way to support our truly independent journalism
By registering, you will also enjoy limited access to Premium articles, exclusive newsletters, commenting, and virtual events with our leading journalists
Already have an account? sign in
Register for free to continue reading
Registration is a free and easy way to support our truly independent journalism
By registering, you will also enjoy limited access to Premium articles, exclusive newsletters, commenting, and virtual events with our leading journalists
Already have an account? sign in
Join our new commenting forum
Join thought-provoking conversations, follow other Independent readers and see their replies