US ambassador condemned for saying Israel has right to annex part of West Bank
David Friedman's comments spark uproar just weeks before the US is set to unveil its peace plan for the region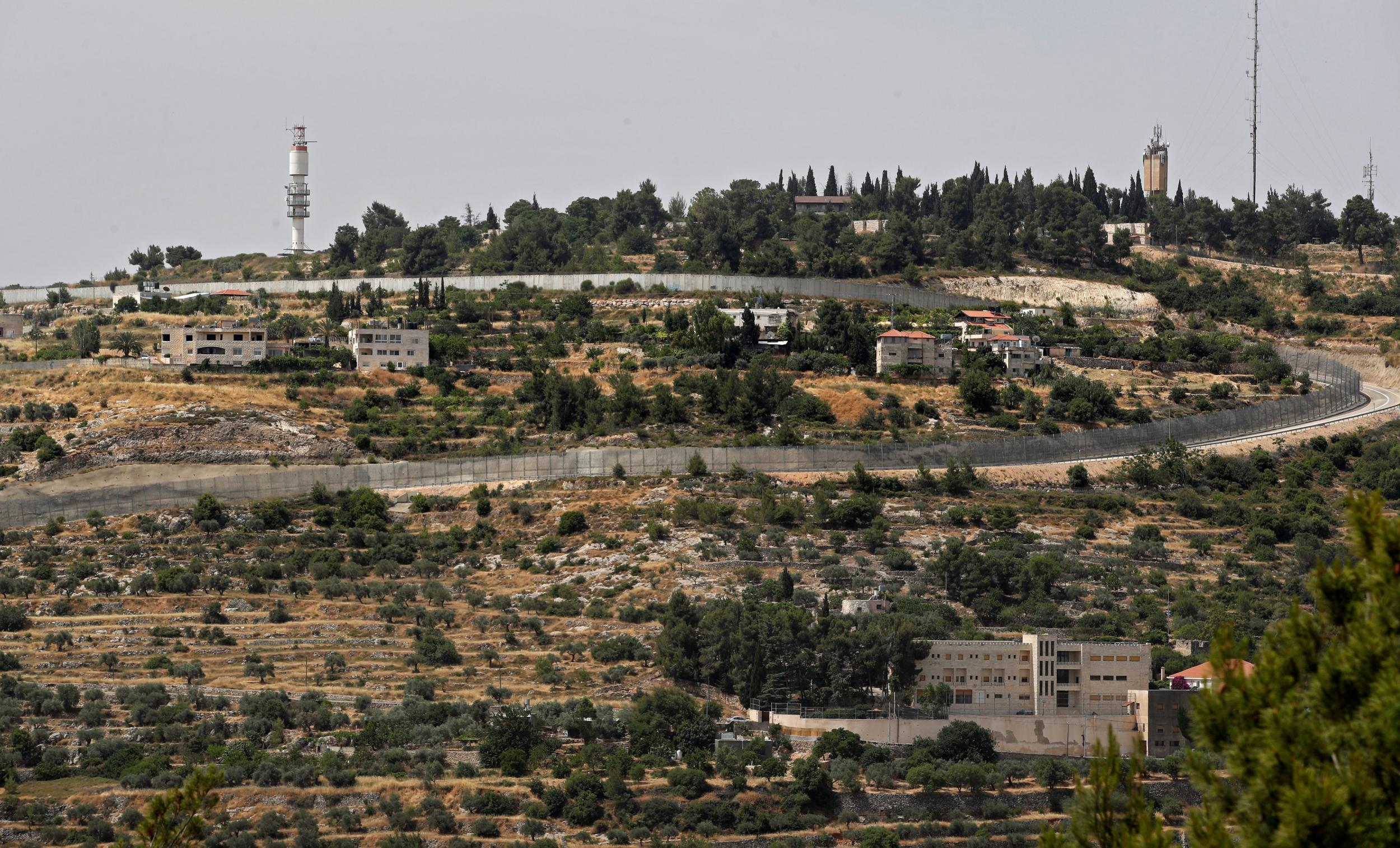 Palestinian officials and Israeli rights groups have called for the US ambassador to Israel to be fired after he said that Israel has a right to annex "a portion" of the occupied West Bank just weeks ahead of the unveiling of Washington's regional peace plan.
David Friedman's divisive comments sparked anger from the Palestinians who have already rejected US president Donald Trump's so-called "deal of the century" on the grounds it will likely be too pro-Israel.
Mr Friedman, who is a staunch supporter of the Israeli settlement enterprise, said in an interview with The New York Times that some degree of annexation of the West Bank would be legitimate.
Israeli settlements in the West Bank are deemed illegal under international law and are seen by most countries as an obstacle to peace.
Palestinian officials claimed that unilaterally annexing parts of West Bank would be a "war crime", adding that statements like Mr Friedman's were behind their decision to reject the upcoming US peace conferences.
"Under certain circumstances, I think Israel has the right to retain some, but unlikely all, of the West Bank," Mr Friedman told the newspaper in an interview published on Saturday.
World news in pictures
Show all 50
"Certainly Israel's entitled to retain some portion of it," he added.
He accused the Obama administration of giving credence to Palestinian arguments "that the entire West Bank and East Jerusalem belong to them".
Barack Obama allowed the passage of a United Nations resolution in 2016 that condemned Israeli settlements as a flagrant violation of international law.
Mr Friedman also defended the continued presence of Israeli security forces in the West Bank saying it was akin to American troops stationed in Germany, Japan and Korea.
"Having boots on the ground is not antithetical to peace," he continued.
"What's a state?" he replied when asked whether the upcoming peace plan envisions a Palestinian state.
His comments sparked fury among both Palestinians and Israeli rights group just weeks ahead of the expected unveiling of Mr Trump's long-awaited peace plan.
It is unclear who, if anyone, will attend the 25 June economic workshop in Bahrain where the agreement is due to be finally released.
The Palestinian leadership has refused to attend on the grounds the deal will be too pro-Israel.
Mr Friedman in the interview said that the Palestinian authorities had piled "massive pressure" on local businesses not to attend.
"I know first-hand they want to come," he said.
Israel, meanwhile, has yet to receive a formal invitation, according to Barak Ravid, a senior diplomatic correspondent for Israel's Channel 13.
He reported on Monday that the US had not issued an invitation as it was concerned that Egypt, Jordan and other Arab and Muslim countries have yet to publish statements on their intention to attend the conference.
Peace Now, an Israeli organisation which lobbies for a two-state solution to the Israel-Palestinian conflict, called Mr Friedman "a Trojan horse sent by the settler right" and urged Mr Trump to sack him.
"[This] sabotages Israel's interests and the chance for peace. The president, if he means to serve as a fair mediator, ought to send Friedman packing this evening," it wrote on Twitter.
Jeremy Ben-Ami, president of J-Street, a US-based pro-Israel group, echoed the same words saying that Mr Friedman made It clear "he is acting not as the US ambassador to Israel but as the settlement movement's ambassador to the United States".
Hagai El-Ad, executive director of Israeli rights group B'Tselem, meanwhile asked "what's an ambassador?" as he tweeted Mr Friedman's interview.
Dr Saeb Erakat, the Palestinians' chief negotiator, repeated their comments calling Mr Friedman the "ambassador of the settlers".
"Their vision is about annexation of occupied territory, a war crime under international law," the official wrote on Twitter.
'That is not the path to peace, that is the road to an endless conflict," he added.
The Palestinian foreign ministry, meanwhile, said it was mulling whether to file a complaint with the International Criminal Court (ICC) according to a statement published by the newspaper Israel Hayom.
"International law prohibits the annexation of land by force, as well as a reality imposed by occupying powers," the ministry continued in the report.
The Palestinian foreign minister Riyad al-Maliki called on the international community to "stand up ... respond".
In a rare show of public disunity, the US State Department officials said that, despite Mr Friedman's comments, Washington had not changed its policy on Israeli annexation of parts of the West Bank.
"No plan for unilateral annexation by Israel of any portion of the West Bank has been presented by Israel to the US, nor is it under discussion," the official said.
The Palestinian leadership cut diplomatic ties with the Trump administration when it recognised the disputed city of Jerusalem as Israel's capital.
Netanyahu holds up map gifted from Trump showing Golan Heights as part of Israel
In March, Mr Trump recognised Israeli sovereignty over the Golan Heights, which Israel had captured from Syria, sparking fears he would do the same with Palestinian territory.
The Israeli prime minister, Benjamin Netanyahu, told Army Radio in April that Mr Trump's Golan step showed it was possible to annex West Bank settlements "within a gradual process and I prefer to do so with American recognition".
He added: "I have been discussing the question of extending sovereignty with the Americans for the past six months."
Join our commenting forum
Join thought-provoking conversations, follow other Independent readers and see their replies