US agrees to give Israel $38bn in military aid despite tensions over Iran deal and West Bank settlements policy
The military package is the largest ever deal agreed between the US and one of its allies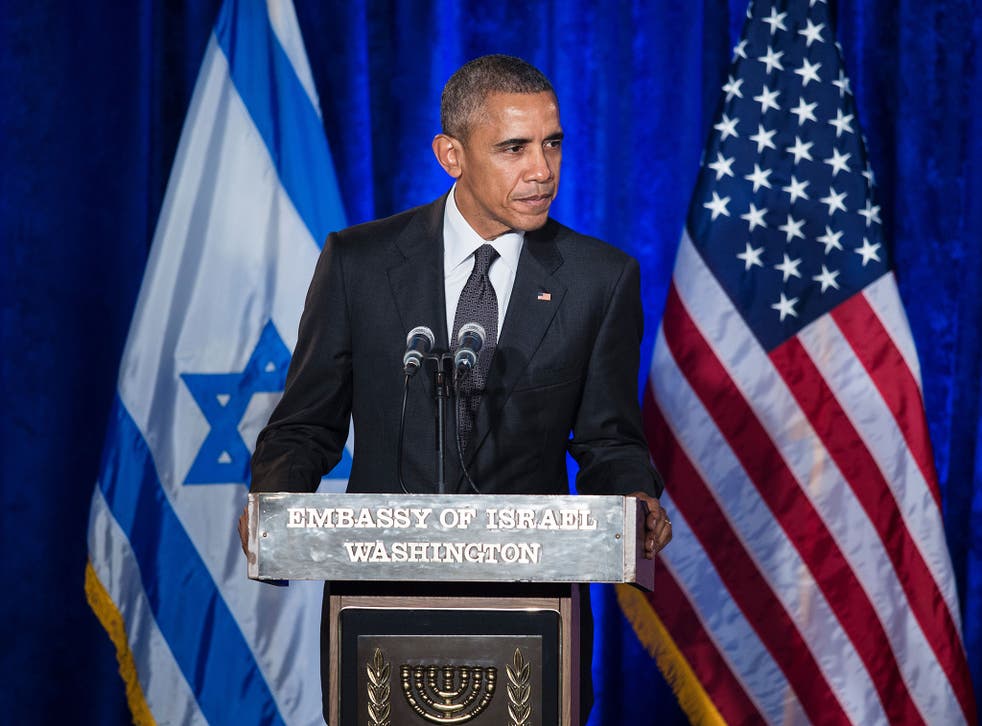 The US and Israel have agreed on a record $38bn (£29bn) military aid package.
The deal, which represents the largest military assistance pledge the US has made to any country, will enshrine funding for Israel's defence but has also involved major concessions by Prime Minister Benjamin Netanyahu.
These include an Israeli commitment not to seek additional funds from Congress and to gradually phase out, starting in 2020, the 26.3 per cent share of aid money that the country spends on developing its own defence industry in favour of American-made weapons.
The deal, known as a memorandum of understanding (MOU), calls for $3.8bn a year in aid, up from $3.1bn under the current pact, which expires in 2018. Mr Netanyahu had reportedly originally sought more than $4.5bn a year.
Israel's chief negotiator, Jacob Nagel, arrived in Washington in preparation for the signing ceremony today, and the White House also began briefing members of Congress on the deal.
The negotiation has been played out during a fraught 10 months which was underscored by continued friction between the two allies over the US nuclear deal with Iran last year.
Last year, NSA surveillance appeared to show Mr Netanyahu attempting to lobby potentially sympathetic senators and congressmen to block the ratification of the deal which saw Iran agreeing to suspend its nuclear enrichment programme in exchange for the lifting of some economic sanctions.
Israel's 'summer of discontent' over prices puts pressure on Netanyahu

Show all 3
Israel has also clashed with the Obama administration over its attitude to its treatment of the Palestinian cause.
Last week, Washington voiced its concerns over Israel building 284 new houses on the West Bank and criticised a Facebook message by Mr Netanyahu where he claimed Palestinians wanted to carry out ethnic cleansing against Jews.
US State Department spokeswoman Elizabeth Trudeau called the comments "inappropriate and unhelpful" and said the settlement policy raised "real questions about Israel's long-term intentions in the West Bank".
Mr Obama's aides reportedly wanted to agree a new deal before the end of his presidency in January as they see it as an important part of his legacy.
Republican critics have accused him of not being attentive enough to Israel's security, which the White House strongly denies, and of taking too hard of a line with the Israeli leader.
Israel, which is considered the closest ally of the US in the Middle East, has long been a major recipient of US aid, mostly in the form of military assistance against a backdrop of an ebbing and flowing conflict with the Palestinians and its neighbours, as well as threats from Iran.
Additional reporting by Reuters