US-led coalition admits killing at least 220 civilians in air strikes against Isis in Syria and Iraq
Oil tanker drivers and civilians trapped in Mosul among those confirmed dead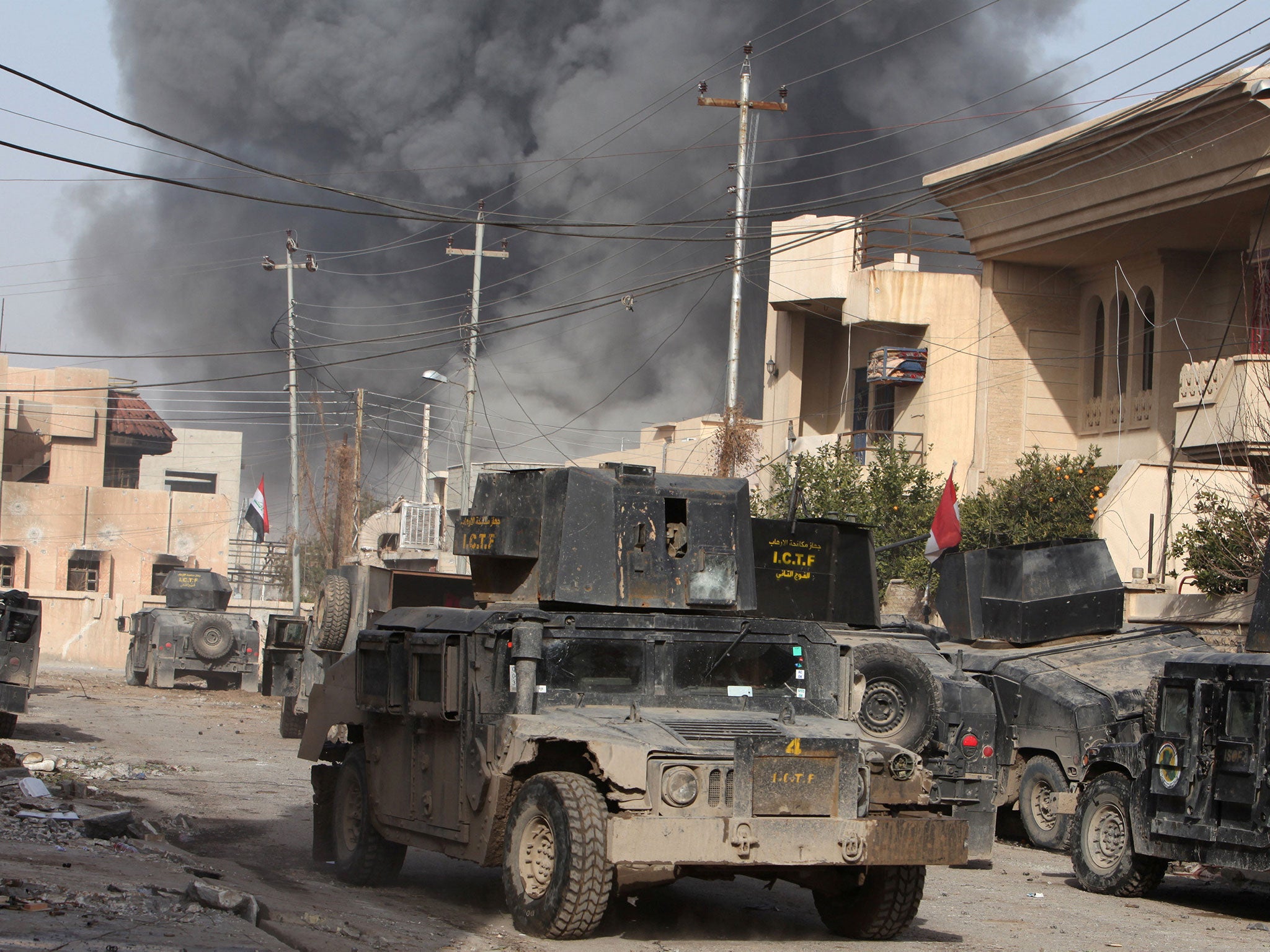 The official number of civilians killed in the US-led coalition's air strikes in Syria and Iraq has risen to 220 amid fears for up to 750,000 people trapped in Mosul.
Humanitarian organisations have warned that the real total may be far higher, with monitoring group Airwars counting at least 2,400 innocent men, women and children killed in the anti-Isis bombing campaign.
US Central Command, which leaders Operation Inherent Resolve, confirmed 21 civilian deaths in nine new incidents in its latest round of investigations.
"We regret the unintentional loss of civilian lives resulting from coalition efforts to defeat Isis in Iraq and Syria and express our deepest sympathies to the families and others affected by these strikes," a spokesperson said.
The deadliest single strike was in Mosul on 13 January, where investigators found eight civilians were "unintentionally killed" in an operation targeting Isis fighters in a house.
It was unclear whether the report described the same incident reported on the day by residents, who said up to 30 members of an Isis commander's family died when their house was bombed, despite the target not being inside.
"During post-strike video analysis civilians were identified near the house who were not evident prior to the strike," Centcom's report said.
Air strikes destroy Islamic State drone base in Mosul
Several deadly incidents involved strikes on Isis' oil trade as part of a high-profile operation to reduce the group's revenue streams.
Three men driving oil tankers were killed in a raid near the Syrian city of Deir Ezzor on 27 November, while the drivers of other destroyed vehicles managed to flee before the bombs hit.
"After warning shots were fired to dislodge drivers from the vehicles a number of the trucks scattered," said Centcom's report.
"Three of the trucks were subsequently engaged, destroyed, and their drivers presumed killed."
Five more oil tanker drivers were killed in another operation in the same area on 11 December, when they allegedly returned to their vehicles after the warning shots.
In two similar incidents on 7 January, two civilians were killed near As Sawa in Syria, and another driver near Deir Ezzor.
The report said the man survived the initial bombing but was killed by a secondary explosion from one of the oil tankers as he attempted to flee.
The US Department of Defense has hailed the success of the operation targeting Isis' lucrative oil industry but the terrorist group is known to force local civilians into involvement, raising the likelihood of further deaths.
Two other civilians were confirmed killed in separate air strikes on the Mosul, where coalition planes are backing an advance by Iraqi government forces that has so far retaken more than half of the Iraqi city.
In pictures: Mosul offensive
Show all 40
On 4 January a pedestrian was killed when a moving car carrying Isis fighters was hit, and on 14 January, another civilian died when he entered the target zone of a strike on a jihadi mortar team.
An estimated 750,000 civilians remain trapped in the western part of the city, under a blistering ground and air assault driving dire humanitarian conditions.
Centcom found another 10 reports to be "non-credible", either through contradictory evidence or insufficient information, while 19 more are still under investigation.
"Although the Coalition takes extraordinary efforts to strike military targets in a manner that minimises the risk of civilian casualties, in some incidents casualties are unavoidable," a spokesperson for said.
"In each of the incidents, the investigation assessed that although all feasible precautions were taken and the decision to strike complied with the Law of Armed Conflict, unintended civilian casualties unfortunately occurred."
With the vast majority of strikes hitting territory under Isis control, the true number of casualties and the victims' identities are difficult to verify and the US-led coalition is currently auditing its tracking of civilian deaths.
Centcom admitted it was unable to "fully investigate all reports of possible civilian casualties using traditional investigative methods, such as interviewing witnesses and examining the site", saying it instead interviews pilots, reviews strike footage and analyses information from partner forces, governments, humanitarian groups, traditional and social media.
All confirmed incidents so far were authorised under Barack Obama's administration, while a similar strategy is expected to continue under Donald Trump.
Join our commenting forum
Join thought-provoking conversations, follow other Independent readers and see their replies