UK warns Isis threat still 'very much alive' as Trump's withdrawal of US troops from Syria widely condemned
Torrent of criticism from experts and politicians greets US president's announcement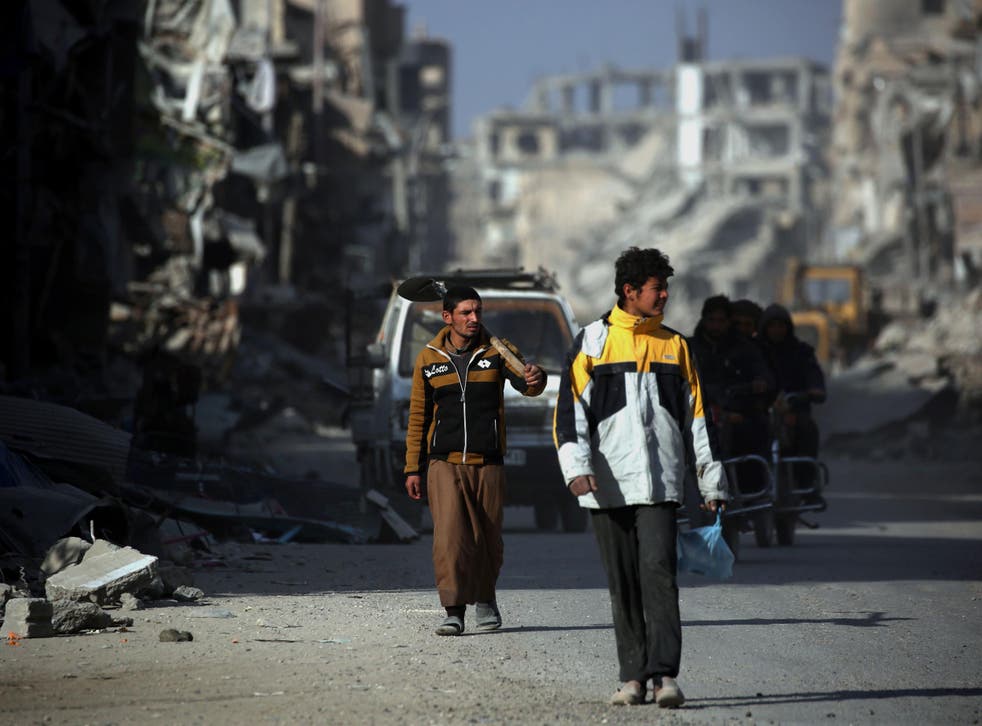 A defence minister has joined a torrent of international condemnation of Donald Trump's claim that Isis has been defeated in Syria to support the withdrawal of troops from the country.
Tobias Ellwood said he "strongly disagreed" with Mr Trump's statement, adding: "It [Isis] has morphed into other forms of extremism and the threat is very much alive."
Mr Trump's announcement that 2,000 troops would be withdrawn was met with a torrent of condemnation from both analysts and US Republicans, including a group of senators who wrote to Mr Trump asking him to change course.
"If you decide to follow through with your decision to pull our troops out of Syria, any remnants of Isis in Syria will surely renew and embolden their efforts in the region," they wrote.
"However, Isis is not the only threat. The brutal dictatorship of Bashar al-Assad continues to weigh heavily upon the Syrian people, and we fear that a withdrawal of our troops may embolden Bashar al-Assad to take further actions to solidify his power."
Mr Trump had tweeted: "We have defeated Isis in Syria, my only reason for being there during the Trump Presidency."
But critics warned that pulling out US troops would be seen as an abandonment of America's allies in Syria, the Kurdish-led Syrian Democratic Forces, and a boost for Isis.
Turkey could also take the opportunity to carry out a threatened invasion of north-eastern Syria, which in turn would distract Kurdish forces from their fight against Isis elsewhere.
Republican senator Lindsey Graham, a Trump ally, labelled the pullout "disastrous to our own national security" and "a stain on the honour of the United States".
The decision would make Americans around the world and here at home "more at risk, not less", he warned.
He described the move as a betrayal of US allies in the region.
US forces in Syria were necessary to keep Americans safe and were the "best hope we have of stopping another 9/11, protecting ourselves and our allies", he said.
"I'm not saying we need to be in Syria for ever. I'm saying now's not time to leave," Graham said.
The European Parliament's Brexit coordinator, Guy Verhofstadt, tweeted that the decision was "a victory for Russia, Iran, Turkey, Turkish proxies & the Syrian regime". He added: "Unsurprisingly, it leaves Europeans more vulnerable – and shows how wrong it is that we do not have a defence force able to help stabilise our immediate neighbourhood."
Joost Hiltermann, Middle East director of the Crisis Group, which aims to "prevent deadly conflict", said the decision could be "a disaster" for the Kurdish forces. Without US support, he said, the Kurds "would be left twitching in the wind".
Turkey has threatened to push in to the northeast of Syria to step up attacks on the US-backed Kurdish fighters it views as terrorists.
Barbara Leaf, former US ambassador to the UAE, said all the conditions for a resurgence of Isis were still in place, predicting that Kurdish troops would have to shift from fighting Isis to self-defence.
Syrian Democratic Forces take Raqqa from Isis – in pictures

Show all 8
The decision also leaves Russia "jubilant", she said. "Russian troops have not shown their priority is fighting Isis," she said, rather it was fighting Mr Assad's opponents.
"This is astonishing. Appalling. And most importantly, destructive to US national security interests. The fight against Isis isn't over by a long shot," she tweeted.
US defence secretary Jim Mattis has previously supported the idea of staying in Syria to ensure Isis does not re-emerge.
Support free-thinking journalism and attend Independent events
After Mr Trump's comments, White House press secretary Sarah Sanders later said US troops had starting going home.
America still has a large US military presence in the region, with 5,200 troops in neighbouring Iraq.
Register for free to continue reading
Registration is a free and easy way to support our truly independent journalism
By registering, you will also enjoy limited access to Premium articles, exclusive newsletters, commenting, and virtual events with our leading journalists
Already have an account? sign in
Register for free to continue reading
Registration is a free and easy way to support our truly independent journalism
By registering, you will also enjoy limited access to Premium articles, exclusive newsletters, commenting, and virtual events with our leading journalists
Already have an account? sign in
Join our new commenting forum
Join thought-provoking conversations, follow other Independent readers and see their replies