US urges Turkey and Syrian factions to fight together against Isis
The developments underscore the chaotic situation inside Syria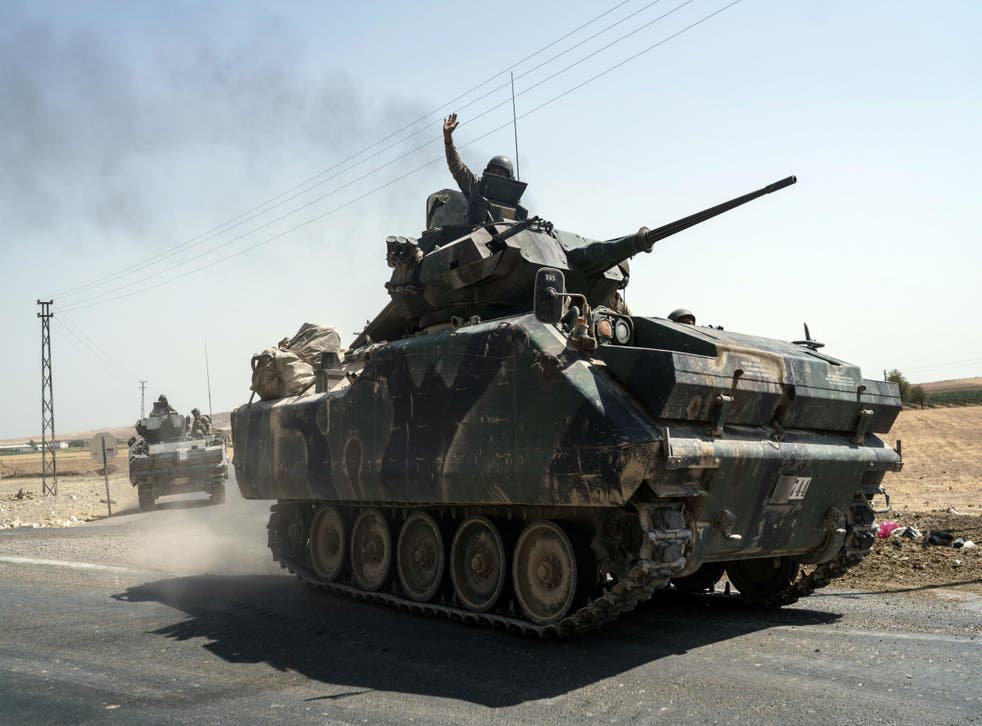 The US has criticised Turkey for launching attacks on Syrian rebel groups - saying its efforts should instead be focused on defeating Isis extremists, but Turkey's President Recep Tayyip Erdogan has vowed to press on..
Turkish-backed forces pushed deeper into northern Syria on Monday, the latest move in a two-week offensive. Reports suggested that at the start of the operation, Turkish forces were targeting Isis, but had since turned their efforts to attacking the Syrian Democratic Forces (SDF), a coalition that encompasses Kurdish YPG militia. This coalition is being supported and backed by Washington in its efforts to counter Isis.
The developments underscore the complex and chaotic situation on the ground in Syria, where dozens of factions and groups are vying for influence as a civil war rages. While both agreeing to coordinate efforts against Isis, the US and Russia are on opposing sides of the civil war, in which President Bashar Al-Assad is fighting to retain power.
The US condemned those clashes between Turkish forces and opposition groups in northern Syria as unacceptable and called on all armed groups to stand down and focus on the fight against Isis.
"We want to make clear that we find these clashes - in areas where Isis is not located - unacceptable and a source of deep concern," Brett McGurk, the special presidential envoy for the coalition to counter Isis, said on his official Twitter account.
"We call on all armed actors to stand down the US is actively engaged to facilitate such deconfliction and unity of focus on Isis, which remains a lethal and common threat."
Video shows aftermath of Turkey car bomb attack in Cizre
US Defence Secretary Ash Carter said Washington has asked Turkey to "stay focused" on the fight against Isis and not to engage with the SDF.
"We've called on both sides not to fight one another, not to fight each other," Mr Carter said.
Turkish officials say their goal in Syria is to drive out Isis, but also to ensure Kurdish militia fighters do not expand the territory they already control along Turkey's border.
Turkey and its own Syrian rebel allies seized territory controlled by Kurdish-aligned forces on Sunday, the fifth day of a cross-border campaign that a monitoring group said had killed at least 35 villagers.
"Turkey is determined to take steps to guarantee its citizens' security at home and in neighbouring countries," Mr Erdogan said on Monday in a message on the eve of Tuesday's national Victory Day holiday. Operations would continue until all threats, including from the YPG, were removed, he said.
At a news conference on Monday with a visiting European official, Turkish European Affairs Minister Omer Celik said: "No one has the right to tell us which terrorist organisation we can fight against." He did not however mention the US comments.
Inside Isis secret tunnels

Show all 7
The Kurdish YPG fighters are backed by the United States in the fight against Isis in Syria. However, Nato member Turkey sees the YPG as an extension of the outlawed Kurdistan Workers Party (PKK), which has waged a three-decade insurgency in Turkey's largely Kurdish southeast.
The differing priorities puts Ankara at odds with Washington and adds to tensions when Turkey's government is still reeling from last month's failed coup, which it says Washington was too slow to condemn. US Vice President Joe Biden last week visited Turkey in an effort to smooth diplomatic strains.
Reports said that on Monday, Turkish-backed forces advanced on Manbij, a city about 320 miles south of Turkey's border captured this month by the SDF, in which Kurdish fighters play a major part, with US help.
SDF-aligned militia said they were reinforcing Manbij but insisted none of the troops in the region or the extra fighters heading to the city were from the Syrian Kurdish YPG militia.
Turkey has said its warplanes and artillery have bombarded positions held by the Kurdish YPG militia in recent days. It accuses the YPG of seeking to take territory where there has not traditionally been a strong Kurdish ethnic contingent.
"The YPG is engaged in ethnic cleansing, they are placing who they want to in those places," Turkish Foreign Minister Mevlut Cavusoglu told a news conference in Ankara, demanding Kurdish forces withdraw east of the Euphrates river, a natural boundary with areas of eastern Syria under Kurdish control.
Register for free to continue reading
Registration is a free and easy way to support our truly independent journalism
By registering, you will also enjoy limited access to Premium articles, exclusive newsletters, commenting, and virtual events with our leading journalists
Already have an account? sign in
Register for free to continue reading
Registration is a free and easy way to support our truly independent journalism
By registering, you will also enjoy limited access to Premium articles, exclusive newsletters, commenting, and virtual events with our leading journalists
Already have an account? sign in
Join our new commenting forum
Join thought-provoking conversations, follow other Independent readers and see their replies