US-led air strikes 'kill 52 civilians including seven children' while targeting Isis in Syria
A monitoring group claims the death toll could rise in Birmahle, Aleppo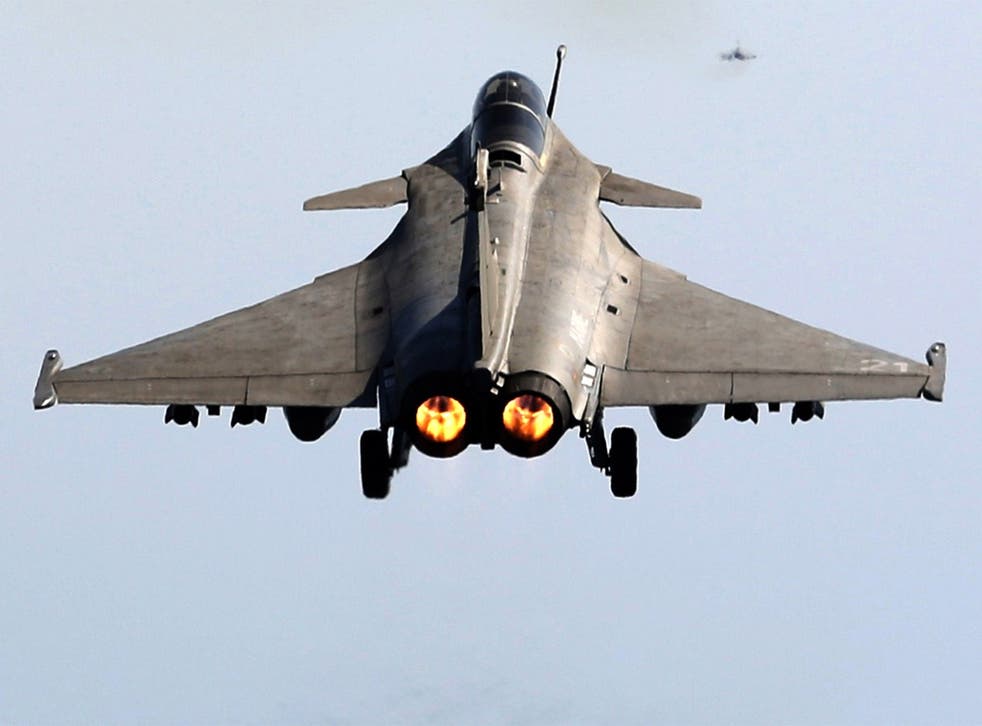 At least 52 civilians, including seven children, have been killed in air strikes by the US-led coalition in Syria, according to a monitoring group.
The Syrian Observatory for Human Rights branded the operation on Friday a "massacre", claiming innocent people had become casualties of the hunt for Isis militants.
Rami Abdulrahman, who founded the UK-based group, said Friday's strike saw the highest civilian death toll in a single attack by US and Arab forces since they started operations in Iraq and Syria last year.
The number of fatalities could still rise as efforts continue to find 13 missing people in the rubble of Birmahle village.
So far 52 civilians, including seven children and nine women have been confirmed dead, from six families, the Observatory said.
A spokesperson added: "We in SOHR condemn in the strongest terms this massacre committed by the US led coalition under the pretext of targeting Isis in the village, and we call the coalition countries to refer who committed this massacre to the courts, as we renew our calls to neutralise all civilian areas from military operations by all parties."
Coalition forces have not yet commented on the claims.
Lying on the eastern banks of the Euphrates River in Aleppo province, Birmahle is close to the frontlines where Isis militants have been clashing with Kurdish fighters and rival rebels.
The so-called Islamic State controls vast areas of Aleppo and is fighting the Syrian and Iraqi armies as well as other militant groups to seize more of the region.
US-led strikes had reportedly killed at least 66 civilians in Syria from the start of the raids on 23 September until Friday, which brought the total to at least 118.
The campaign has also killed nearly 2,000 Islamic State fighters, the Observatory said.
The Pentagon has previously stressed that it takes reports of civilian casualties in its strikes seriously and investigates all claims individually.
Analysts have disagreed on the impact operations by the United States, Bahrain, Jordan, Qatar, Saudi Arabia and the United Arab Emirates have had against Isis and other extremists.
Militants' advances appear to have been slowed but Isis' power in its strongholds has not been substantially weakened.
Britain has not joined air strikes in Syria but is targeting the group in Iraq following a request for help from the government.
Washington and its allies say their aim is to support "moderate" rebels fighting against both Syrian President Bashar al-Assad and Isis.
A third of the population has been made homeless in the four-year civil war and more than 220,000 people have been killed.
Almost 4,500 of those fatalities were in April alone, according to the Syrian Observatory for Human Rights, which documented the deaths of at least 950 civilians, 760 rebel fighters, 1,200 foreign Islamist militants and 750 regime soldiers.
The group noted the difficulty chronicling casualties because of "reticence" admitting losses on all sides and the difficulty of reaching war-torn areas.
Government forces have seen a series of setbacks on the battlefield recently and Islamist fighters have edged closer to Assad's costal stronghold by capturing parts of Idlib.
Fighting continued on Saturday between government forces and Islamist fighters in government-held Latakia, heartland of the President's minority Alawite community.
At least 23 more civilians, including several children, were reportedly killed in regime air strikes and shelling in Der-Ezzor and elsewhere in Aleppo today.
Update:
Major Curtis Kellogg, a spokesperson for US Central Command, has given The Independent the following response:
"US Central Command can confirm that Coalition forces conducted air strikes in the vicinity of Birmehli (Jubb Mahli), Syria, on April 30, destroying several ISIL (Isis) fighting positions and striking more than 50 ISIL fighters. We currently have no indication that any civilians were killed in these strikes.
"Prior to the air strikes, Kurdish forces, who held the town before leaving after being attacked by ISIL, reported there were no civilians present in that location and that there had not been any civilians present for two weeks prior to the Coalition air strikes.
"We have significant mitigation measures in place within the targeting process and during the conduct of operations to reduce the potential risks of collateral damage and civilian casualties.
"We work extremely hard to be precise in the application of our air strikes and take all allegations of civilian casualties very seriously."
Additional reporting by Reuters
Register for free to continue reading
Registration is a free and easy way to support our truly independent journalism
By registering, you will also enjoy limited access to Premium articles, exclusive newsletters, commenting, and virtual events with our leading journalists
Already have an account? sign in
Register for free to continue reading
Registration is a free and easy way to support our truly independent journalism
By registering, you will also enjoy limited access to Premium articles, exclusive newsletters, commenting, and virtual events with our leading journalists
Already have an account? sign in
Join our new commenting forum
Join thought-provoking conversations, follow other Independent readers and see their replies