US-led coalition jets strike Isis targets in Kobani as militant launch shells across border into Turkey
The Syrian Observatory for Human Rights said US-led forces bombing Isis in Syria killed 10 civilians in two separate air strikes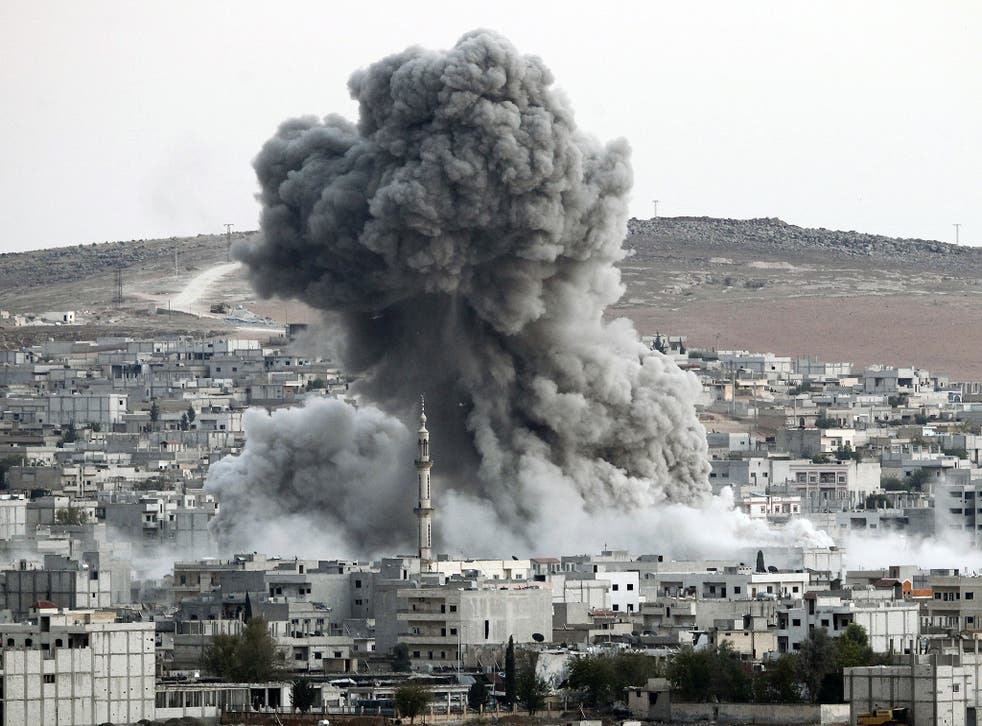 US-led coalition fighter jets struck suspected Isis targets at least six times in the besieged Syrian town of Kobani on Saturday, in the fiercest fighting for days.
Shelling continued after the strikes hit the centre of Kobani, where Isis militants have battled Kurdish fighters defending the town for a month.
Isis have been trying to seize the town to consolidate a 60 mile (95 km) stretch of land they control along the Turkish border.
However, intense air strikes in recent days have helped Kurds fend off the advance.
The coalition has been bombing Isis (also know as Islamic State) targets in Iraq since August and extended the campaign in September to Syria.
On Saturday, the Britain-based Syrian Observatory for Human Rights said US-led forces bombing Isis in Syria killed 10 civilians in two separate air strikes.
But US Central Command told Reuters there was no evidence to back up the report. Its forces use mitigation measures to reduce the potential for civilian casualties, a spokesman said.
The Syrian Observatory said Isis had launched at least 21 mortar attacks close to the border by Saturday afternoon.
In Kobani, a commander for the YPG, the Syrian Kurdish militia defending Kobani, said Isis's renewed attacks were aimed at severing the town's last link with Turkey.
"They want to cut off Kobani's connection with the rest of the world," she told Reuters by telephone. "Turkey is not allowing in fighters or weapons, but they send aid at Mursitpinar. Isis wants to destroy this gate so that we will be completely trapped here."
A cloud of black smoke towered over the centre of Kobani following the latest air strike as the roar of fighter jets could be heard from a blue sky. Gunfire popped in the west and centre of town.
Additional reporting by Reuters
Register for free to continue reading
Registration is a free and easy way to support our truly independent journalism
By registering, you will also enjoy limited access to Premium articles, exclusive newsletters, commenting, and virtual events with our leading journalists
Already have an account? sign in
Register for free to continue reading
Registration is a free and easy way to support our truly independent journalism
By registering, you will also enjoy limited access to Premium articles, exclusive newsletters, commenting, and virtual events with our leading journalists
Already have an account? sign in
Join our new commenting forum
Join thought-provoking conversations, follow other Independent readers and see their replies