Video shows 'Russian' planes flying over Syria during first day of bombing campaign
Russia has insisted it is targeting Isis amid reports that other rebel groups have been hit
Lizzie Dearden
Wednesday 30 September 2015 17:45 Comments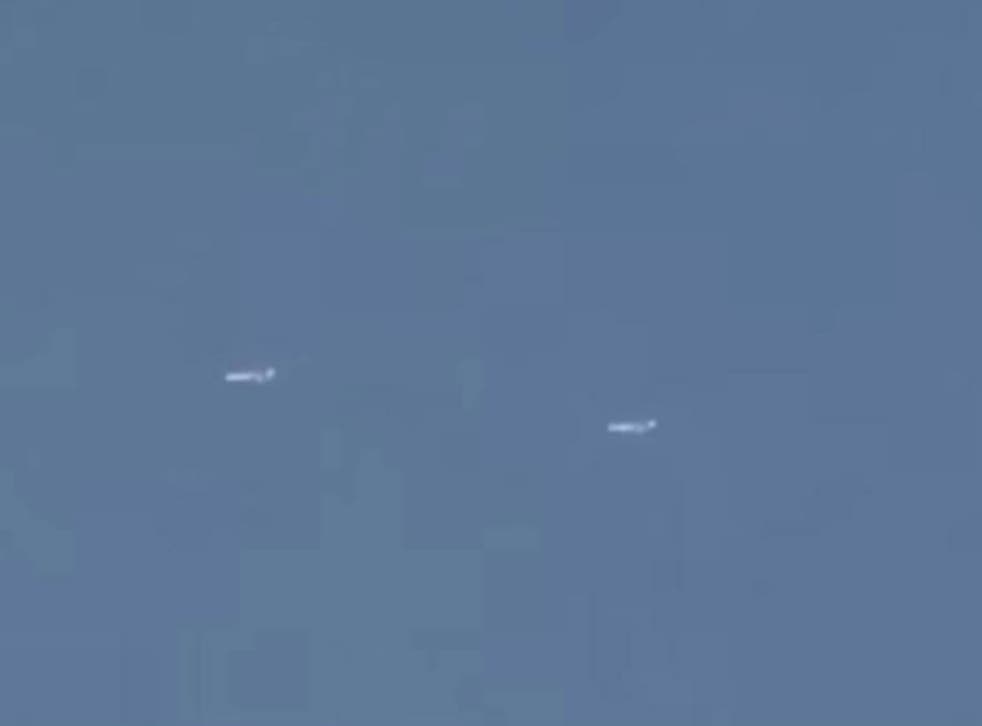 Syrian rebels have posted footage online claiming to show Russian fighter jets flying over their territory on the country's first day of air strikes in the war-torn country.
Russian officials and politicians have repeatedly insisted that it is supporting its controversial ally, Bashar al-Assad, in his government's fight against the Isis militants who have overrun swathes of the country.
But several rebel groups who have no affiliation to the so-called Islamic State claimed they were targeted in Homs and Hama provinces on Wednesday.
Footage posted to YouTube by the Revolutionary Command Council in Hama, an opposition group, claimed to show Russian Sukhoi planes flying over the town of Latamneh.
Other videos posted by the same group showed devastation in the town reportedly caused by air strikes.
A commander with rebel group Tajamu Alezzah, Jameel al-Saleh, told a local Syrian news website that the group's headquarters was hit by Russian jets.
Syrian officials said its allies targeted areas including Latamneh and Tal Wasit, both in Hama governate, and Zaafrana and Talbiseh, in Homs.
Activists in Talbiseh recorded at least 16 civilians killed, including two children, and posted footage online showing many more injured.
But Maria Zakharova, from the Russian Foreign Ministry, told LifeNews TV station that reports of civilian deaths were part of an "information war".
She added: "All this is the same sort of information attack, the same sort of information war, of which we hear so many times and which, it appears, someone prepared well."
The Kremlin confirmed it had started its air campaign in Syria on Wednesday, just hours after Russia's upper house of Parliament approved Vladimir Putin's request for military intervention.
The Syrian government had asked Russia for support in the country's civil war before the Federation Council formally considered the move.
A post on President Assad's official Twitter account said he had invited Russian forces to fight "terrorism", although the word is used by the regime to describe anyone opposing it, including non-Islamist rebels.
Russia has already been providing weapons and training for Syrian regime forces, and navy transport vessels have been shuttling troops, weapons and supplies to an air base near the coastal city of Latakia for several weeks.
Satellite images released last week showed 28 jets, including Su-30 multirole fighters, Su-25 ground attack jets, Su-24 bombers and possibly Ka-52 helicopter gunships at the base.
Register for free to continue reading
Registration is a free and easy way to support our truly independent journalism
By registering, you will also enjoy limited access to Premium articles, exclusive newsletters, commenting, and virtual events with our leading journalists
Already have an account? sign in
Join our new commenting forum
Join thought-provoking conversations, follow other Independent readers and see their replies