Vogue Arabia sparks anger with cover featuring Saudi princess while women activists remain in jail
Recent arrests of women's rights campaigners condemned by human rights groups as tainting kingdom's efforts at social reform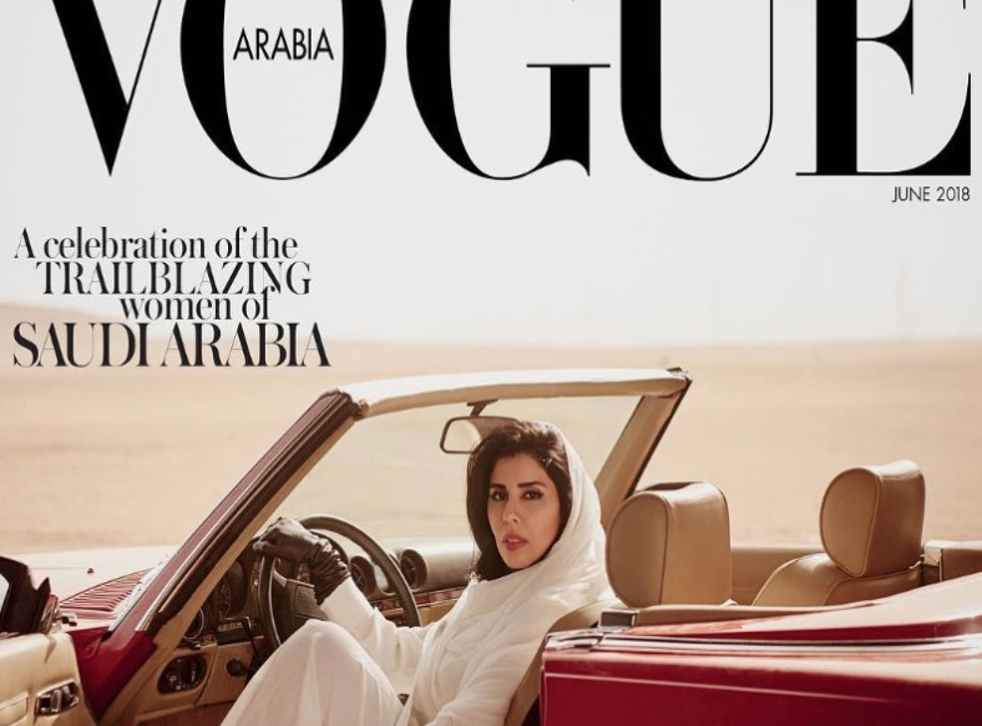 Vogue Arabia has been criticised for its June cover featuring a Saudi princess to celebrate the "trailblazing women of Saudi Arabia", published just after a dozen women's rights activists were arrested.
The magazine's cover, unveiled on social media platforms on Wednesday, features Princess Hayfa Bint Abdullah Al Saud, daughter of the late King Abdullah, sitting in a vintage Mercedes convertible along with the caption "Driving Force".
The image was met with immediate condemnation by people pointing out that although the conservative kingdom is set to lift the longstanding driving ban for women on 24 June, a dozen or so women's rights activists have just been arrested on charges of "encroaching on religious and national constants".
"These Saudi princesses have never done anything for women's rights in their country. Now they are cover girls portraying strong women and talking about the right to drive! And real activists are being questioned and jailed," one Twitter user wrote. "What a f*cked up world."
"These Saudi women aren't your 'liberated desert princesses'", said another.
"They've clearly only been permitted to be on the cover of Vogue to make Saudi more palatable to the West to encourage foreign [money]."
Representatives for Vogue Arabia and publisher Conde Nast could not be immediately reached.
Women in Saudi Arabia are learning to kick-box, in this underground gym in Jeddah
Blogger Eman al-Nafjan, activists Loujain al-Hathloul, Aziza al-Yousef (aged 70 and one of the country's longtime advocates for women's right to drive), Aisha al-Manea, Madiha Al-Ajroush, Walaa al-Shubbar and Hasah al-Sheikh, as well as male campaigners Ibrahim Modeimigh, Mohammed al-Rabe and Abdulaziz al-Meshaal, were arrested on 18 May.
Two or three are thought to have been released since, but details are thin on the ground. Several of the detainees have not been allowed contact with their lawyers or family and their whereabouts are unknown.
The crackdown has been condemned by human rights groups as a sign that new crown prince Mohammad bin Salman's sweeping social and economic reforms may not be as wide-ranging as promised.
"Rather than celebrating Saudi Arabian women by championing brave women's rights activists like the detained Loujain al-Hathloul, Eman al-Nafjan, and Aziza Yousef, who played a crucial role in campaigning for women's basic right to drive, the [Vogue Arabia] issue instead contributes to the whitewashing of the ongoing human rights violations in Saudi Arabia and the isolation of their brave human rights activists," Kareem Chehayeb of Amnesty International said.
"It's extremely unfortunate given the worsening human rights situation and the current wave of arrests and the smear campaign of those activists that followed."
On Thursday many social media users took to doctoring images of the Vogue cover to feature the faces of the detained women who have publicly defied the driving ban in the past over princess Hayfa's face.
An article on Vogue Arabia's website said that June's special Saudi-focus issue "celebrates the women of the Kingdom and their wide-reaching achievements".
Princess Hayfa is quoted as welcoming the ruling family's Vision 2030 reforms, designed to open up Saudi Arabia to the rest of the world and diversify its economy away from dependence on oil.
"In our country, there are some conservatives who fear change. For many, it's all they have known. Personally, I support these changes with great enthusiasm," she said.
"It is easy to comment on other people's societies and think that your own society is superior, but the Western world must remember that each country is specific and unique. We have strengths and weaknesses but, invariably, it's our culture, and it's better to try to understand it than to judge it."
The June Vogue Arabia cover is not the first time the magazine has attracted criticism for its coverage of Middle Eastern issues.
A 2011 issue of the French edition of the magazine was lambasted for giving positive media coverage to the Assad family during the Arab Spring protests in an interview with Syrian first lady Asma al-Assad titled "A Rose of the Desert".
Register for free to continue reading
Registration is a free and easy way to support our truly independent journalism
By registering, you will also enjoy limited access to Premium articles, exclusive newsletters, commenting, and virtual events with our leading journalists
Already have an account? sign in
Register for free to continue reading
Registration is a free and easy way to support our truly independent journalism
By registering, you will also enjoy limited access to Premium articles, exclusive newsletters, commenting, and virtual events with our leading journalists
Already have an account? sign in
Join our new commenting forum
Join thought-provoking conversations, follow other Independent readers and see their replies