War on terror is the West's new religion
But all the crusading and invading simply plays into al-Qa'ida's hands – just ask the French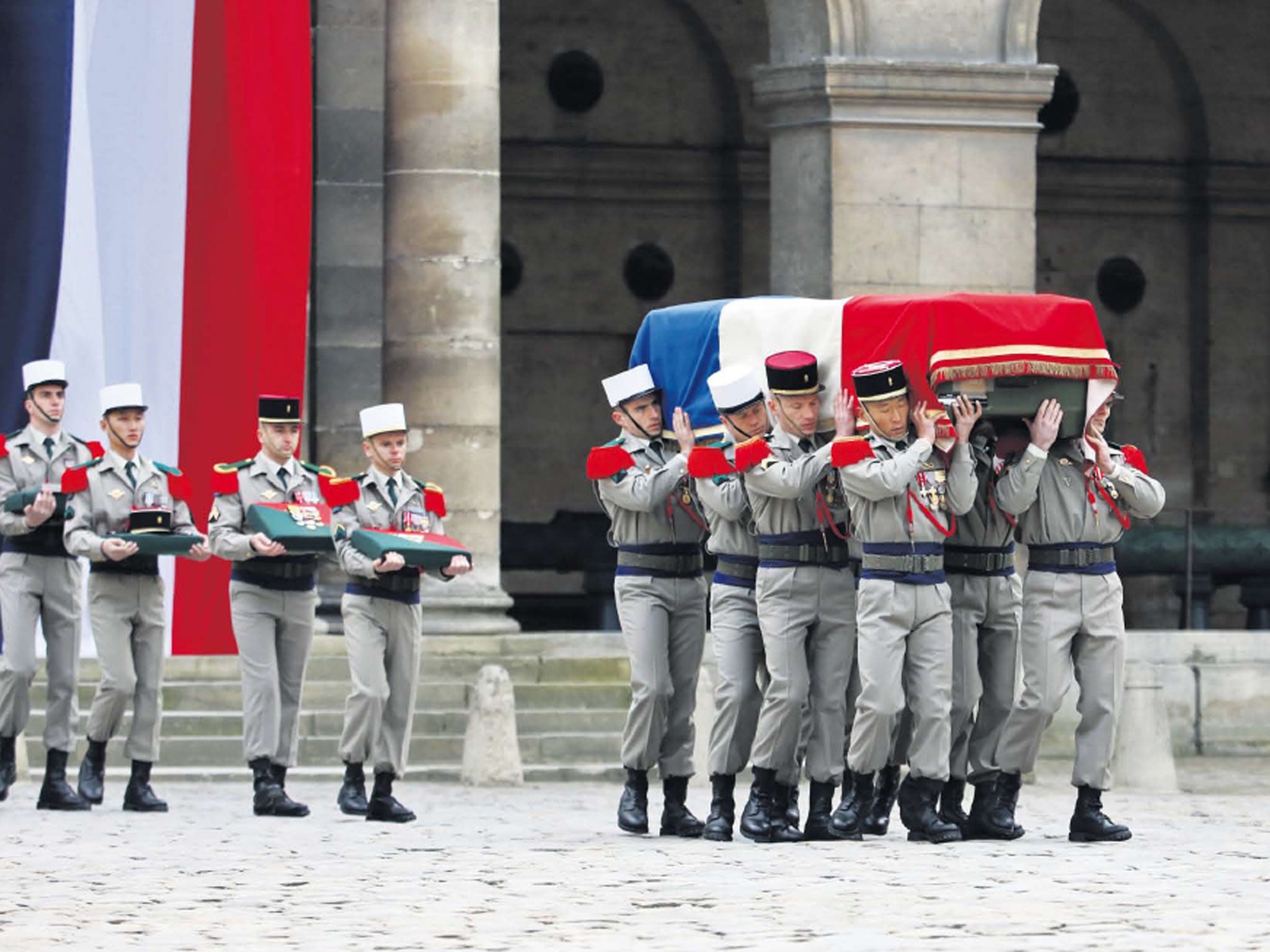 Mohamed al-Zawahiri, younger brother of Osama bin Laden's successor, Ayman, made a particularly intriguing statement in Cairo last month. Talking to that wonderful French institution Le Journal du Dimanche about Mali, he asked the paper to warn France "and to call on reasonable French people and wise men not to fall into the same trap as the Americans. France is held responsible for having occupied a Muslim country. She has declared war on Islam." No clearer warning could France have received. And sure enough, one day later, suicide bombers attacked occupied Gao, while, exactly 10 days later, France lost its second soldier in Mali, shot dead by rebels in a battle in the Ifoghas mountain range. That's where, according to the tired old rhetoric of President Hollande, there had been a battle with "terrorists" who were "holed up" in the area during an operation which was "in its last phase". The phraseology is as wearying – you could listen to the same old wording in almost every US pronouncement during the Iraqi war – as is the West's incomprehension of the new al-Qa'ida.
Only Baroness Orczy's Scarlet Pimpernel could match this. "They seek him here, they seek him there, those Frenchies seek him everywhere …" But who, exactly? The leader of which particular groupuscule of al-Qa'ida-inspired gunmen in Mali? Indeed, our lords and masters seem to have not the slightest idea who they are talking about. A few weeks ago, when many of us didn't even known the name of the Malian capital – admit it, O readers – we were all under the impression that al-Qa'ida's resurgence was in Iraq, where it's back to almost daily suicide bombing against Shias.
Then out came "al-Qa'ida scholar" (as his publishers call him) Gregory Johnsen with a book entitled The Last Refuge: Yemen, Al-Qaeda and the Battle for Arabia. Yes, folks, it was the Queen of Sheba's ancient kingdom that had lured the hard guys; the book had not a single reference to Mali. And then – blow us all down – it turned out that the dodgy lads of al-Qa'ida were in northern Syria (see La Clinton and our own plucky little Foreign Secretary). Needless to say, we were back in Mali again on 12 February, when al-Qa'ida in the Arabian Peninsula (headquarters supposedly Yemen, remember) were calling for jihad in Mali against the "crusaders". Well, at least al-Qaida had narrowed down one of the European nations which really did participate in the original Crusades. The Western press, as usual, generally went along with this nonsensical narrative, quoting the usual mountebank "terrorist" specialists in London, Paris and all places West.
Thank heavens, then, that we have Arab writers such as Abdel Bari Atwan – who knew the real Bin Laden better than any other journalist – with his volume After Bin Laden: Al-Qa'ida, the Next Generation. Atwan – admission: an old friend of mine –has structured exactly how al-Qa'ida metamorphosed after Bin Laden's execution and recalled how in 2005 he received by email a document entitled "Al-Qa'ida's strategy to 2020", which contained seven "stages" towards a world Islamic caliphate.
Stage one was to "provoke the ponderous American elephant into invading Muslim lands where it would be easier for the mujahideen to fight it". Stage two: The Muslim nation wakes from its long sleep and is furious at the sight of a new generation of crusaders intent on occupying large parts of the Middle East and stealing its valuable resources. "The seeds of the hatred towards America that al-Qa'ida was banking on," Atwan says, "were planted when the first bombs dropped on Baghdad in 2003." In fact, as I outlined after the invasion, an oblique message from Bin Laden just before the Bush adventure – typically ignored by the CIA – actually urged al-Qa'ida members to co-operate with the hated Baathists against US forces. This was the first call from al-Qa'ida to collaborate with other groups – hence the plague of al-Qa'ida units which are fighting alongside other rebel organisations in Iraq, Yemen, Libya, Algeria, Mali and now Syria.
Stage three is a Nato-al-Qa'ida conflict in a "triangle of horror … in Iraq, Syria and Jordan". In part four, "Al-Qa'ida becomes a global network that … makes enfranchisement exceptionally easy". In part five, the US military budget "is crashed into bankruptcy and economic meltdown ensues". The sixth stage is the "overthrow of the hated Arab dictators. Finally, "the ultimate clash of civilisations and a mighty, apocalyptic battle". Al-Zawahiri, by the way, is always quoting the Yale historian Paul Kennedy's The Rise and Fall of the Great Powers, which sees economic collapse as the basis for the collapse of empires.
Al-Qa'ida's failures exist: no movement at all in "Palestine", supposedly the centre of Bin Laden's heart, and really no success in hedonistic Lebanon – although al-Qa'ida tried to stage an uprising in a northern Palestinian refugee camp and has its followers in the huge Ein al-Helwe camp in Sidon.
Atwan has written a disturbing chapter on digital warfare – al-Qa'ida is, after all, now almost as adept at producing documentation as any newspaper – and talks of the possibility of a takeover of an air-traffic control system, nuclear facility, energy grid, you name it. And al-Zawahiri has taken a personal interest in Libyan energy. Disrupt the West's oil flows. It's already been tried in Saudi Arabia, of course.
Atwan, less realistically, trundles out the 2008 Rand Corporation analysis of "how terror groups end", a selection of CIA-type wish lists: all the leaders are "droned" or otherwise assassinated, splinter groups take over and break the movement, the group "joins the political process" (see "President" Hamid Karzai and the Taliban). Bin Laden had something to say about this. "You mention that British intelligence said that England [sic] would leave Afghanistan if al-Qa'ida promised not to target their interests," he wrote in a letter to a soon-to-be "droned" commander a year before his own death (the British "deal" does have a cruel ring of truth). "Do not agree to anything … but without slamming the door."
Aha! So even Bin Laden would have settled for less than a world caliphate. I wonder if Hollande will one day receive a similar "deal" when his merry men have been burned in Mali? I suspect not. I still believe in that great John Wyndham tale, The Day of the Triffids. No one knew how the murky creatures, which visited all Earth with blindness, could be stopped. Until a lighthouse-keeper's daughter, in a last desperate attempt to save her life, sprayed the wretched things with sea water. And they rotted in front of her.
So why not stop spraying bombs and depleted uranium shells on the people of the Middle East? And stop sending our wretched armies to occupy Muslim lands – which is exactly what al-Qa'ida wants us to do – and stop bribing Arab leaders to crush their own people. Instead, can we not visit these sad lands with justice? Justice for the Palestinians, justice for the Kurds, justice for the Iraqi Sunnis, justice for the people of southern Lebanon, justice for the people of Kashmir. If the West put its mind to this real "crusade", al-Qa'ida, like those pesky triffids, would disappear. The people who live in the Muslim world can then decide on their own "caliphate".
However, justice is not made of salt water, and our lords and masters still wish to govern the world, and there is not the slightest chance that they would risk their status, their reputations, their political futures, their lives on such an odd concept. "War on terror" remains the new religion of the West – and why not when the French Interior Minister declares that "there is an Islamic fascism rising everywhere"?
Saddest of all is that we did not read the obvious message: that al-Qa'ida largely failed to hijack the Arab awakening; no picture of Bin Laden and no al-Qa'ida flag graced those millions who marched through the streets of Arab capitals. But no, now we peddle the myth that elected Islamist parties are subterfuge al-Qa'idas, that – deep down – the Islamic world really is in an eternal "clash of civilisations" with us, that we must fear them, hate them.
And so the war goes on. What was it the splendid Leon Panetta – my favourite US Defence Secretary – said in Kabul 18 months ago? "We're within reach of strategically defeating al-Qa'ida." And in London a few days ago? He called for "relentless pressure" on the group. Did al-Qa'ida's press office write this stuff for him? Or is there some dark, unspoken knowledge shared by both us and al-Qa'ida? That we both, in our souls, want the war to go on.
US deploy troops
* The Pentagon has deployed about 100 troops to Niger to conduct unmanned reconnaissance flights over Mali and share intelligence with French forces fighting al-Qa'ida-affiliated militants. The last contingent arrived in Niger four days ago and were "deployed with weapons for the purpose of providing their own force protection and security".
A Pentagon official said US Africa Command had sent the unmanned planes to Niger "to support a range of regional security missions and engagements with partner nations".
* Thirteen Chadian soldiers were killed in fighting in northern Mali, the heaviest casualties sustained by French and African troops since the campaign began six weeks ago. Chadian troops killed 65 al-Qa'ida-linked fighters in the clashes that began before midday in the Adrar des Ifoghas mountains near Mali's northern border.
* France intervened in its former colony in January. The violence could draw French and African forces into a messy guerrilla war.
Join our commenting forum
Join thought-provoking conversations, follow other Independent readers and see their replies