Jordanian pilot captured by Isis says militants 'will kill me' in magazine interview
The United States has denied that the Islamic State group shot down the Jordanian aircraft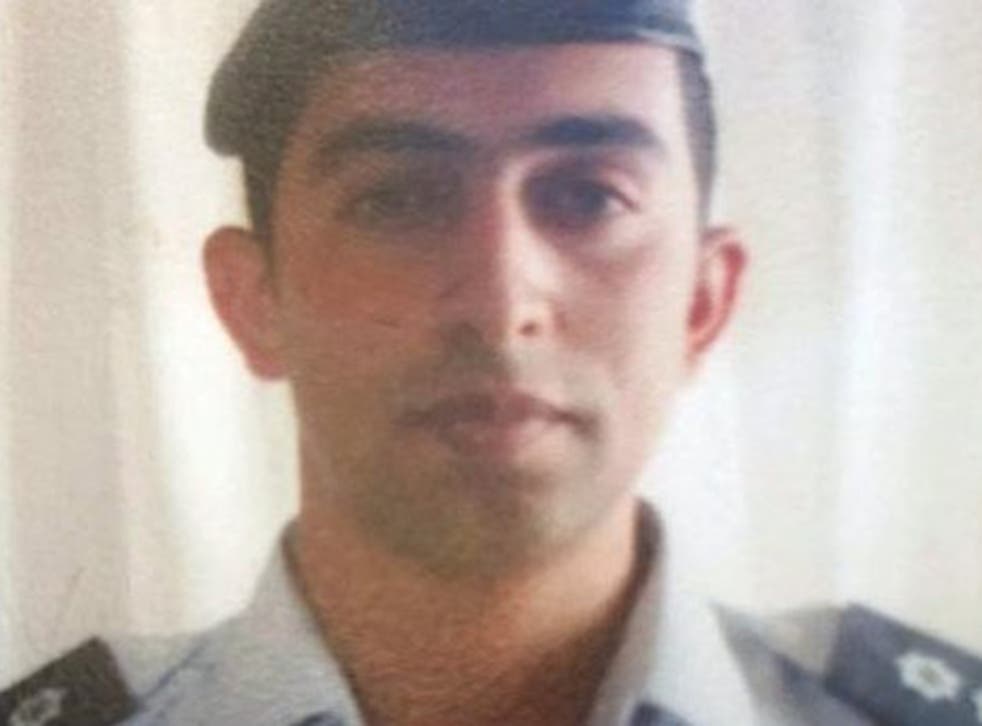 Isis has published a purported interview with a captured Jordanian pilot in which he says he fears he is going to be killed by the jihadist group.
In statements in the extremist group's Dabiq magazine, First Lietuenant Muadh al-Kasasbeh says his F-16 was shot down on Wednesday by a heat-seeking missile near Isis's de facto capital of Raqqa.
He identifies himself at the start of the article, saying: "My name is Muadh Safī Yusuf al-Kasasebah. I'm Jordanian, from al-Karak. I was born in 1988. I'm 26 years old."
Timeline: The emergence of Isis

Show all 40
Al-Kasasbeh goes on to describe how his plane was struck by a heat-seeking missile during a mission acting as cover for striker jets flying to destroy Isis anti-aircraft weaponry: "I heard and felt its hit. The other Jordanian pilot in the mission contacted me from a participating jet and told me that I was struck and that fire was coming out of the rear nozzle of my engine. "
He says he ejected from the aircraft and landed in the Euphrates River, where he was taken captive by Isis fighters.
The interview ends with the question: "Do you know what the Islamic State will do with you?" To which Al-Kasasbeh replies: "Yes… They will kill me…"
The circumstances and veracity of the interview are not made clear in the publication.
The United States has denied that the Islamic State group shot down the Jordanian aircraft.
In the same issue of the magazine, the Islamic State group also praises the attack on a cafe in Sydney, Australia this month, saying that there will be others who follow the examples set by lone attackers like Man Haron Monis in Australia and others in the US and France.
The IS magazine was posted online on Monday.
AP
Register for free to continue reading
Registration is a free and easy way to support our truly independent journalism
By registering, you will also enjoy limited access to Premium articles, exclusive newsletters, commenting, and virtual events with our leading journalists
Already have an account? sign in
Register for free to continue reading
Registration is a free and easy way to support our truly independent journalism
By registering, you will also enjoy limited access to Premium articles, exclusive newsletters, commenting, and virtual events with our leading journalists
Already have an account? sign in
Join our new commenting forum
Join thought-provoking conversations, follow other Independent readers and see their replies