War with Isis: Inside the Islamic State caliphate, life goes on - but beatings are frequent and punishments swift and savage
Isis has ruled Raqqa, in Syria, for 18 months. Sam Masters speaks to survivors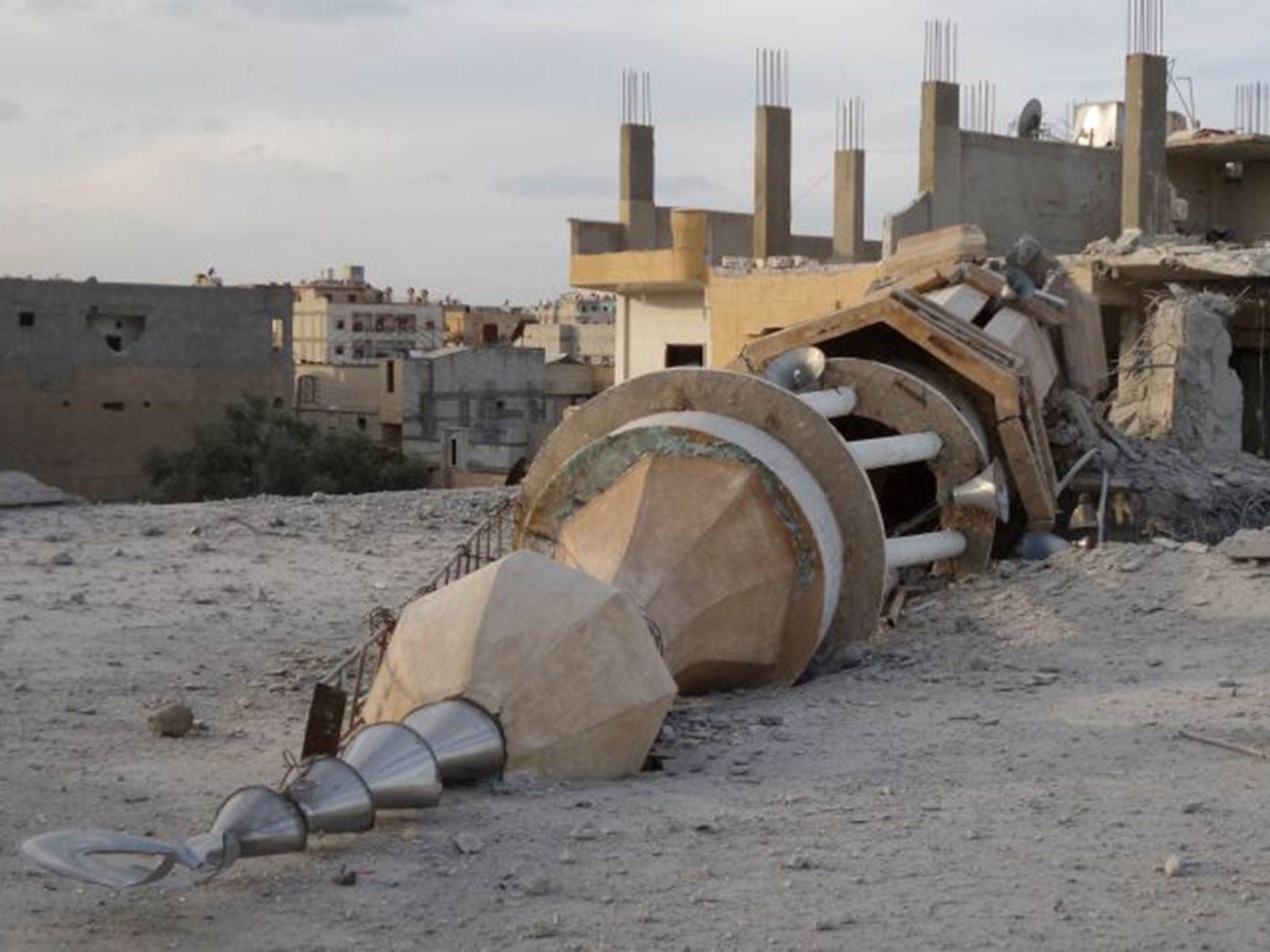 The dust-blown and crumbling city of a quarter of a million people was the pride of the Islamic State's (Isis) revolution when it fell. Raqqa, Isis's de facto capital seized from the rule of Bashar al-Assad of Syria around 18 months ago, became the model for a caliphate that will one day, jihadists warn, stretch across the Middle East and beyond.
Thousands have fled to refugee camps in Turkey and Lebanon, and those that remain must live under the Islamic doctrine of Abu Bakr al-Baghdadi. It remains, as described by a small group of activists, a city and province being "silently slaughtered".
Islamic police patrol the streets, beatings are frequent, punishments swift and savage. Public beheadings are common, a warning to those that dare to question militant rule. From above, the American-led coalition of jets bombs the city incessantly, with US officials claiming a number of raids in recent days.
Thought to be held in or near Raqqa is the Jordanian Air Force pilot, Lieutenant Muath al-Kaseasbeh, whose jet crashed nearby on Christmas Eve. Jordan is one of the partners in the coalition. Isis claims to have shot down the F-16 with a heat-seeking missile, which has been denied by US and Jordanian officials.
There were unconfirmed reports from the Raqqa is being Slaughtered Silently group that helicopter gunships had twice tried to rescue the pilot before coming under fire from Isis around the early hours of Friday. The activists said the alleged rescue attempts came as the coalition forces stepped up their bombing raids on the city, with the group claiming they were the heaviest since the pilot's capture. In response to the attempt, more Isis checkpoints were said to have been introduced across the city that day, searching cars and pedestrians.
US officials have said there were no ground raids or other operations involving US special forces, while the Combined Joint Task Force said it had no information about any rescue attempt and if any operation were undertaken by the US or a coalition partner, it would go through it.
Yesterday, the pilot's father, Safi Yousef al-Kaseasbeh, urged Isis to treat his son "in a good way" and as if "he is a guest". He added he is "confident" his son is "in safe hands in a place where he is respected".
It is also believed that it was on the outskirts of Raqqa, in a district of low buildings and dirt roads, that hostages held by Isis were murdered. They included Britons David Haines and Alan Henning, and Americans James Foley, Steven Sotloff and, most recently, Peter Kassig. In July, US special forces launched a mission to save several US hostages, including Mr Foley and Mr Sotloff, only to find they had just been moved from the place they had been for months.
The bombs dropped by the coalition forces scar an already ruined landscape. Though the IS advance through Syria and Iraq has apparently slowed, with militants suffering defeats at Mosul, Kobani and Baiji, the fight to retake control of Raqqa is seemingly yet to begin.
Aerial bombings target vehicles, buildings, weapons dumps and bases. The level of collateral damage is high. Food and water is increasingly scarce. Beggars of all ages sit on Raqqa's streets. But the city continues to be ruled with an iron grip.
Once, activists say, water and electricity were plentiful. Now, however, there is rationing. Power cuts are common and IS wants reinforcements. One notice, apparently distributed in Raqqa in December, called on fighters to come forward and report to the front line. Courts and police enforce sharia law: alcohol is banned and those found selling cigarettes are publicly flogged. Shops close early and the streets are increasingly deserted after dark.
Dissent is almost non-existent. Though a few do still speak out. Accounts obtained via fixers in Istanbul and the Syrian cities of Damascus and Aleppo report that violence meted out to civilians is rife.
So too is fear. But life continues. Banalities – where to eat, sleep, drink and entertain – are more complicated than before. That does not mean, those inside the crumbling city say, that life under Bashar al-Assad was better. Life is now, as one activist says, a "different kind of bad".
Ibrahim, not his real name, is 26. His sons have left Syria for Saudi Arabia. He is alone with his two sisters. He farms a small plot of land, owns a house, and sometimes employs an assistant. He is a Muslim.
Crops are cheaper than in government-controlled parts of Syria, but more costly than in Aleppo, a three-hour drive west. Ibrahim pays in dollars. Many in Raqqa do although euros are also occasionally found.
As has historically been the case under a brutal regime, crime drops. "Life is normal, and it is all in order and in system, no one dares to raise his head," says Ibrahim. "It is safe and everything in order... this doesn't stem from the people, it is because of fear. There are no assaults or thefts because people are scared to death. There is no stealing. No one comes near something that doesn't belong to him even if there is gold piled in the street – no one touches it."
Ibrahim adds: "The ones who break their boundaries will be punished but if you do as they [Isis] say they won't interfere with you."
Another resident told activists last week he was arrested for smoking by the jihadists' Hesba bureau, said to be enforcers in the capital. "They flogged me 40 times and threw me in a cell, there were a lot of detainees, when I looked at them I saw death in their eyes and their situation was pitiful, during the three nights I spent at the headquarters, I heard the screams of women and men.
"The punishment for one who sells cigarettes is 100 whips and they take all his cigarettes and put outside his shop and they put gasoline on it and they burn it in front of his eyes and they close his shop," adds Ibrahim.
In August, Isis solidified its grip on northern Syria with the capture of Tabqa air base near Raqqa. The prolonged fighting between government forces and IS militants is estimated to have cost more than 500 lives.
Shortly after the capture at the end of August, reports emerged that Isis had executed Syrian soldiers. Ibrahim remembers well. "I've seen a lot of beheading and I saw people whipped. Do you remember the ones captured in Al-Tabqa military airport? I saw seven of them killed in front of me, they were beheaded."
Public whippings – 100 lashes is the default punishment for a range of crimes – are commonplace. The conflict and rise of Isis has eradicated social structures. There are many beggars, money is scarce. Queues form for food handouts, and aid agencies are banned. There are, however, rumours of an Isis currency.
The militants' latest issue of Dabiq – Isis's rabid magazine focusing on what is described as unity, truth-seeking, migration, community and, of course, holy war – describes plans to mint its own gold dinars and silver dirhams to separate the caliphate from "dollar-linked fiat currencies". "I heard rumours that they are making golden money similar to the old Syrian golden pound," says Ibrahim. "They have their symbol on it: Islamic State in Iraq and Sham."
Gas and diesel are available, but difficult to access. "Food is available, and the electricity is available but it is in their hands they control when it is on and when it is off. Sometimes there is electricity for four to five hours a day, and sometimes they say there are breakdowns, and sometimes we have it all the night, and sometimes it is down for two days; it is up to them.
Water is obtainable, and Isis collects rubbish via tractors, although less frequently than before. The jihadists are, according to claims, preparing to split boys from girls in schools.
Medical treatment is available, but only via private clinics. "They turned the free hospitals into field hospitals," says one resident.
According to estimates from inside the city, foreigners account for between 80 and 90 per cent of Isis fighters in Syria, and Raqqa in particular. "They are from Iraq, Yemen, Saudi Arabia, British and Americans and even from France and Russia," says Ibrahim. "They say their salaries are paid in US dollars."
Despite the crackdown on anything western, Arab Idol – a singing competition – remains popular, and can be found on televisions in homes. Despite this, no one "can walk with a woman other than his wife or sister or mother, the result for disobeying this is whipping," says Ibrahim.
Asked if he would rather live under Assad or Isis, Ibrahim considers. "I will choose neither … in both any mistake can cost you your life."
Join our commenting forum
Join thought-provoking conversations, follow other Independent readers and see their replies