Iraq's Interior Minister on why state corruption is helping the murderous campaign of Isis
With the jihadis able to bomb Baghdad and elsewhere with apparent impunity, Mohammed al-Ghabban tells Patrick Cockburn that it is a legacy of the country's bloated bureaucracy and pervasive bribery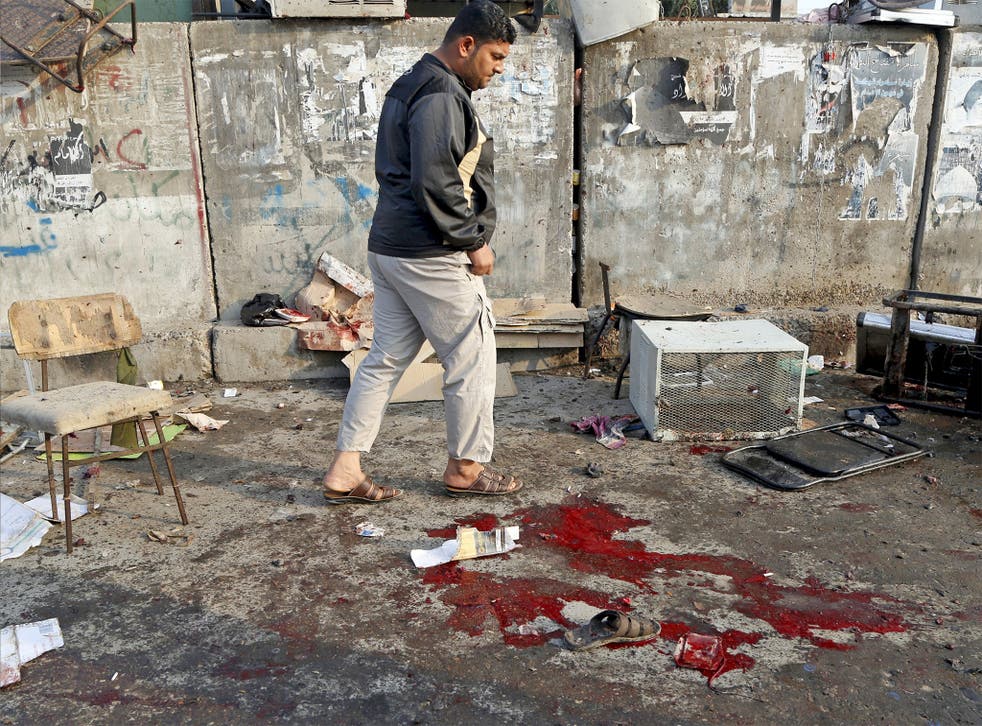 When Mohammed al-Ghabban became Interior Minister of Iraq in 2014, he found that he was employing 230 brigadier generals and 660,000 policemen.
The vastly bloated size of the Iraqi security forces, most of whose members hold their jobs through political patronage, goes a long way to explaining why they cannot stop Isis bombers murdering people in the streets and markets of Baghdad.
Seventy-three people died in a single incident in the Sadr City district of the capital last Sunday and another 40 died when a suicide bomber blew himself up at a funeral at Muqdadiya in Diyala province.
"I have reduced the number of brigadier generals to 110 and I am not recruiting new policemen or replacing those who retire," said Mr Ghabban in an interview with The Independent in Baghdad. He admitted that the Iraqi public did not trust the police because of their failure to stop the bombers and the high level of corruption, which was pervasive in the system.
He cited, as an example of this, the infamous case of 1,500 fake bomb detectors, which were bought for £52m by the interior ministry in 2008 and 2009, even though they were a patent fraud – consisting only of a metal aerial that supposedly detected explosives, attached to an empty plastic casing. Although the British businessmen who sold the useless devices were given lengthy prison sentences last year, the detectors known as the ADE-651 are still used extensively in Iraq. Reliance on them, rather than a physical search of vehicles, makes it easier for bombers to pass through checkpoints and slaughter large numbers of civilians.
ISIL kills scores in bloody day of attacks across Iraq
Mr Ghabban used the example of fake bomb detector to underline the saturation levels of corruption among Iraqi government officials, which damages security, and to explain why nothing is done about it. He says: "The equipment cost the Iraqi government about $50,000 for each item, but the real cost to the manufacturers was only between $40 and $50."
He assumes that much of the difference was pocketed by a large number of officials in Baghdad who were bribed to sign off on the deal, so today they have every reason to prevent an investigation of the scam. The fraudulent "magic wands" were still being used by security men to check individuals for explosives outside the Shia holy shrines in Karbala last week.
The Iraqi bureaucracy is like a beached whale that does little except employ seven million people whose salaries cost $4bn a month. With Iraqi oil revenues running at half that figure because of the fall in the oil price, there is deep apprehension in Baghdad about what happens when the money begins to run out in April. One woman said that "even when things were at their worst in Baghdad in 2006-07, when there were the mass sectarian killings, people were still being paid their salaries."
Iraq has an all-embracing client or patronage system whereby ordinary people get a cut of the oil revenues by holding a job for which they are paid, though they may do little or no work and a sizable proportion of job-holders may not even exist. The interior ministry employs everybody from traffic policemen to paramilitary assault troops, most of them untrained but so numerous that almost all its money has to go on salaries.
Where police have been trained for free abroad by foreign police forces, as happened in Italy, few of those returning to Iraq take up a post in which their expertise is of any use.
Another senior government official, who did not want his name published, said in a separate interview: "We have nearly one million fighters [army and police] but we would be much more effective if we had only 200,000."
The Iraqi National Intelligence Service employs 12,000, although it needs only half that number. "We don't have money for food," said the second senior official.
He added: "The corruption is a huge support for Daesh [Isis]." He said that bombers frequently travel through checkpoints that supposedly protect Baghdad because they bribe the police, soldiers or paramilitaries in charge. A further problem with the patronage system is that jobs are unfairly distributed in favour of those with the right political or sectarian connections.
In pictures: The rise of Isis

Show all 74
Iraq is ruled by predominantly Shia government in which Shia party leaders "do not really trust anybody who is not a member of their party", he said. Unsurprisingly, given the way the system works, about 85 per cent of the INIS are Shia, making it difficult for intelligence officers to learn about the Sunni community – from which Isis and its bombers are recruited – or to recruit informants.
Mr Ghabban said that a conference in his ministry earlier that day concluded that Isis was likely to relocate its senior leaders to Libya, where conditions were easier for it than in Iraq and Syria. He agreed that there had been serious bombings, but overall Isis bomb attacks were down by between 60 and 70 per cent, compared with a few years ago. Isis has suffered heavy casualties and has lost the cities of Ramadi, Sinjar, Baiji and Tikrit, though the self-declared Islamic State has not imploded.
Since Isis likes to compensate for battlefield defeats by targeting soft civilian targets, atrocities are likely to continue. The recapture of cities by anti-Isis forces such as the Iraqi army or the Kurdish Peshmerga gives an exaggerated impression of their effectiveness, because their victories would generally not have been won without thousands of air strikes by the US-led coalition.
Mr Ghabban said government forces are not likely to try to capture Mosul this year, preferring to seize Isis strongholds further south at al-Shirqat and Hawaijah. He thought that, more immediately, the security forces would try to root out pockets of Isis fighters around the Tharthar lakes. He downplayed friction between the government of Prime Minister Haider al-Abadi and the Hash'd al-Shaabi (Popular Mobilisation Forces), the Shia paramilitaries created after Isis captured Mosul in June 2014 and which are seen as an additional power centre.
The issue is sensitive for Mr Ghabban because his own political origins are in the Badr Organisation, a Shia political and paramilitary movement that the US sees as sectarian and too close to Iran – although he says the US has never said that to him. But the biggest problem for many Iraqi ministries is not that they are controlled by a single party, but that they are not controlled by anybody at all: anyone who is in charge acts for their own advantage.
Iraqi ministries fulfil some useful functions, albeit slowly, inefficiently and corruptly; but even this may be impossible if falling oil revenues are insufficient to pay state employees who make up so much of the Iraqi workforce. Asked what would happen then, the senior government official replied: "Then we all go to hell."
Core issues: Peace talks delayed
The Syrian President, Bashar al-Assad, said that a fragile ceasefire offered a "glimmer of hope" for Syria but accused rebel fighters of violating the truce.
The cessation of hostilities forged by the US and Russia appeared largely to hold on its fourth day, though Mr Assad added to a chorus of claims of breaches by both sides. The United Nations announced that it would push back the start of peace talks in order to let the ceasefire "settle down".
The UN envoy to Syria, Staffan de Mistura, had hoped to reconvene for talks in Geneva on Monday but told Reuters that they would be delayed by two days. He said he wanted them to "address the core" of the Syria conflict rather than descending into claim and counterclaim.
Laura Pitel in Istanbul
Join our new commenting forum
Join thought-provoking conversations, follow other Independent readers and see their replies