War with Isis: The 'international brigade' of foreign fighters joining up to help Kurdish Peshmerga tackle Islamists
A legion of foreigners, many with little or no military experience, are volunteering to fight Isis alongside the Kurdish Peshmerga. But it's weapons that receive more of a welcome. Cathy Otten reports from Kirkuk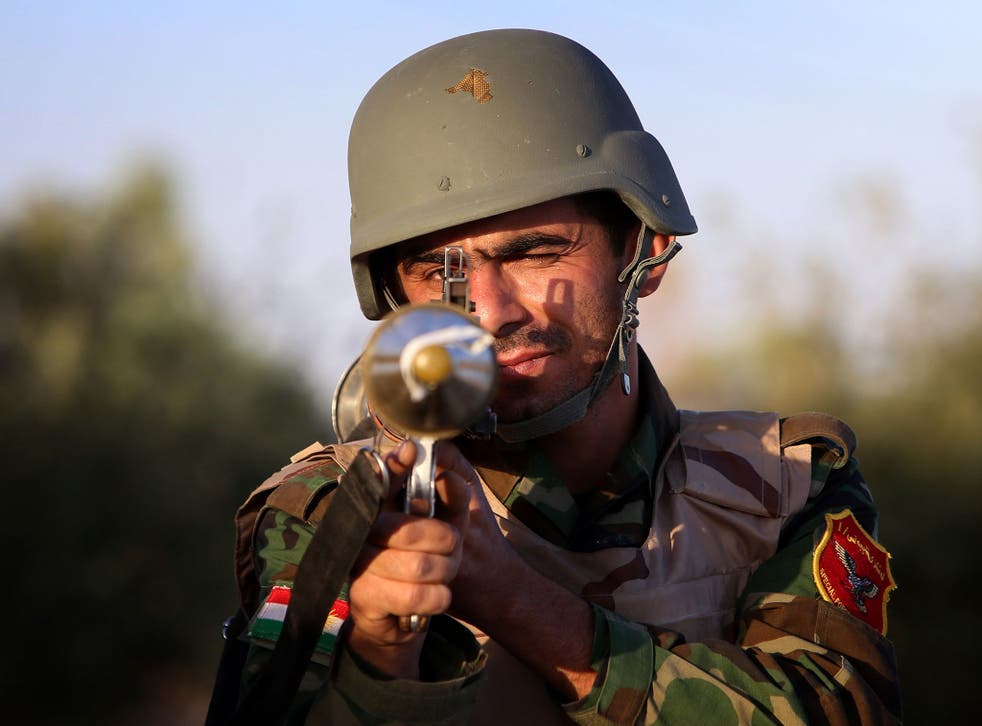 On Iraq's northern front, a marksman with the Kurdish Peshmerga looked down at the body of the dead Isis fighter, examining his weapon with keen interest. It was not just an unusual find on these front lines, a submachine gun dating from the Second World War, but it had also been curiously decorated by its previous owner, with pieces of what looked like human bone.
"It had a piece of spinal cord for a forward grip," said the marksman, an American ex-soldier volunteering with the Kurds to fight Isis. "If that doesn't sound satanic then I don't know what does."
Scott, who asked for only his first name to be used, joined the Peshmerga six months ago after watching the war unfold from his home in Minnesota, and was talking to The Independent from his frontline position. Foreign fighters have flooded to join the extremists in Iraq and Syria, to the consternation of their own governments back at home, but now men like Scott are beginning to arrive to fight against the extremist group, despite an ambivalent reception from Kurdish officials, who say that what they need is more guns, not more men.
"I was disgusted with what was going on," said 30-year-old Scott by phone from his position half a mile from the Isis lines. "I watched the numerous beheadings and heard about them enslaving women and raping them. I thought that all the Americans who previously fought in Iraq here were in danger of having done so in vain, so I decided to do something about it."
Western fighters join Kurds in battle against Isis

Show all 9
Some of the dozen or so volunteers with the Peshmerga arrived with little or no military experience but most are veterans of conflicts in Iraq and Afghanistan, who struggled to adjust to life at home. Camaraderie and chance to fight in a new conflict beckoned. At a tattoo shop in the Kurdish city of Erbil in northern Iraq, a tattooist showed The Independent pictures of tattoos he gave to nine foreign fighters; crests with the yellow sun embossed flag of the Kurdistan region, behind a skull and two pointed guns. Two more fighters asked for a tattoo with the words "Isis hunting club".
Last year the US began air strikes against the extremist group when Erbil was threatened and members of the Yazidi minority were surrounded by Isis on Mount Sinjar. Since then the Kurdish Peshmerga fighters have slowly regained much of their lost ground and are now dug in along a 600-mile front line against the jihadists.
The official Kurdish position is that foreigners are not allowed on the front lines against Isis. "The Peshmerga is a professional fighting force," a spokesman for the ministry of Peshmerga, Helgurd Hekmat, told a Kurdish news station. However, foreigners have in fact joined Kurdish groups and Christian militias fighting Isis in Iraq and Syria, although an accurate estimate of their number is hard to come by. "Isis is less than half a mile from us, we can see their line and they fire at us every night," said Scott. "Just yesterday I saw a tank and two Humvees trying to fortify the lines in the town forward of us. But unfortunately we don't have air cover to destroy heavy equipment like that."
Coalition air strikes are supporting the Peshmerga front lines, and there were 38 air strikes against Isis in Iraq and Syria over the weekend, but fighters often complain about the infrequency of strikes, which coalition officials said are carefully targeted to avoid civilian deaths.
Scott's fellow fighters have light weapons and are backed by artillery. Every night Isis fires at them with small arms and mortars. Recently three Peshmerga fighters from his unit were killed while advancing into a nearby Isis-held town rigged with explosives. "The Peshmerga are like family," he said, adding they need more heavy weapons, not more men.
At a Peshmerga base on a different front also popular with volunteers, Colonel Tariq Ahmed Ali's phone is bleeping with messages from men in the US and UK, eager to join up. There are already 16 fighters mostly from the US and Canada volunteering with him, although many of them are now on leave. Potential recruits contact volunteers who have already made the journey, or reach Col Ali via Facebook, and are passed on by him to the Kurdish ministry of Peshmerga.
Col Ali said the volunteers were brave and have come under Isis attack alongside his men, sharing ammunition and sustaining shrapnel injuries, but he still has reservations. "I think some of them have problems back home and the other half is here to collect information," he said. "When I take them to the front line I have to keep an eye on them because I don't know how they are going to act."
Col Ali turned away a foreign fighter who asked about alcohol and nightclubs when he arrived. "He was causing problems. He came here to have a good time," he said.
While the Peshmerga appreciate the support against a despised enemy, this is also a war to protect Kurdistan, which Kurds dream will gain independence in the future. Col Ali said: "Personally, I don't like to see these young guys leaving their homes and families to come here and be killed."
Join our new commenting forum
Join thought-provoking conversations, follow other Independent readers and see their replies