War on Isis: Western fighters joining Kurds to fight terror group in Iraq and Syria
Increasing numbers of westerners have been leaving their jobs and homes to volunteer as fighters with Kurdish groups in Syria and Iraq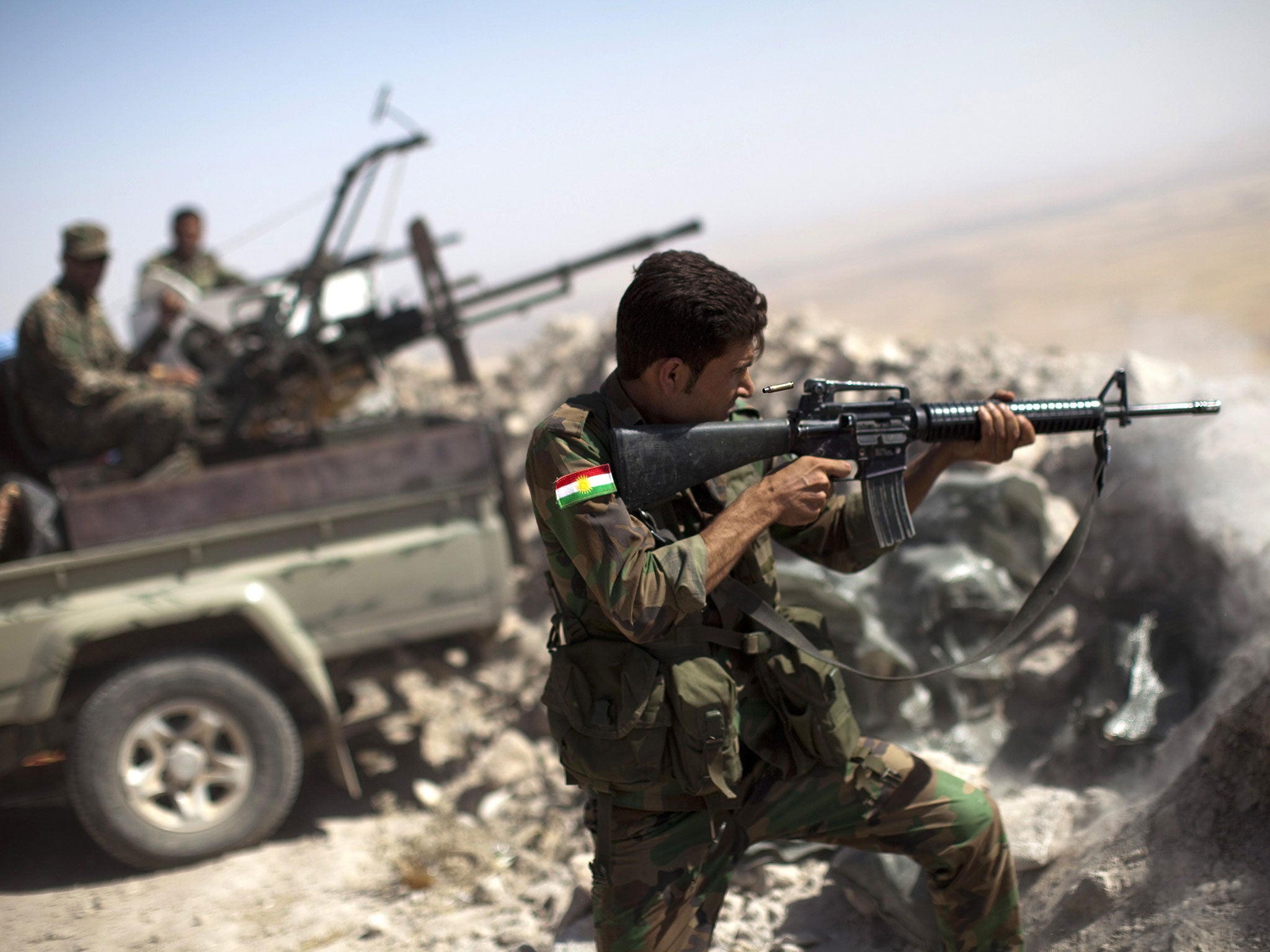 "At the start we didn't enter any homes. Isis usually booby trap them with IEDS," Jason Troy, a Canadian fighter with the Kurdish Peshmerga says, pushing open the gate to a bombed out building in Sinjar, Iraqi Kurdistan.
 
"Smell anything?" he asks as he clambers over the rubble to point out the remnants of a rocket fired by Isis a few weeks ago. An overpowering smell of garlic hits us as the 38-year-old Emergency Medical Technician (EMT) from Alberta talks with frenzied energy.
 
"That's mustard gas," he claims before asking if we want to join him later to meet his unit.
Troy is part of a large network of foreign volunteers fighting with Kurdish armed groups in both Syria and Iraq. He left Canada last year to join the Peshmerga soldiers on the frontline with Isis in Sinjar, the town he helped liberate last November.
 
He remembers the fighting vividly. "We were so close to them, you could hear them talking. We were just meters apart at that stage. I'm lucky I got to see so much action but I proved myself. A lot of foreign volunteers come here and just sit around. Not their fault, it's just the way it is here."
 
Troy is one of a handful of foreign volunteers on the Sinjar frontline. The others are former US military, highly skilled and experienced combatants. Unlike his friends Troy had no military training and moved to the Middle East initially for humanitarian reasons.
In pictures: The rise of Isis
Show all 74
 "Two of my friends came here to fight Isis. It interested me, especially with my medical training. I made contact with a Kurdish group in Calgary who were an incredible help, then in October last year I arrived here with a Swedish veteran. We were part of the PUK (Patriotic Union of Kurdistan's) Peshmerga unit for the liberation of Sinjar,"
 
The operation to retake Mosul and its surrounding villages from Isis prompted Troy to return to Iraq this year but the bid to wrangle the city from the jihadist group is moving forward at a snail's pace. For more than two months Troy has been waiting on the frontline for orders to advance, a slow moving life far removed from the heroic endeavours typically presented by foreign fighters on YouTube.
 
Troy admits life as a foreign fighter can be dull with long periods of boredom. "There's a lot of waiting. You know a lot of the foreign guys don't see much action. I was lucky to get to Sinjar, for many guys it's just a lot of hanging around. It's no reflection on them it's just how it goes. They do a lot of civilian work,"
On the other side of Iraqi Kurdistan near the Iranian border, more foreign volunteers wait for instructions from Kurdish fighters from the People's Protection Units (YPG), a Syrian offshoot of the  PKK – who have also recruited westerners to join their fight against Isis. The YPG's socialist ideology has been a magnet for disenfranchised youth from the west, some who travel thousands of miles to fight with the group.
 
In a cramped hotel lobby in the city of Sulaimaniya which feels eerily like a youth hostel, would-be-fighters wait for clearance to join Syrian Kurdish fighters across the Iraqi border in a region known as Rojava, a name that has become synonymous with socialist revolution.
Cameron's ISIS Brexit warning
At 19-years-of age, Otto from Germany is the youngest member of the hotel fighters. The chatty philosophy student abandoned his studies in Vienna to join the "revolution".
 
"I found people on social media and asked them if I could come. They wrote back saying "yes, we need you here". I thought about it for over a year before I made the final decision and booked a ticket," he said over the din of foreign voices and traditional Kurdish music.
 
Otto's new "colleagues in arms" Brandon and Jack, spend their time drinking tea and waiting for calls from their individual contacts who they hope will smuggle them into Syria via Iraq's desert roads unhindered by Peshmerga or interior security. Brandon, a 27-year-old electrician from Pittsburgh in a beanie hat and turtleneck shirt shakes his head when asked if he's heard from Rojava.
These would-be-guerrillas face an uncertain future as the complex networks that used to recruit and assist foreign fighters seems to have hit a stumbling block.
 
One of the major networks for foreign fighters, the Lions of Rojava, announced they will no longer be in a position to help foreign fighters who want to fight in Syria. A blow to those who had intended on travelling, and while some more clandestine networks remain open, contact is often patchy sometimes for weeks on end.
 
"For over a week we heard nothing," Otto said. "Turns out someone had bombed their comms tower." Mobile numbers are passed around as the young volunteers try to find links to speed up their entry as the Kurdish Regional Government (KRG) clamp down on illegal crossings of its porous border with Syria. For the foreign volunteers who rely on smugglers to sneak them in news of arrests and fragmenting smuggler links strike a blow to their upbeat spirits.
 
"I was told this week that we couldn't get in. I travelled from the states to get here, I spent nearly $3,000 (£2,000), quit my job, left my house. For me it's Rojava or bust," Jack an ecologist from Oklahoma lamented.
 
Each day, with each rejection, dreams of the revolution fade for those waiting in their hotel rooms in light of the news that the de facto government of Rojava, would be unable to afford to keep up paying for their stay, some volunteers are now being told to go home.
As we are chatting about the young fighters' options, I get a message from an English friend inside Qamishli the "capital" of Rojava. "Tell them to go home" he writes. When I ask him what changed he sends me a picture, a sombre image of two young foreign fighters killed in Syria, now martyrs on a wall thousands of miles from home. Troy is less cynical, his friend John Gallagher was killed in Syria last year fighting Isis. He says young fighter should be seen as heroes and not villains by their own government. "When John came home they gave him the same reception they would give an Afghan veteran. I think it's important to remember what we're fighting for and against when we come out here.
Join our commenting forum
Join thought-provoking conversations, follow other Independent readers and see their replies