First Western journalist given access to Isis warns brutal group is 'a movement with the power of a nuclear bomb'
Juergen Todenhoefer says he was confronted with 'the most dangerous enemy I have ever seen in my life'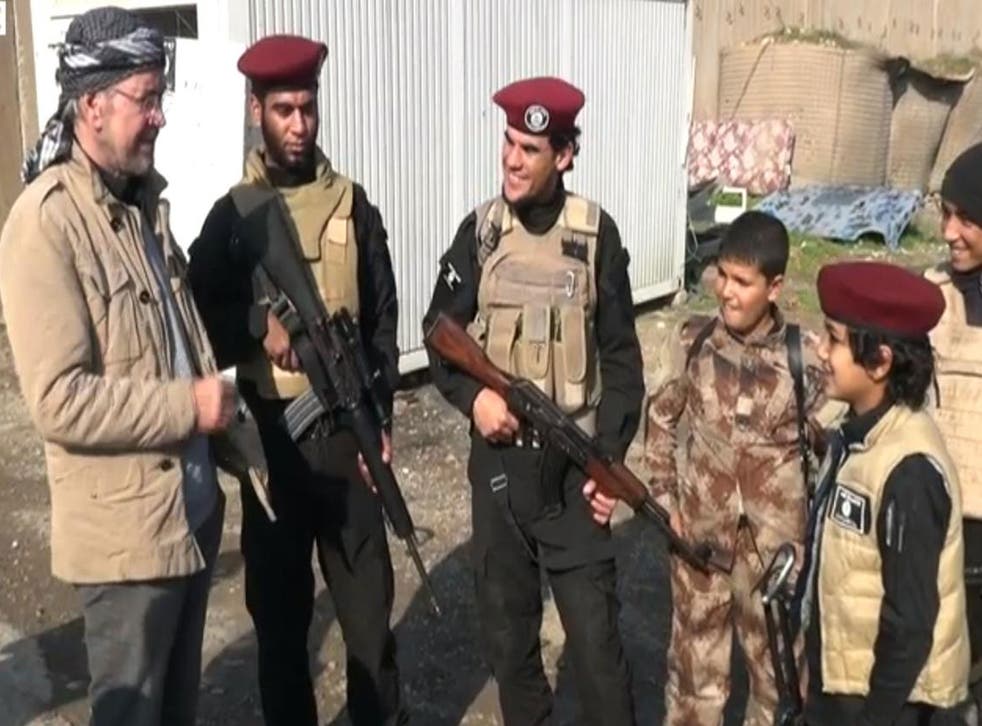 One of the few Westerners to be given access to Isis strongholds claims he was confronted with an enemy the West cannot defeat, warning: "This is a one per cent movement with the power of a nuclear bomb or a tsunami."
German author Juergen Todenhoefer says he documented the activities of Isis in Mosul, Iraq's second biggest city and one of the first to fall under the militant group's rapid advance in a six-day trip.
Mr Todenhoefer returned from Isis's self-declared caliphate with "very pessimistic views" on the chances of defeating what he described as "the most brutal and most dangerous enemy I have ever seen in my life".
"I don't see anyone who has a real chance to stop them," he told the BBC. "Only Arabs can stop Isis. I came back very pessimistic.
According to the 74-year-old, "al-Qaeda is peanuts" in comparison to the threat posed by militants.
His son filmed his encounters with militants and those living under Isis's strict version of sunni Islam, which followed months of negotiations with a German jihadi to secure the necessary paperwork from 'the office of the Caliphate' to protect both of them.
Mr Todenhoefer met with child fighters equipped with guns in the city. The sheer brutality of Isis regime has been demonstrated repeatedly by its use of child soldiers in conflicts, with jihadists often paying tribute on social media to those who have died as a result in the conflict.
He says Isis fighters now avoid travelling in convoys in order to escape air strikes – making them even more difficult to target.
Mr Todenhoefer believes he was permitted to enter Mosul because Isis wanted to demonstrate its complete control over the city. "They want to show that the Islamic State is working," he said.
Timeline: The emergence of Isis

Show all 40
"I thought I would meet a brutal terrorist group, but I met a brutal country.
"They are so confident, so sure of themselves. At the beginning of this year, few people knew of Isis. But now they have conquered an area the size of the UK. This is a one per cent movement with the power of a nuclear bomb or a tsunami."
Men and women are instructed on how to pray in the correct position by posters, who also forbid women from exposing any part of their body.
His footage shows brochures are distributed across Mosul explaining how slaves and women should be treated under Isis rule.
Speaking in another televised interview with RTL's Nachtjournal programme two days after his return to Munich last week, Mr Todenhöfer said Isis has established itself as a functioning state complete with "social welfare", a "school system", and even plans to provide education to girls.
Isis has also introduced its own justice system based on a strict interpretation of sharia, enforced on the street by police and with punishments meted out in court rooms.
As his rare trip drew to a close, Mr Todenhoefer said he became unsure towards whether militants would change their mind and also take him and his son hostage.
"I had to run 1,000 metres [half a mile] with our bags and all the things we had with us," he said.
"When we arrived, I had such an incredible feeling of happiness."
Register for free to continue reading
Registration is a free and easy way to support our truly independent journalism
By registering, you will also enjoy limited access to Premium articles, exclusive newsletters, commenting, and virtual events with our leading journalists
Already have an account? sign in
Register for free to continue reading
Registration is a free and easy way to support our truly independent journalism
By registering, you will also enjoy limited access to Premium articles, exclusive newsletters, commenting, and virtual events with our leading journalists
Already have an account? sign in
Join our new commenting forum
Join thought-provoking conversations, follow other Independent readers and see their replies