What is Hezbollah's game in Syria? The view from Jerusalem and Beirut
An Israeli air strike on the Golan Heights has killed six members of the Lebanon-based militant group. So has Jerusalem rightly identified a new threat to its security – or is it all about the upcoming Knesset election? Our writers investigate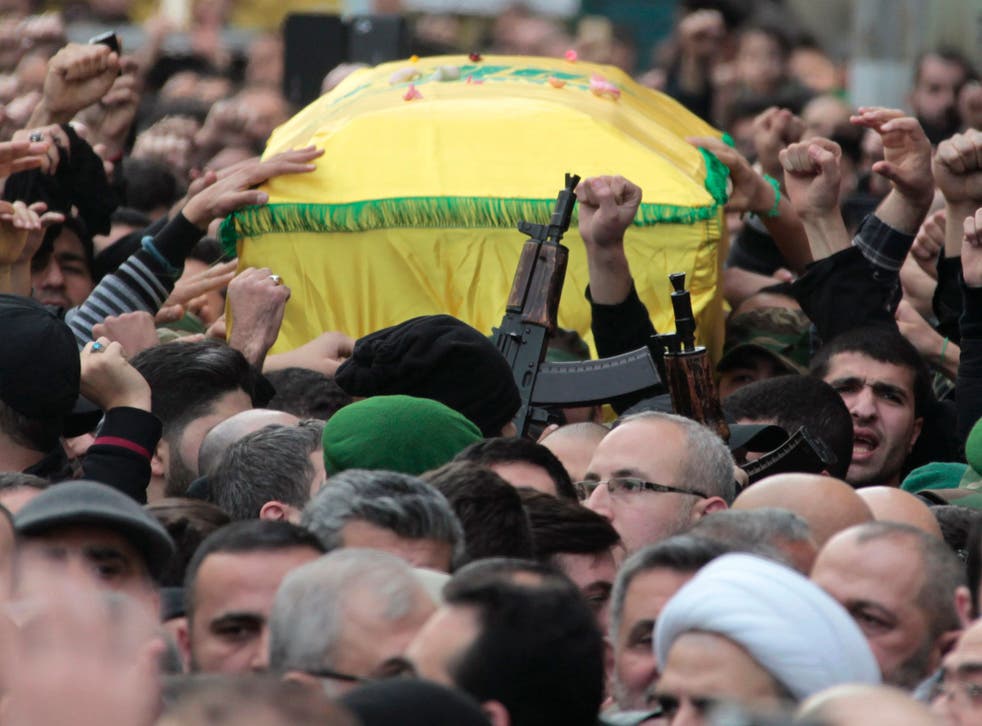 Beirut View, by Fernande van Tets
Thousands of people joined the funeral procession for 25-year-old Hezbollah operative Jihad Moughniyah on Monday as his coffin, draped in the party's flag, was carried through the southern suburbs of Beirut. Members of the crowd sang the praises of the operative, whom they consider to have died as a martyr in the Israel helicopter strike on Sunday afternoon, and proclaimed their support for Hezbollah leader, Hassan Nasrallah.
Moughniyah, the son of Imad Moughniyah, the former most senior Hezbollah operative killed in Damascus in 2008, presumably by Israel, was one of six Hezbollah operatives killed when two missiles hit a convoy in the Amal Farms in Quneitra on the Syrian border with the Israeli-occupied Golan Heights, along with a senior commander named Mohammed Issa. It is still not yet known what the operatives were doing in the region, or why Israel hit when it did. Hezbollah has said it was carrying out an inspection in the Golan. Anonymous Israeli intelligence sources said the strike was carried out to foil a major attack on the country.
The strike came days after Hezbollah leader Hassan Nasrallah gave a three hour interview to Al Mayadeen, an Arab television network, in which he threatened to retaliate against Israel for strikes carried out in Syria, where the group is fighting alongside its ally, President Bashar al-Assad.
"We consider that any strike against Syria is a strike against the whole of the resistance axis, not just against Syria," he said. "The axis is capable of responding. This can happen any time." He also said that the group has been keeping Iranian Fateh-110 rockets – which have a range of 125 miles – in its arsenal since 2006, and that the group could reach Galilee.
The question is not whether Hezbollah will respond, but how and when, said Muhammed al-Husseini, a Shia cleric. "No one is doubting that the response is coming," he said. Nasrallah has yet to make an official response, although the party's media outlet, Al-Manar, said Israel was "playing with fire".
On Monday night, its website displayed a picture of Nasrallah beside the phrase "prepare your bomb shelters" in Hebrew. Lebanese politicians expressed concern about the country being dragged into another war with Israel, and it is not clear that Hezbollah would seek a reprisal of the 2006 summer war with Israel, which caused significant destruction and left more than a thousand Lebanese dead. The group is also stretched thin by its engagement in Syria, where it has been fighting the Syrian opposition and, lately, Islamic militants.
"It's not in anyone's interest for a front to be opened [with Israel] and for Lebanon to enter a war," Telecoms Minister, Boutros Harb, said. Hezbollah constituents had no such concerns, however. "I feel the opposite of fear for a repeat of 2006," said Siham Hamad, 55, as he joined the funeral procession yesterday. "Before, we weren't ready for the fight, but now we are."
Jerusalem View, by Ben Lynfield
Israel's attention was riveted on its northern frontier on Monday as analysts predicted that both Hezbollah and Iran would feel compelled to respond to a helicopter strike inside Syrian territory that killed Hezbollah commanders and a senior Iranian general.
While the Israeli government and army have declined to confirm or deny responsibility for the strike, the former deputy commander of Israel's northern front, Maj-Gen Eyal Ben-Reuven, suggested that Israel had acted to thwart planned attacks.
"What we saw yesterday was a kind of reconnaisanse containing high-level people from Hezbollah and Iran, including the Iranian general. This tells us something about what they were planning. If Israel has intelligence that an operation is on the way, then it has all the legitimacy to prevent it.''
Another reserve general, Yoav Gallant, suggested that the timing of the attack was linked to the upcoming Israeli election. "From incidents in the past you can learn that there is sometimes timing that is not unrelated to the topic of elections," he said. Mr Gallant, a candidate for the Kulanu party that is competing for votes with Prime Minister Benjamin Netanyahu's Likud, recanted yesterday after heavy criticism from Likud and its Labour challenger Isaac Herzog. But leading Israeli military commentator Amos Harel, who writes for Haaretz, raised the same point during a radio interview. "There are question marks," said Mr Harel.
Iran's revolutionary guards identified the general as Mohammed Allahdadi, who was serving as an adviser to the Syrian army. Analysts said the expected retaliation from Hezbollah could be imminent or deferred and could take the form of rocket attacks against Israel, ambushes along the Lebanese or Syrian borders or an attack on an Israeli or Jewish targets abroad.
"The fact that Iran announced that the General was killed creates some kind of commitment on their part to respond and their preferred option for doing this is through Hezbollah," said Ephraim Kam of the Institute for National Security Studies in Tel Aviv. "Hezbollah firing rockets is an option. We will have to respond unless it's to vacant places. There could be a major escalation."
In Kiryat Shemona, near the Lebanese border, there were feelings of uneasiness. "There is concern," said municipality spokesman Doron Shnaper. "We know how things can develop. There is no doubt that there is tension but that is how you feel after events across the border. We count on the government and army."
Prime Minister Benjamin Netanyahu did not mention Lebanon or Syria, or the disputed Golan Heights – mostly seized from Syria in 1967 – yesterday although he convened a meeting of his security cabinet for today to discuss the tensions. He told reporters. "Israel is adamant that it will have the right to defend itself against all those who wish to propagate terror and other attacks against its citizens and against its territory."
Register for free to continue reading
Registration is a free and easy way to support our truly independent journalism
By registering, you will also enjoy limited access to Premium articles, exclusive newsletters, commenting, and virtual events with our leading journalists
Already have an account? sign in
Register for free to continue reading
Registration is a free and easy way to support our truly independent journalism
By registering, you will also enjoy limited access to Premium articles, exclusive newsletters, commenting, and virtual events with our leading journalists
Already have an account? sign in
Join our new commenting forum
Join thought-provoking conversations, follow other Independent readers and see their replies